architecture - engineering - construction

Get precision & durability with Mars Metal's CNC Machined Lead Parts
November 10, 2023
Delving into the heart of cutting-edge precision machining, Mars Metal stands as a beacon of innovation in the realm of lead part production. AECinfo.com is thrilled to illuminate the exceptional services offered by Mars Metal in the niche of Precision 3D and CNC Machining.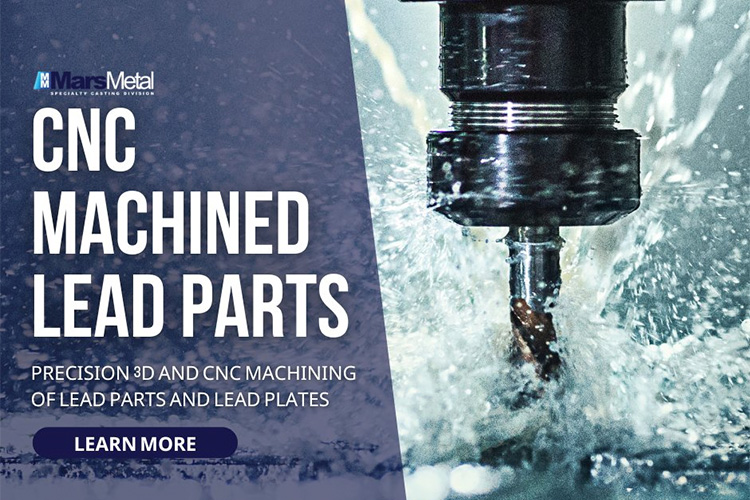 Crafting Excellence for Diverse Industries
Mars Metal takes pride in crafting custom lead precision machined parts tailored for the Medical, Communications, and Aerospace sectors. From the intricacies of guidance systems to the robustness required in Government defense applications, Mars Metal's expertise is evident in every meticulously crafted piece.
Unparalleled Offerings
At the core of Mars Metal's offerings lies a commitment to excellence. Services include tight tolerance custom machining, underpinned by a quality management system certified to ISO 9001:2015 and CSA N299.3-16 standards. The in-house Design Assist Team further enriches the customer experience by providing robust support for machining requirements and prototype development.
Global Reach with Expedited Service
Mars Metal doesn't just create precision parts; they ensure these masterpieces reach clients worldwide promptly. The company's commitment to quality extends to the packaging of finished parts, meticulously labeled, wrapped, and secured for expedited global service.
Unmatched Inventory Flexibility
With an impressive inventory of over 300 tons of sheet lead, plate, and ingots, Mars Metal boasts the capability to cater to diverse needs. Whether the requirement is for a handful of pieces or high-volume production runs, Mars Metal's flexibility ensures a solution that aligns with client needs.
Health and Safety Prioritized
Understanding the importance of health and safety, Mars Metal offers environmentally coated machined parts. This proactive approach ensures no exposed lead, with coating solutions including epoxy-based coatings or powder coatings.
Diversified Material Offerings
Beyond lead, Mars Metal extends its expertise to other CNC machined materials. For specific requirements, clients can explore custom-cut Borated Polyethylene on the Marshield website, alongside the availability of Lead Acrylic in custom sizes.
40 Years of Dedication
Mars Metal's 40-year journey is a testament to its unwavering commitment to customer service and collaborative problem-solving. This dedication has rightfully positioned Mars Metal Company as a qualified leader in its field.
Connect with Mars Metal
For those seeking precision machining solutions that redefine industry standards, Mars Metal invites you to reach out. Explore how their expertise can elevate your projects by contacting them to discuss your custom part needs.
To learn more about Mars Metal's CNC machined lead parts, visit the original article on Mars Metal's Website.
@MarsMetalCo #MarsMetal #leadcasting #leadfabrication #leadfinishing
Company:

MarsMetal
Product: Build/Construction Materials
Source: https://marsmetal.com/cnc-machined-lead-parts/
---
Tags:
Wall Coverings: a variety of options (July 24, 2020)
Unlock Architectural Excellence with Sto Masonry Veneer Engineered Systems (MVES) (September 28, 2023), How Code Reports Help Propel Innovation and Ensure Safety (September 12, 2023), The Future of Energy-Efficient Homes: Embracing Panelized Construction (September 7, 2023), Enhancing Moisture Management in Masonry Construction: The Innovation of Mortar Net Solutions (August 23, 2023), Understanding the Importance and Applications of Lead-Lined Drywall (August 17, 2023), Introducing Stromberg GFRC: The Future of Reinforced Concrete (August 10, 2023), Sydney Metro's Central Walk Relies On Penetron Technology For Durability (August 1, 2023), Introducing new brick colors: Beyond plain white, the Belden Brick Company expands design possibilities (June 15, 2023), 3 Retail Flooring Options (May 30, 2023), Admix C-Series: improving concrete performance right from the start (May 25, 2023)
Nuclear Medicine Shielding: Creating a Safe Nuclear Medicine Lab for Protection from High-Energy Radionuclides (October 12, 2023), MarShield's Process for Creating Custom NDT Shielding Rooms That Ensure Safety in Industrial X-Ray Operations (September 14, 2023), Understanding the Importance and Applications of Lead-Lined Drywall (August 17, 2023), Nuclear Radiation Shielding Products for Nuclear Energy (June 27, 2023), Lead lined cabinets for nuclear medicine and nuclear storage (May 2, 2023), Case Study: Tungsten Vial Shield with Auxilary Shield System (April 4, 2023), OPG Announces New Mini Reactor In Darlington, Ontario (January 25, 2023), Highest-quality lead glass for the medical, industrial and nuclear industries (January 13, 2023), Sheet lead: a quick and cost-effective method to efficiently shield radiation (December 16, 2022), Gamma ray attenuation properties of common shielding materials (November 14, 2022)
Transform Your Space with Coco Architectural Grilles & Metalcraft Linear Bar Grilles (July 21, 2023), What framing materials are needed for bulletproof security windows? (April 25, 2023), How to design with FLEXX Panels (January 18, 2023), Custom lasered and metal panel solutions (December 6, 2022), Historical Tin Ceilings, Cornice & Fillers Replication (October 7, 2022), Ornamental grilles are upscale decoration for your home or business (August 22, 2022), One-of-a-kind quality for decorative metal grilles (June 10, 2022), Attack Resistant Steel Doors and Frames (June 8, 2022), MorZip® Roof & Wall Systems (February 2, 2022), 3-D Laser Technology Brings Field-Accurate Dimensions to Commercial Railing Systems (January 28, 2022)