architecture - engineering - construction

Aluminum
---
November 7, 2023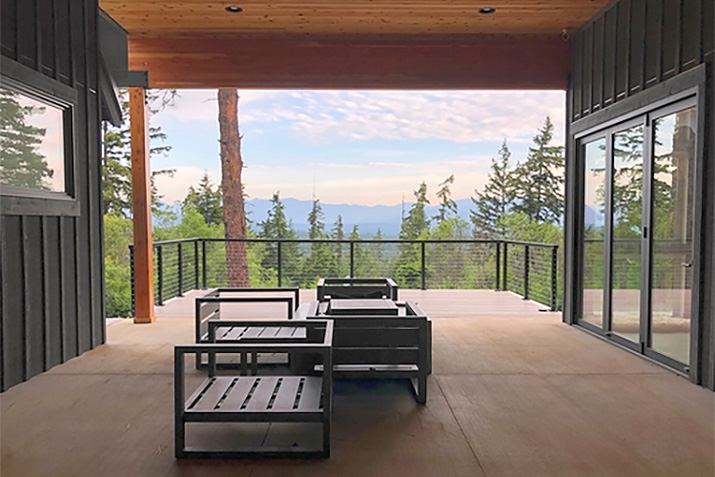 This home in Ellensburg, WA, features a cable railing that is both durable and allows for a stunning unobstructed view. Bring the outdoors indoors with a cable railing by Stainless Cable & Railing.
---
April 25, 2023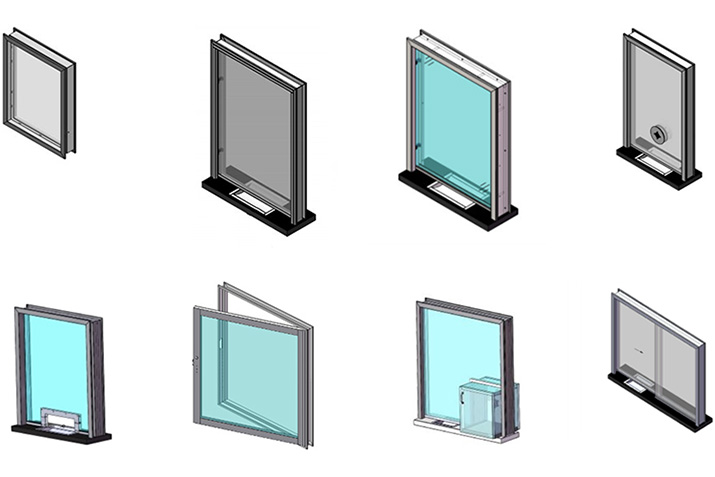 In recent years, many events have taken place that has forced businesses and organizations to implement enhanced security measures in and around their properties. Installing bulletproof security window systems is one of the most suitable protection methods, as many attacks are directed at windows. However, for security windows to resist ballistic threats, they need to be supported by the appropriate frame. Therefore, this blog post will look at what materials are needed for bulletproof security window frames.
---
April 20, 2023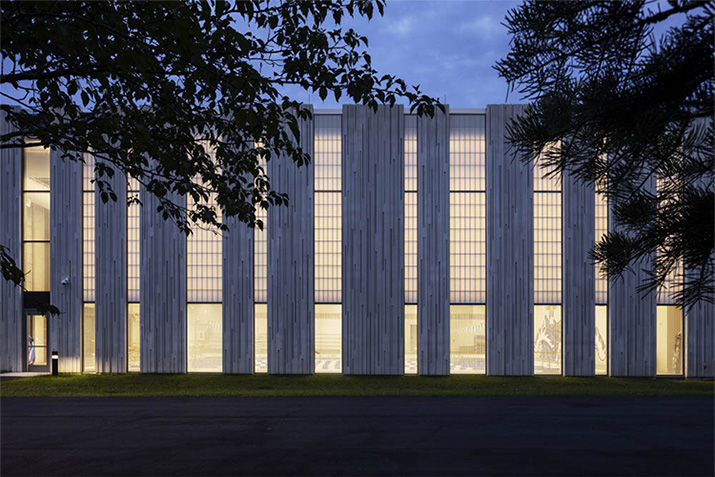 Major Industries has been manufacturing translucent panel skylights, canopies and wall systems since 1980. Their popularity is driven by the fact that they're a great way to bring soft, diffuse daylighting into interior spaces. They're also lightweight, easy to install, don't require expensive internal or external shading devices, are impact resistant and affordable. Lets take a look at what makes up a translucent panel, and how they can benefit your next project.
---
February 2, 2023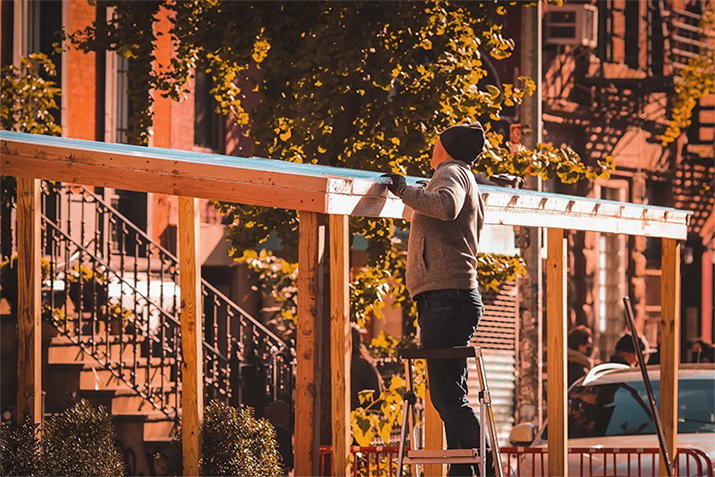 Installing horizontal cable deck railing systems is one of the best ways to maximize the space on your deck while giving it a contemporary look. With its modern, minimalistic aesthetic, you can boost the curb appeal of your deck and, at the same time, provide an unimpeded view of the beach, the mountains, or your garden. But while horizontal cable systems can undoubtedly upgrade your deck's design, it can also be a potential safety hazard if the tension on the cable loosens. Our easy maintenance procedures will ensure proper cable tension is maintained, keeping your guardrail safe.
---
November 7, 2022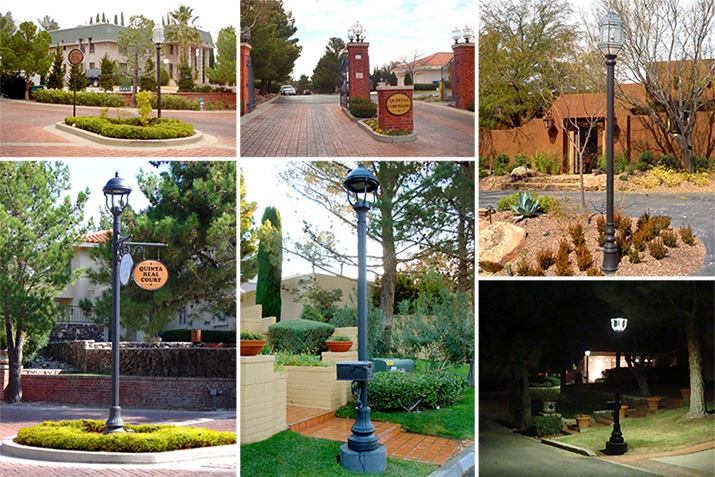 Niland manufactures the industry's largest and most diverse selection of custom decorative aluminum pole products. All of our antique street lamps are cast aluminum poles featuring four or five-inch fluted pole options, specifiable up to 16 feet. Choose your height with Niland and let our poles' flexibility suit individual area requirements for all of your projects. The ornate decorative cast base light poles are unitized in one piece construction and all exterior welds are finished smooth. Our in-house pattern and machine shop can duplicate any historic antique street lamp or street light post as part of our free design service. Show us an old photo of your old main street light pole and we'll handle the rest.
---
August 15, 2022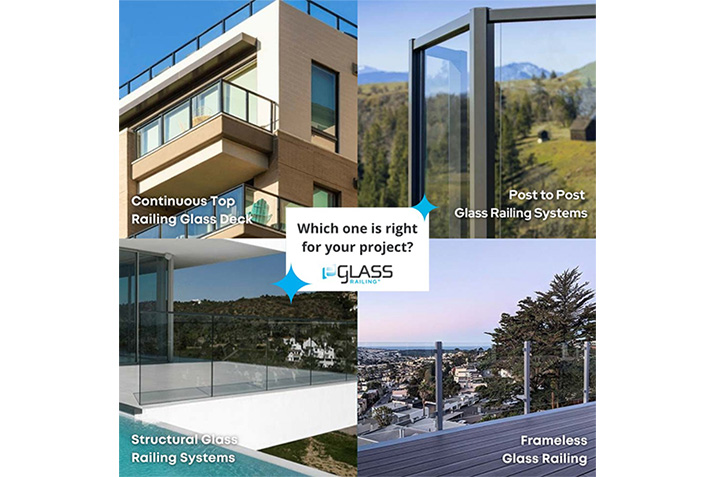 Continuous Top Railing Glass Deck
- eGlass Solid™ has a consistent top rail wide enough to place a drink on. One solid, easy to install top rail makes for a smooth finish.
Structural Glass Railing Systems
- Our structural glass railings are designed with with no rails at all offering maximum, uninterrupted view.
Frameless Glass Railing
- eGlass Vision™ frameless glass railing system has no top or bottom rails, glass panels are attached by metal clamps.
Post to Post Glass Railing Systems
- eGlass Element™ features our thinnest top rail that runs between our post to post system. Segmented railing pieces make this system able to be shipped for a lower price.
---
July 25, 2022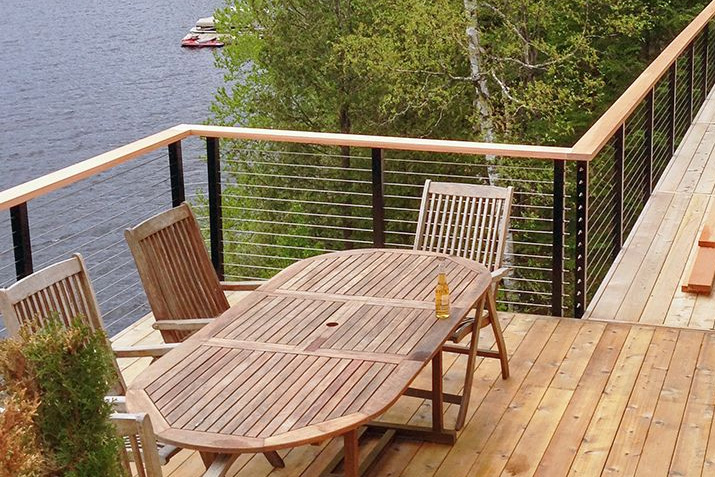 Dangling over a serene lake in Quebec, Canada, this deck required an open railing design for its remodel. The black aluminum posts and thin cable disappear against a view of trees and water, and contrast nicely with the fresh wood deck and top rail.
---
February 4, 2022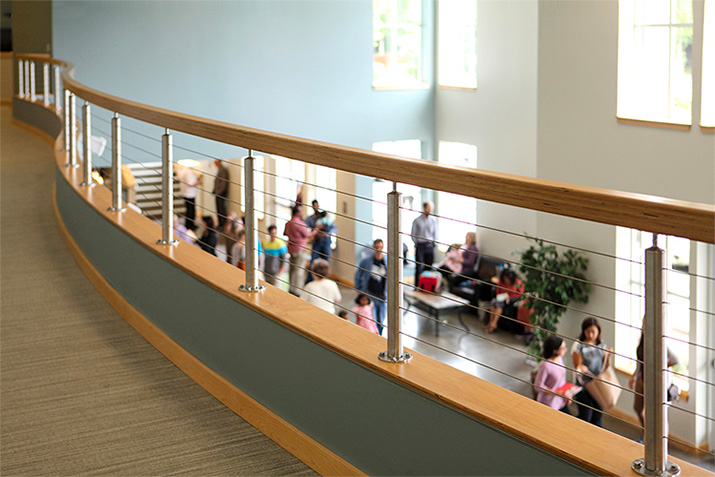 Stainless steel round cable railing stands out on the upper floor inside a building in Bellevue, WA. The brushed finish enhances the natural luster of stainless steel.
---
February 2, 2022
A dual purpose, single-skin wall and roof system, offering maximum design flexibility! The MorZip® profile is designed for both vertical and horizontal applications. MorZip® does it all, providing seamless transitions from wall to roof and back again.
---
January 10, 2022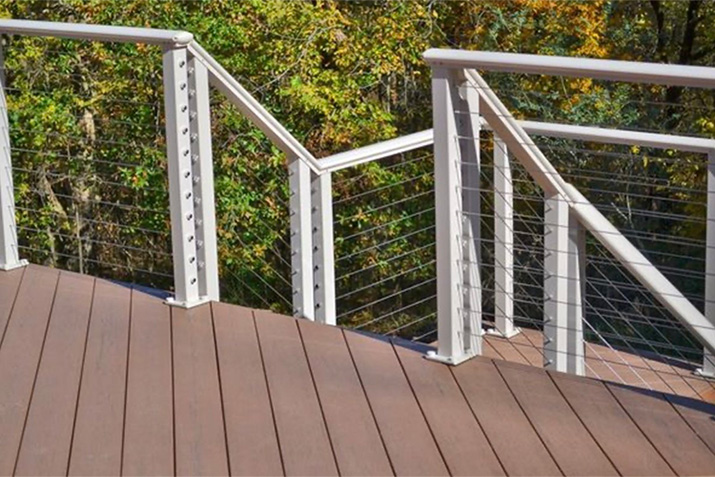 An Aluminum Cable Railing System opens the deck and stairs of this traditional home to a spacious, woodsy backyard. The clay powder-coat matches the creamy exterior and highlights in the brick siding, while the shaped top rail mimics the softened edges of the house's octagonal towers and smooth tile roofing.
---
December 29, 2021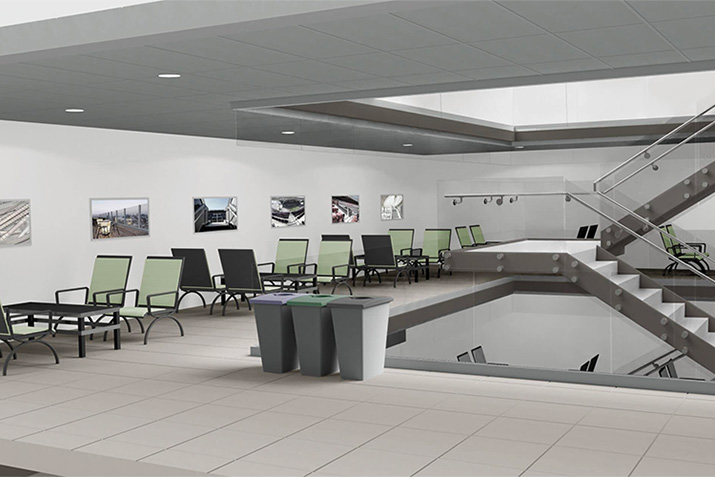 In the event of a fire, smoke – the largest cause of fire-related deaths – can travel just as fast as flames, posing major safety risks to a building and its occupants. To provide optimal protection against the spread and impact of smoke, Trex Commercial Products, a leading national provider of architectural railing systems, has introduced a new Smoke Baffle System engineered to serve the safety and aesthetic needs of today's commercial settings.
---
November 29, 2021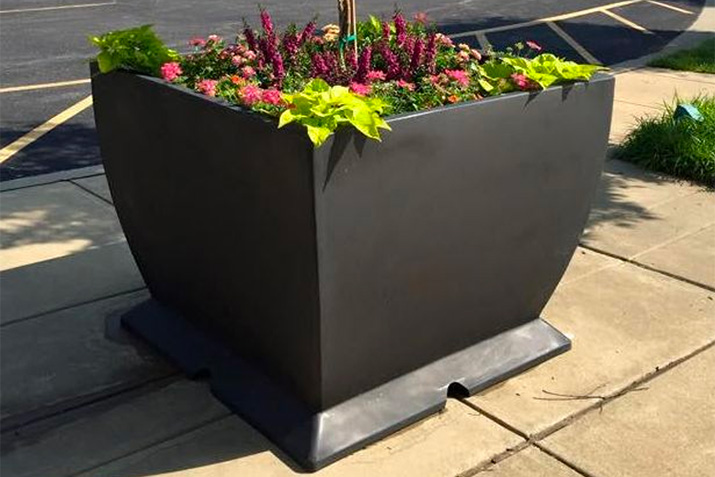 TerraCast® planters, PolySteel™ light poles, and light pole base covers are all manufactured using #4 linear-low density polyethylene (LLDPE) with up to 100% post-consumer recycled content. As we like to say, "our black is green," the standard black color we use contains a minimum of 90% post-consumer recycled content. In addition, the manufacturing process we use for these products, rotational molding (rotomolding), has an environmental advantage because it produces no scrap as all the materials can be 100% recycled.
---
July 26, 2021
When you order raw aluminum components you can custom coat the railing to whatever color you'd like. This customer in Washougal WA painted their railing green to match their house. What color would you make your railing?
---
May 3, 2021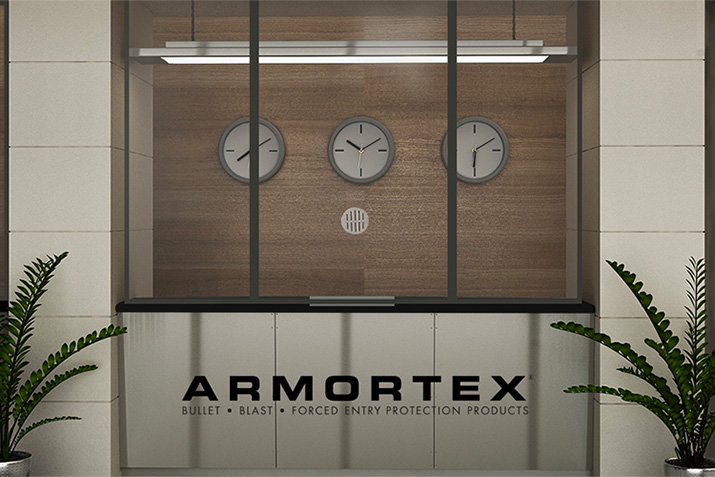 When replacing the windows and doors in a commercial building, the first consideration is always cost. Does a potential replacement provide tangible benefits to the business? New window frames can refresh the look of your building, particularly if you opt for uPVC fittings. Unplasticized polyvinyl chloride, typically abbreviated to uPVC, is the go-to material for refurbishing tired windows and doors. It can lend a refreshed feel to building exteriors while improving the insulation considerably. Yet uPVC windows leave something to be desired from the perspective of security.
---
March 22, 2021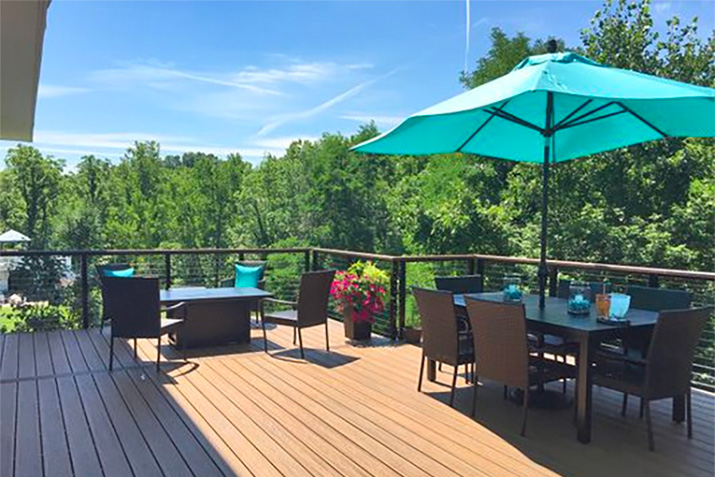 This stylish deck in Albany, New York was built for entertainment. With multiple areas for lounging and socializing, the homeowners chose a fascia-mount railing that keeps the space open. The dark aluminum contrasts nicely with a light wood deck and vivid accent colors to create a refreshing, contemporary look.
---
March 12, 2021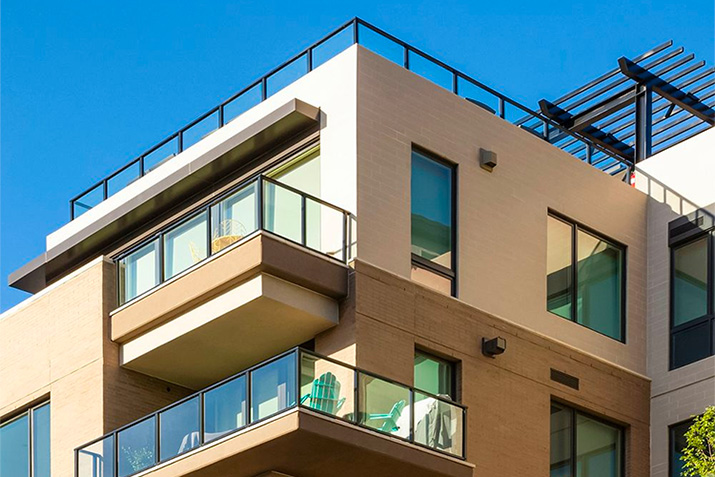 Black Solid glass railing is used to line the various decks and balconies of this shopping and multi-family housing building in Denver, CO.
---
November 24, 2020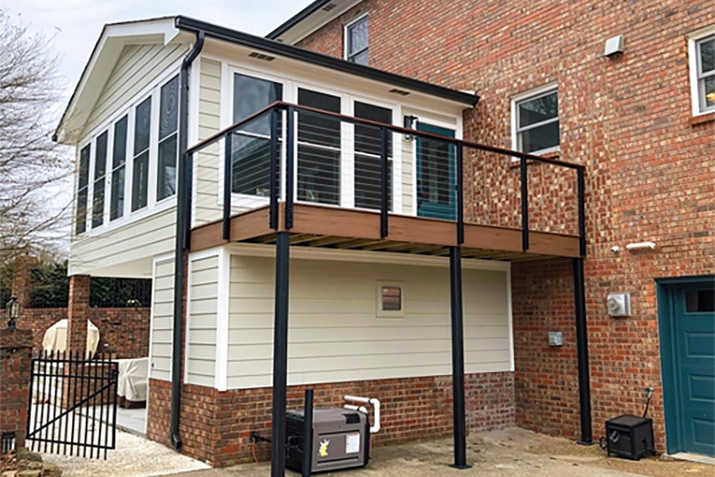 Old-fashioned meets contemporary at this Clarksville home. The ipe wood rail blends nicely with the brick façade while the black posts stand out dramatically against it. The end result elegantly updates this brick home. The reinforced aluminum system withstands the tension of cable infill without bending.
---
October 9, 2020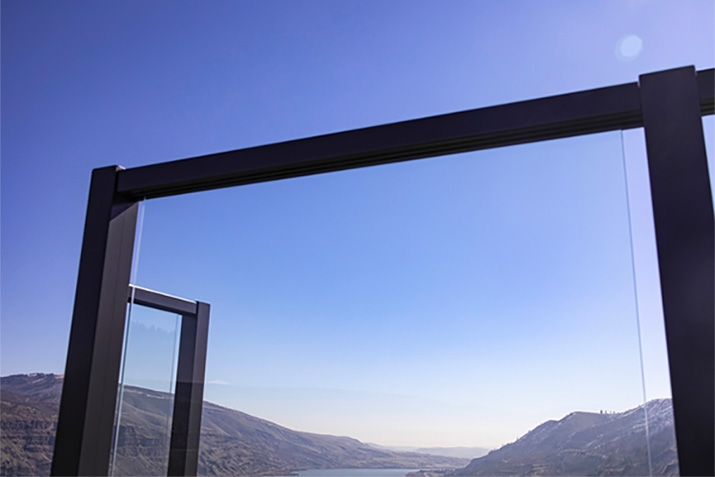 Offering the thinnest top rail and combined with full glass panels, this glass railing option focuses on a beautiful view while providing the safety and durability you expect from a railing system. Designed for minimal view obstruction, eGlass Element™ exposes the splendor of your surroundings, whether indoors or outdoors.
---
June 12, 2020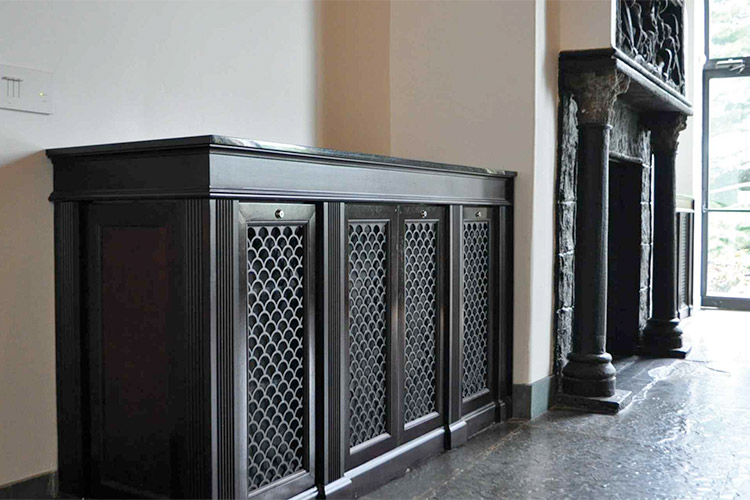 This stately fieldstone mansion, built in the mid-1800's, was a vacation home to famous Presidents and Authors. Custom Period-Matched Perforated Grille PatternsCustom fabricated bronze perforated grilles blended nicely with the rich mahogany woodwork that has stood for over 100 years.
---
January 17, 2020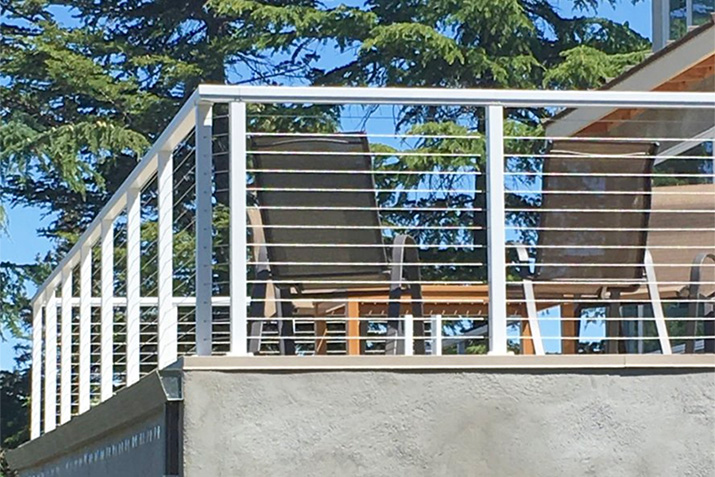 This Bay Area home had recently undergone a yard and deck renovation to update the outdoor space into something more modern and open. The customers wanted a railing solution that fit this contemporary theme while maintaining an open view of their newly landscaped yard.