architecture - engineering - construction

Furniture
---
April 13, 2023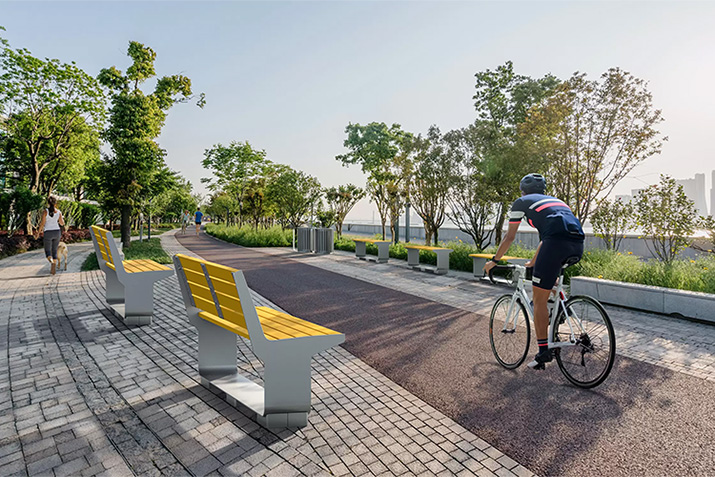 L is for linger. Maglin's new L-Series more than delivers. With lightweight looks and luxurious lines, this table and benches collection gives off a legendary sit-and-stay-awhile vibe. It's bound to become your new favorite L-word.
---
February 28, 2023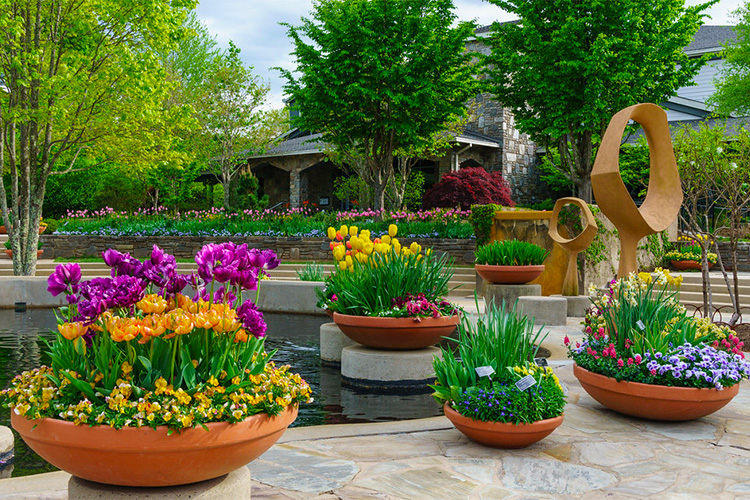 Spring is officially less than a month away! As you plan for the upcoming spring season, consider using TerraCast® resin planters for your container garden projects. TerraCast® resin planters are durable, long-lasting, maintenance-free, and environmentally friendly. They perform exceptionally well in highly trafficked areas where they suffer the most abuse. Unlike other materials, TerraCast® planters can withstand a year-round outdoor application, even in extreme climates.
---
January 20, 2023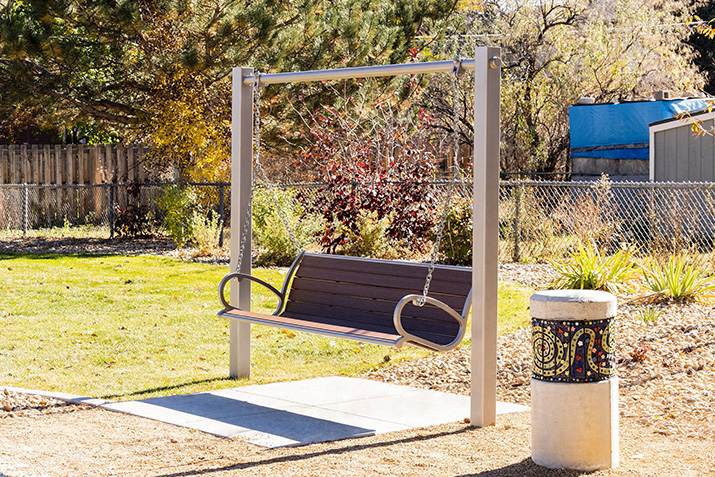 Looking for a bench swing that is durable enough to be in a public place year-round? The Langdon™ Swing bench is perfect in parks, courtyards, and any place where comfort and gathering takes place.
---
April 4, 2022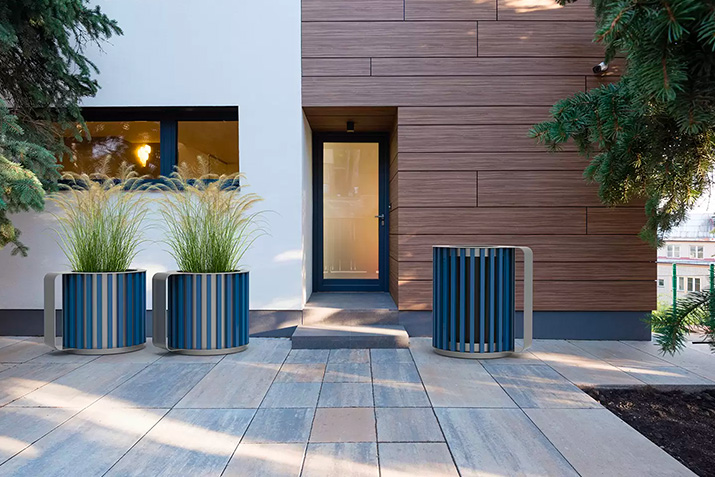 A collaboration with Italian designers Gibillero Design, MUG combines the practical features of classic street furniture with elevated modern details. The collection includes waste and recycling containers, a planter and bike rack supported by an all-steel welded frame. Choose surface materials, matching or contrasting powdercoat colors, and vinyl graphics to personalize outdoor spaces. The characteristic handle on MUG brings the collection together and provides the perfect surface for colorful expression. The MUG Collection suits streetscapes, parks, commercial shopping areas, and all spaces that require distinctive and durable site furniture.
---
March 17, 2022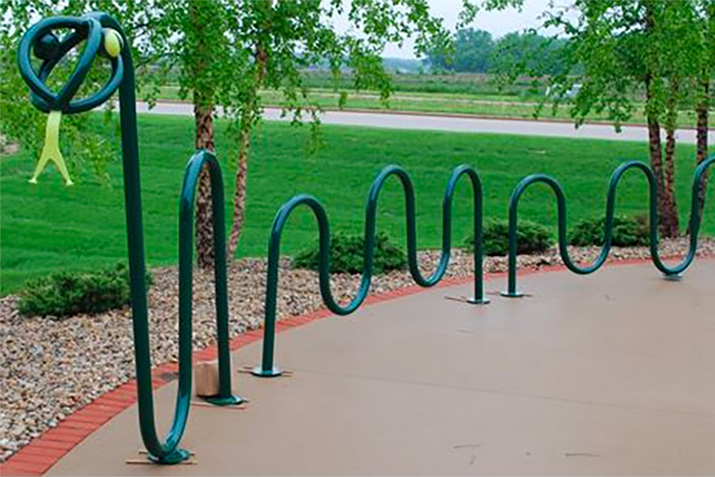 Who said bike racks had to be boring? When it comes to finishing up your outdoor space, often times that includes a few additional bike racks to cater to your visitors. While often times, the classic U Racks, Winder, or Gridrac bike racks do the trick, why not add a little fun to your project?
---
March 14, 2022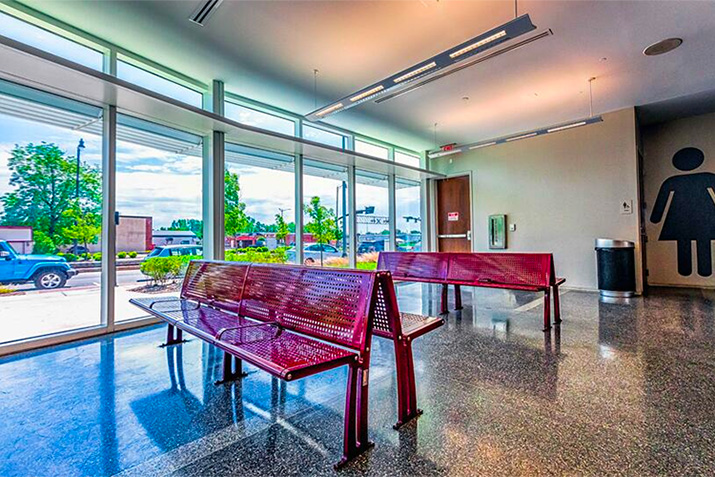 Thomas Steele tables and benches are not always exclusive to outdoor settings. Why not spruce up your indoor gathering space with some fun tables, benches or both! Many of our site furnishings come as universal as they can. Indoors, outdoors, you name it! While coming across a bench outdoors is common, we are here to tell you that these benches are equipped for inside too. Not all spaces are created equally, while we of course understand that sometimes you just need some nice seating inside or outside.
---
January 5, 2022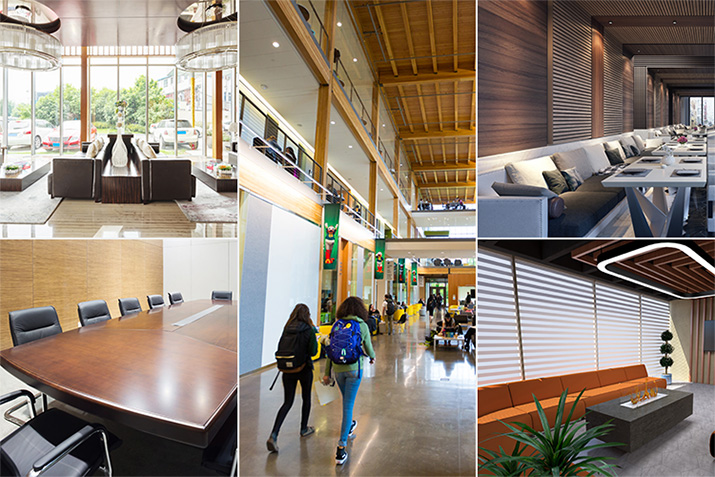 High-quality commercial furniture, fixtures, architectural millwork panelling and design or decor assistance for the food service, hospitality, retail, entertainment and educational industries. One of the most unique and 'Vertically Integrated' manufacturing operations in the US. With the capacity to produce products of wood, steel, upholstery, plastics, fiberglass, stainless, and aluminum. Customers are provided with a 'One-Stop Shop' for all your needs.
---
December 17, 2021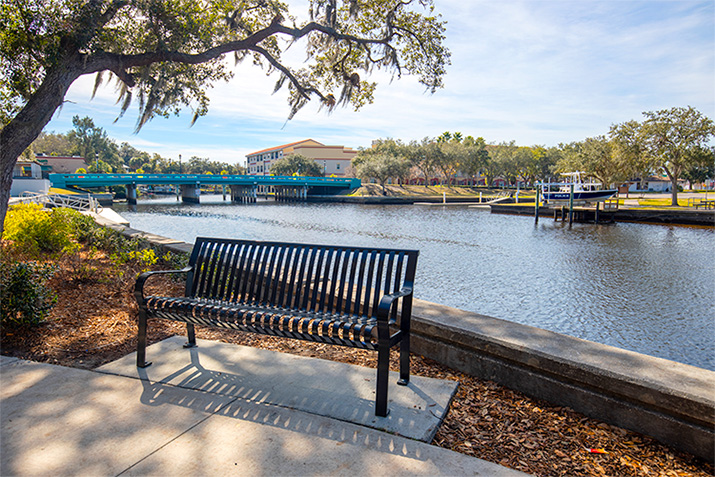 Benches can fit in virtually anywhere, but not just any bench. Furniture comes with different styles and themes and you wouldn't want to pick just any piece of furniture for your living room, right? Choosing the perfect bench for your needs is the same thing.
---
September 3, 2021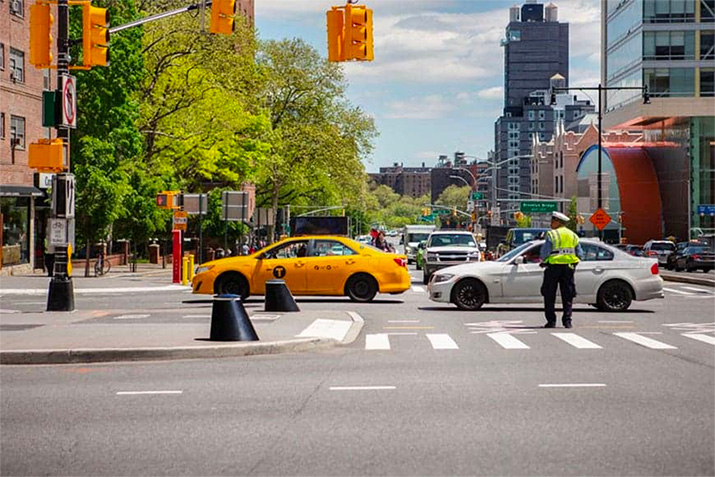 What municipalities can learn from New York's distinctive detail. We look at the unique custom street furniture of New York city, including its benches and bollards.
---
June 14, 2021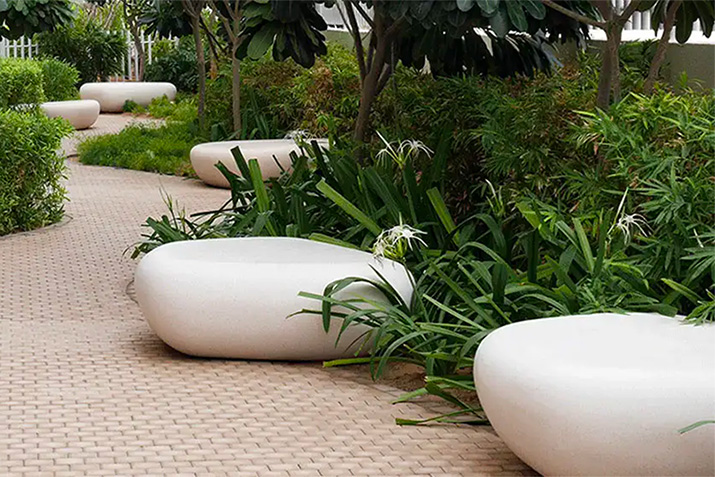 European Inspired - American Made. Urbastyle by Wausau Tile features concrete street furniture that is designed to be accessible for all. Featuring numerous benches in all shapes and sizes with unlimited combinations, Urbastyle is a perfect choice for your site furnishing needs.
---
June 9, 2021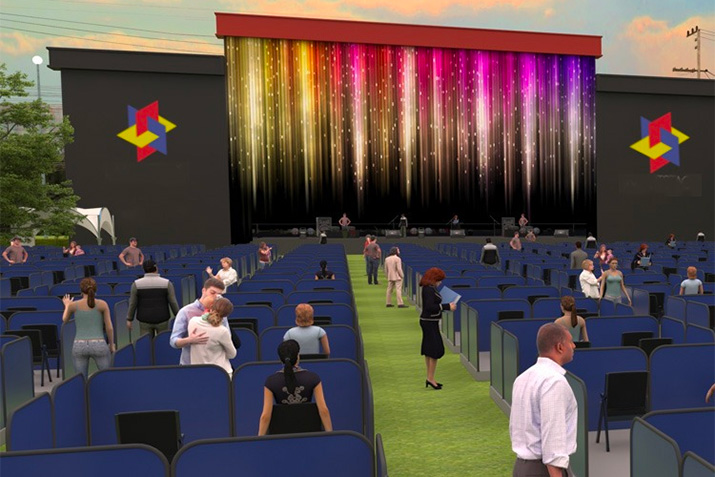 Designed with event basic safety and taking participant entertainment into account, this is the perfect solution to meeting the need for social distancing due to the pandemic. The portable cubicle seating system meets our aim as a business, to develop a solution which is ergonomic, has value for money and yet is basic.
---
April 26, 2021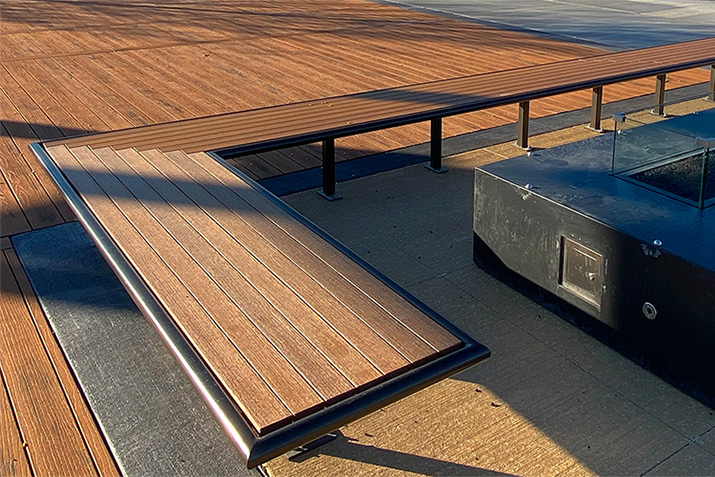 The removal of a parking deck and the loss of around 250 parking stalls could have been a "hit" to businesses in the city of Janesville, WI. But city management saw it as an opportunity to contribute to the betterment of the downtown area by creating a more robust town square.
---
April 23, 2021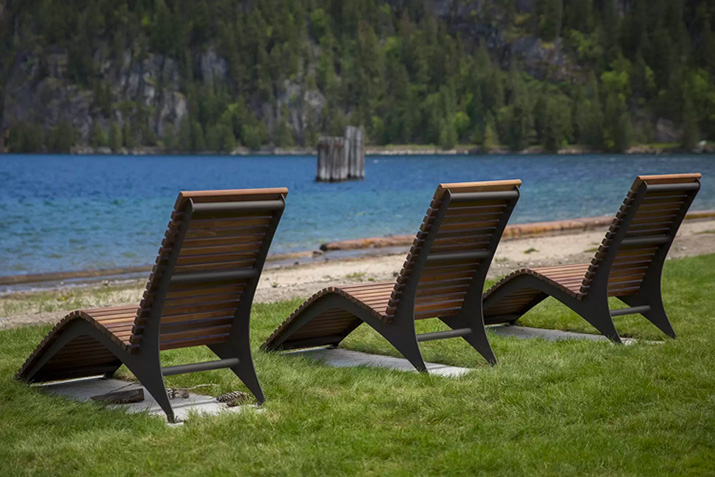 The Village of Slocan offers a rare respite from the frenzy of modern life. Set idyllically in the West Kootenay region of southeastern British Columbia, the community boasts a population of nearly 300 lucky residents and welcomes adventurers year-round as a gateway to nearby Valhalla Provincial Park. Historically, this area's economy was fueled by the mining and timber industry, and that industrial past still lingers in the former mill site on the shore of Slocan Lake. A newly revitalized waterfront recreation area celebrates the Village of Slocan's unique character with nods to the past and a view to future improvements.
---
January 20, 2021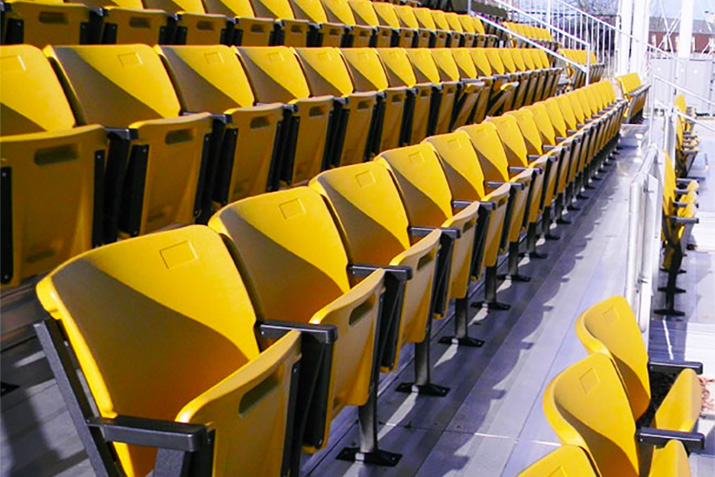 The popularity of bleachers in football stadiums, high school gyms and fire stations can be explained by pure economics. Businesses that rely on high attendance and accessibility to concessions use bleachers to increase their profits. Aluminum and steel bleachers may not be as comfortable as padded chairs, but they allow sports teams to drive up attendance numbers.
---
December 18, 2020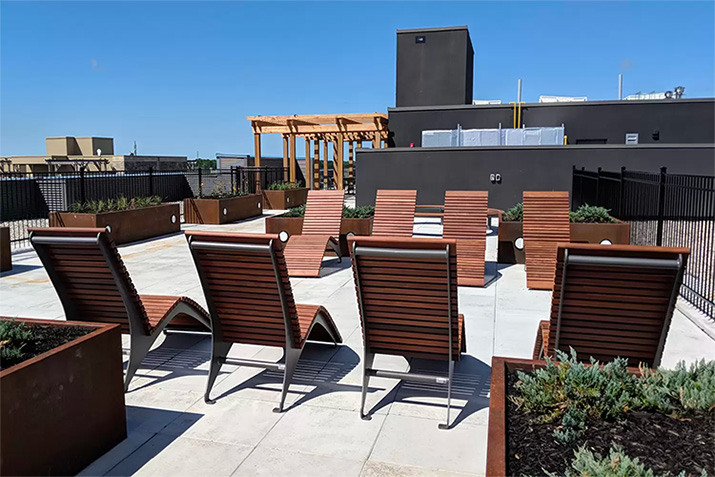 Rooftop decks have emerged as highly coveted and beloved spaces for residents of dense urban areas during the COVID-19 pandemic. However, outdoor rooftop spaces will remain desirable for current and prospective residents beyond the global health crisis. Access to the outdoors positively impacts mental health, provides space to create community, exercise and meditate, plant gardens and grow food. In cities where street-level greenspace and parkland are scarce or at-a-premium, rooftop decks can be lifelines for people living in mid and high-rise buildings. However, they require some special consideration because of their location.
---
November 20, 2020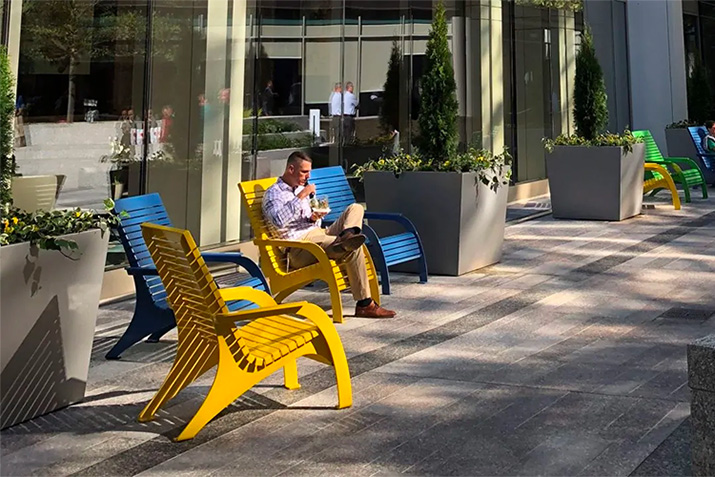 The owners of Bank of America Plaza wanted to offer their tenants even more than a prime location in an iconic building and so, beginning in 2016, they invested in a complete redesign of their street-level presence. "We have created a more pedestrian-friendly area with smaller shop fronts, outdoor seating areas, and a new, extended main building entry to engage the public plaza," 1 says Redline Design Groups lead designer Richard Boswell. One section of the exterior courtyard had an existing fountain but was largely under-utilized open space with no seating available. The initial vision to incorporate wall mounted curved benches into the fountain surround led to conversations between Architect, Richard Boswell and Maglin's CEO, Ian McAskile and Territory Manager, Andrew Coen. Bank of America Plaza owners, TIER REIT wanted a variety of table and seating configurations and embraced color to enliven the space.
---
September 25, 2020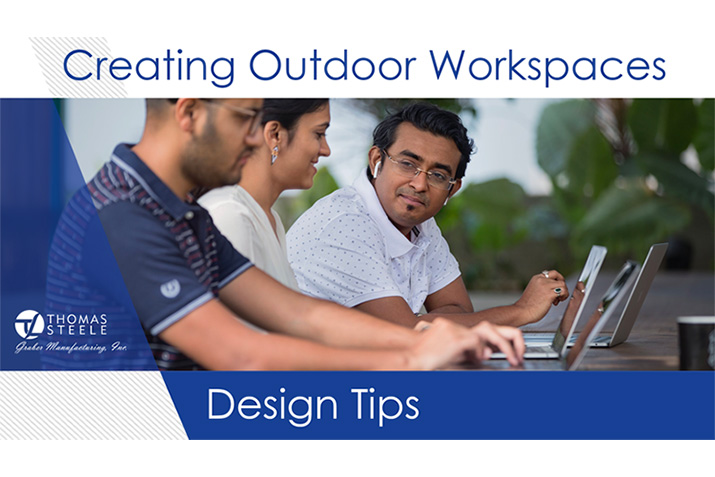 A better office environment exists on your property. It has better lighting. Better décor. Better health benefits for workers.
---
September 21, 2020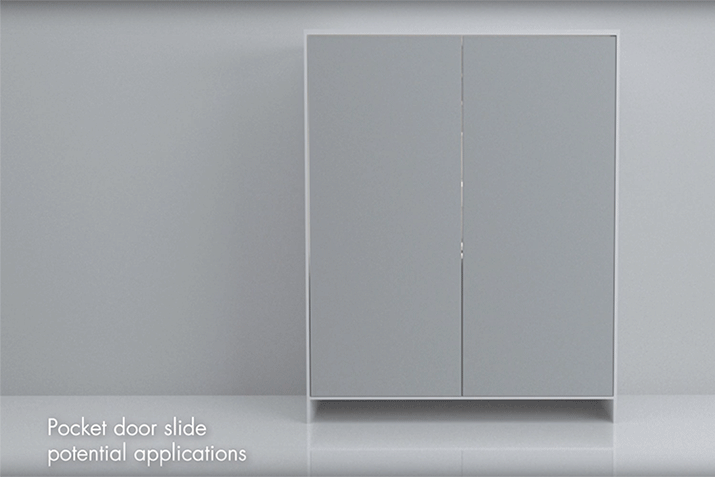 Searching for a solution to household clutter? #Accuride pocket doors can help create a more peaceful, organized home with clean, concealed storage for kitchen cabinets, media centers and so much more. Find the right #pocketdoor for your next project:
---
August 26, 2020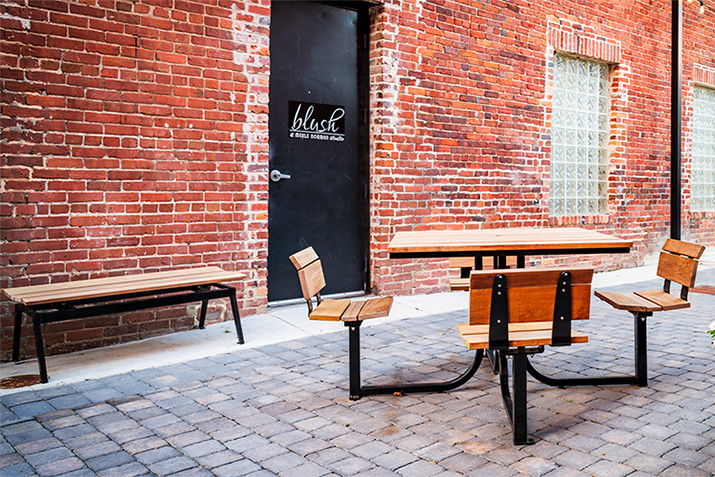 Many times, trash receptacles look beat up & yucky - the EXCLUSIVE Lofty Series offers a sleek option to enhance beauty of your space & help to keep it clean #loftyseries #thomassteele #exclusivedesign #trashreceptacle #architecturalproducts #landscapearchitecture #sitefurniture
---
May 1, 2020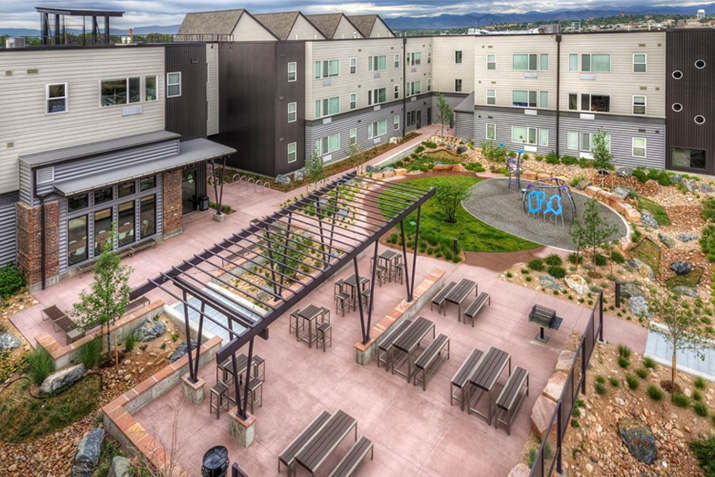 Furniture is just one component in the design of the public realm. As designers and manufacturers, we have to take into consideration the function and goals of the site when designing products and the places they end up shaping. Navigation patterns and intent to use the elements (amenities) within a space are just as important as the aesthetics of the product itself. We focus on people who will use the site – how and when they will do so. A flexible product provides countless layout opportunities and can adapt to the site's functional goals. Follow our design considerations, and learn how to turn your spaces into places.