architecture - engineering - construction

HVAC
---
July 21, 2023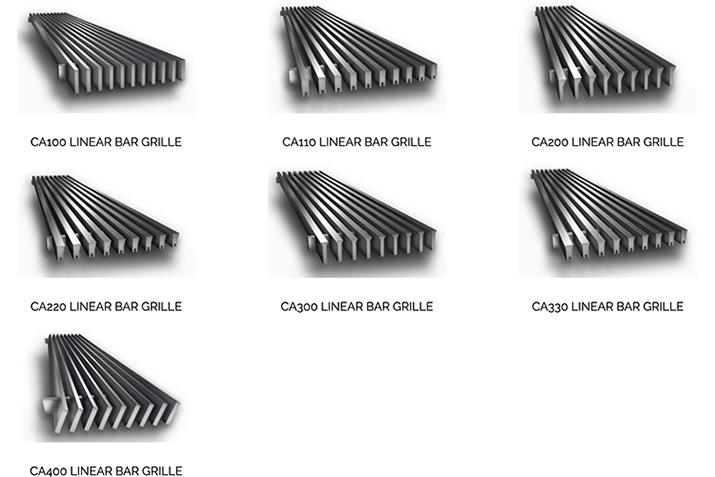 Decorative linear bar grilles for walls, floors, and ceilings have the power to elevate the aesthetics and functionality of any space. Coco Architectural Grilles & Metalcraft offers an exquisite selection of these grilles in various colors, styles, metal types, and finishes, ensuring a top-notch selection. From decorative wall grilles to modern floor grilles and stylish ceiling registers, our linear bar grilles are designed to seamlessly complement a wide range of situations, catering to diverse project needs.
---
January 2, 2023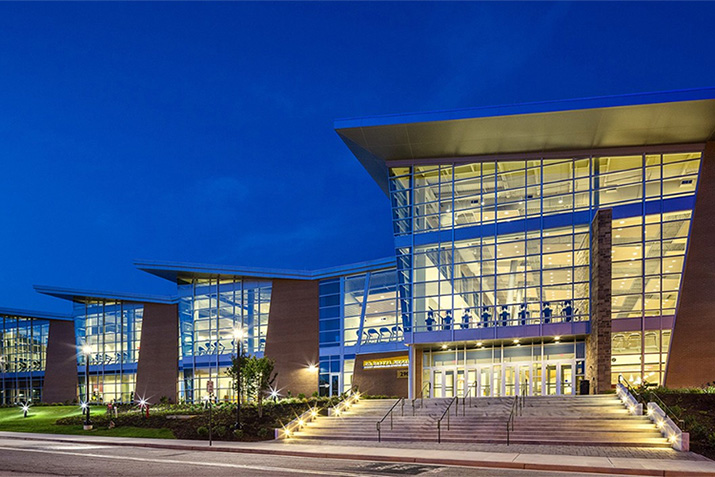 ---
August 22, 2022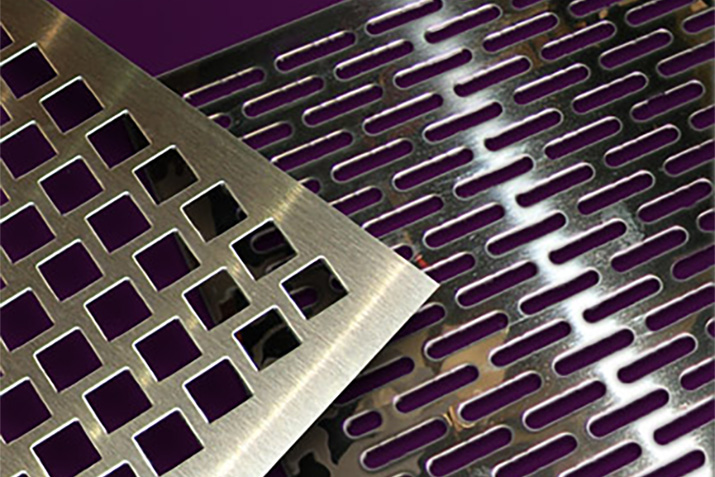 Coco Architectural offers an extensive line of metal sheet grilles encompassing the same characteristics our customers expect from our linear bar grilles: aesthetic quality, performance, and custom installation features.
---
August 3, 2022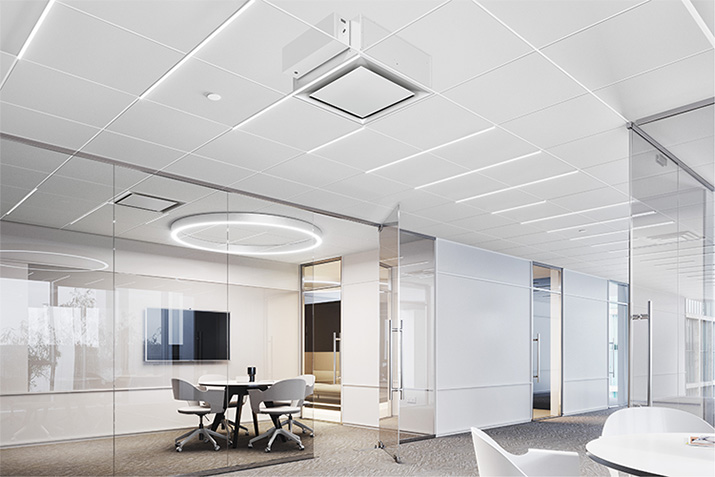 Introducing StrataClean IQ, an in-ceiling MERV 13 filtration system that is quiet, energy-efficient and meets new EPA Clean Air in Buildings challenge recommendations for increased ventilation. It's the easy way to specify for clean air!
---
July 15, 2022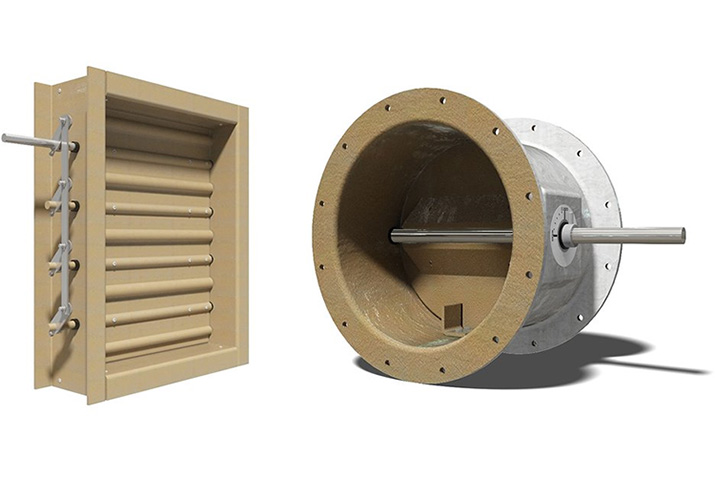 Constructed of premium vinyl ester resins, Ruskin's fiberglass airflow control products are ideal for installations in corrosive environments.
---
June 10, 2022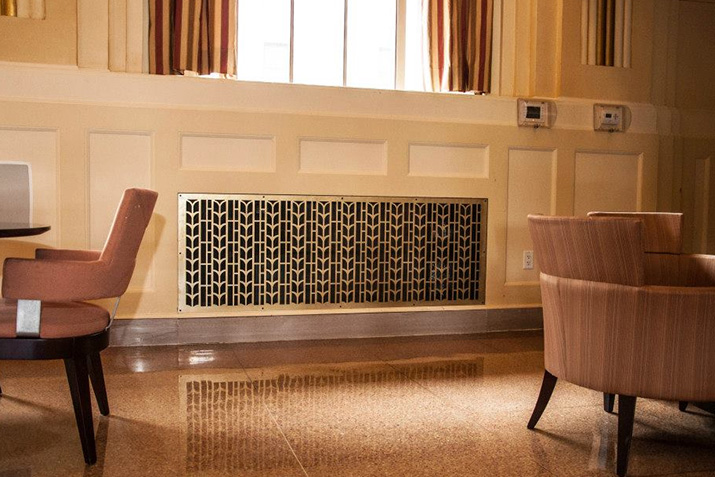 Do you know how to identify excellence in metal sheet work? Perforated metal sheetwork is the cut-to-custom metal used to make decorative grilles. The pattern of a crafted metal sheet should be beautiful, bringing subtle elegance to a room and blending easily with surrounding features. The sheet should also provide perfect function.
---
May 30, 2022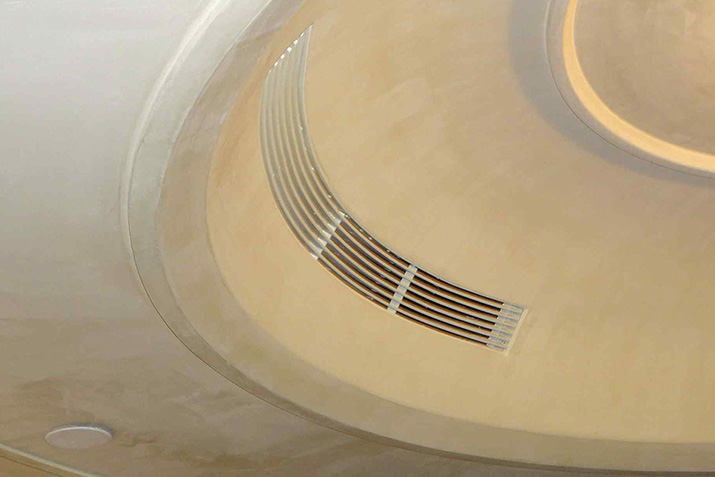 The AAG Advanced Architectural Grilleworks exclusive Plaster J-Bead® * frame (*patent) combined with quality linear bar grille cores provides a flush, borderless installation for plaster and drywall applications on walls and/or ceilings. Also known in the industry as a 'mud grille' or 'plaster grille', it provides a seamless installation enabling you to smoothly capture the contour of any wall or ceiling.
---
April 27, 2022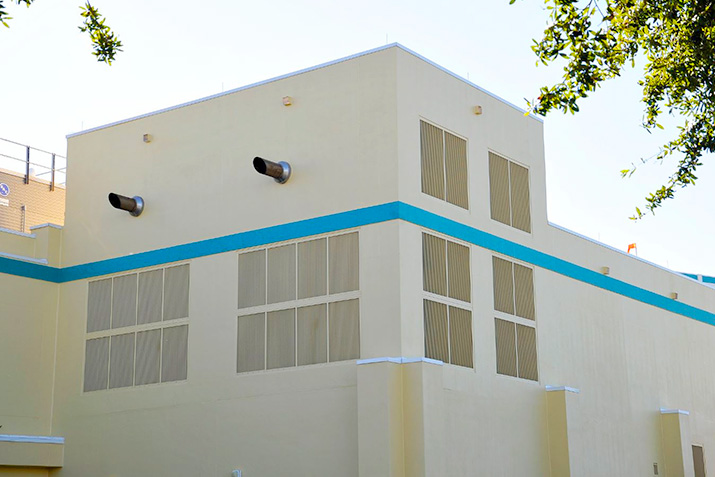 The EME6625D is a 6" deep extruded aluminum louver with closely spaced vertical blades to prevent the penetration of wind-driven rain. Designed with exceptional protection against wind-driven rain under severe conditions with MiamiDade Approval.
---
January 15, 2021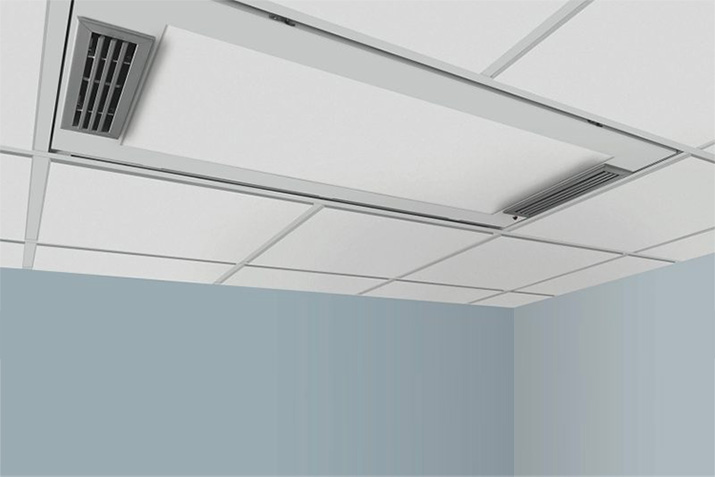 The Armstrong VidaShield UV24 System pairs a UV-C Air Purifier with ULTIMA Health Zone or SCHOOL ZONE Fine Fissured ceiling panels to offer safe, unobtrusive in-room air purification for cleaner air.
---
June 12, 2020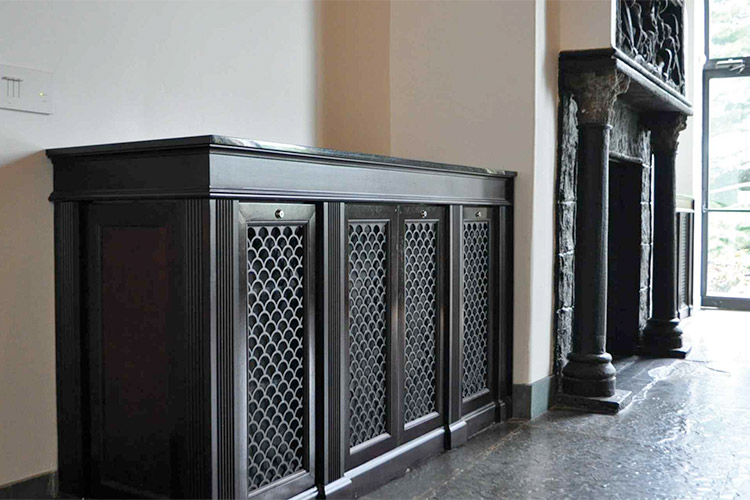 This stately fieldstone mansion, built in the mid-1800's, was a vacation home to famous Presidents and Authors. Custom Period-Matched Perforated Grille PatternsCustom fabricated bronze perforated grilles blended nicely with the rich mahogany woodwork that has stood for over 100 years.
---
January 10, 2020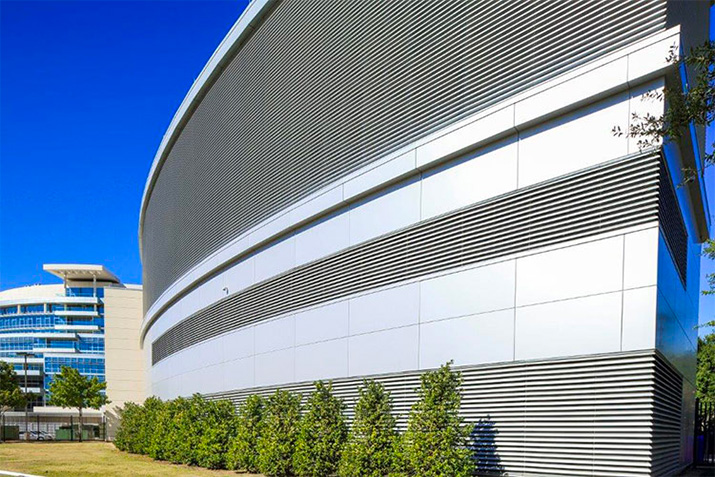 Designed to provide superior performance and great aesthetic appearance, Ruskin® louvers are backed by experienced engineers and reflect Ruskin's commitment to high quality product standards.
---
November 20, 2019
Take a Look at the New Advanced Thermal Dispersion Airflow Measurement System Flyer- Showing the TDP05K and AIRFLOW-IQ. The TDP05K Advanced Thermal Dispersion air measurement system is changing the way air measurement is delivered.
---
August 9, 2018
From new builds to historic renovations, perforated metal grilles can elevate any architectural design with patterns ranging from simple to ornate and vintage to modern. No matter your style, a perforated grille can tie together a variety of architectural projects – but how do you choose the right one for your project? We've streamlined the decision-making process into four simple steps.
---
April 15, 2018
The Natural Resources Defense Council states that Data centers can be regarded as the back bone of a modern economy serving businesses and communications. Defending data means not only protecting it from Mother Nature but also giving back to her with sustainable designs. A question that must be considered during the design of a data center, is 'How likely could the facility be compromised in extreme weather conditions such as tornadoes and hurricanes?'
When evaluating potential HVAC equipment it is advisable to use FEMA rated louvers and grilles. FEMA rated grilles and hurricane-resistant louvers have been tested against high windloads and large missile impacts. Outside air control dampers can seal up the center when necessary to reduce humidity and heat.
---
November 7, 2017
Heat conduction, or the transfer of heat through a solid material at the molecular level, is a problem that occurs in aluminum framing. Providing a thermal break in the aluminum is the most common solution for disconnecting the exterior and interior of the aluminum frame. The frame is literally split into two components and must be connected by a structural material that is of significantly less conductivity as the aluminum. Simultaneously the thermal break material must bond the two components together.
---
September 20, 2017
To improve access into the Four Queens Hotel and Casino in Las Vegas, Four Queens recently added a 48 foot air curtain. Built using Ruskin's IAQ50 air flow measuring and control dampers, the new air curtain efficiently and economically maintains the pressure in the building. Designed to satisfy the needs of a variety of applications, the IAQ50 air flow measuring and control damper provides the perfect solution to difficult challenges.
---
August 4, 2017
Coco Architectural offers custom fabrications for ornamental grilles and other products. In a recent project located at 80 8th Ave, in New York City, we created several custom pieces for the client, including a custom ornamental bronze grille over the entrance, a bronze header and jamb assembly for the Newsstand, and a custom bronze radiator enclosure with bronze bar grilles in the lobby.
---
July 19, 2017
Some say the beauty is in the details. Along with custom metal work for your projects, Coco Architectural Grilles & Metalcraft offers a variety of finish options like antiqued, brushed, mirrored and even blackened finishes to bring the project together for a complete look.
---
July 14, 2017
Bathroom fans are great at fighting moisture which can lead to mold, but only if used properly. Broan's innovative Sensaire Sense-on-Rise Technology is now available on the InVentTM Series ventilation fans. Homeowners can now have a worry free solution for excess humidity combined with the great InVent features.
---
April 24, 2017
The historic building housing the Warwick Hotel Rittenhouse Square originally had a manual revolving door flush with the building's facade. Somewhere along the way, it was decided to remove the relatively smaller gauge revolving door and replace the entrance with a double set of sliding doors.