architecture - engineering - construction

Louvers
---
September 21, 2023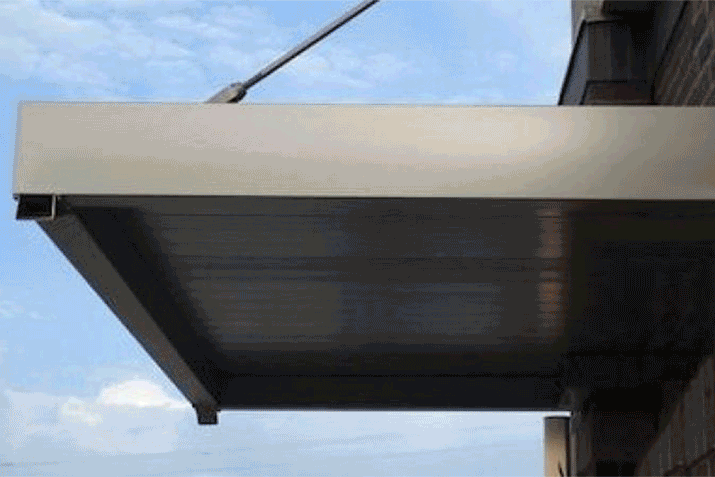 Architectural Louvers Co. excels in the art of louvers. Join us as we delve into their world, where they specialize in crafting wall louvers, hurricane louvers, louvered sunshades, exterior sun control devices, and roof equipment screens tailored for the architectural construction market.
---
June 29, 2023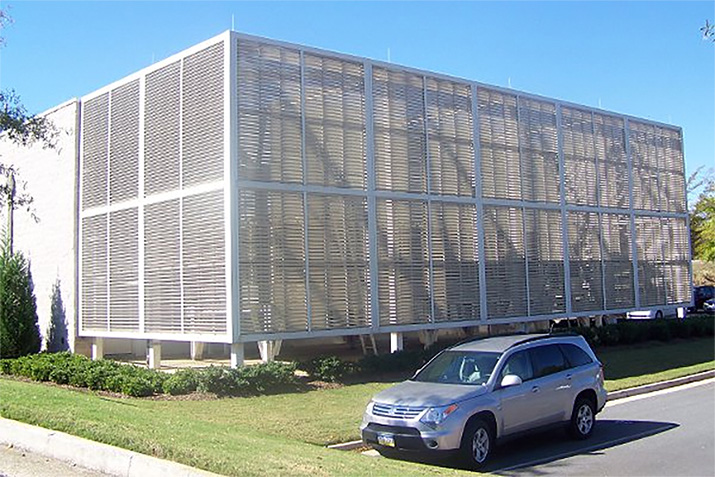 Architects are constantly in search of innovative solutions that can transform their designs into breathtaking realities. In the realm of architectural products, one company consistently pushes the boundaries of excellence and imagination: Willard Shutter Company Inc. Known as a trailblazer in the industry, Willard offers a diverse range of products that seamlessly blend functionality, style, and durability. In this article, we delve into the extraordinary product offerings by Willard Shutter Company Inc., unveiling the limitless creative possibilities they unlock for architects.
---
November 21, 2022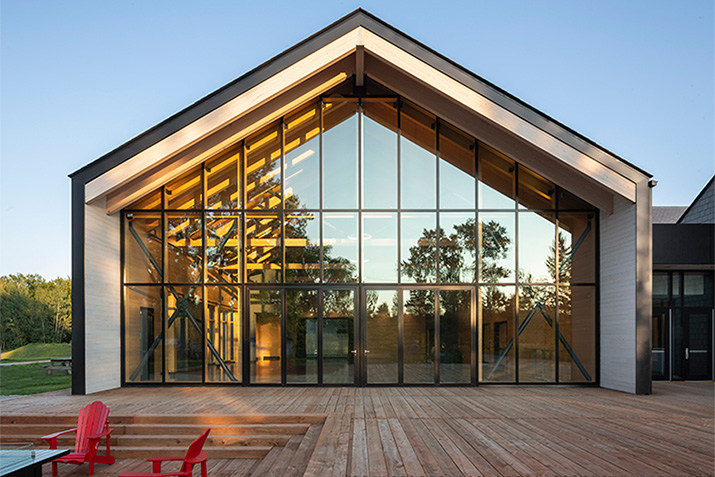 The aesthetic and material benefits of sustainable, well-engineered timber curtain walls are well documented. But Unicel Architectural's Therm+ H-I curtain wall systems with proven RAICO technology and high-quality glazing by Unicel Architectural take curtain wall performance to the next level. That's because each Therm+ H-I curtain wall system (available in sizes of 56 and 76 mm) combines lightweight and elegant design with Passive House certification-level thermal insulation, along with superior wind resistance and greater air tightness than any other curtain wall product on the market.
---
April 27, 2022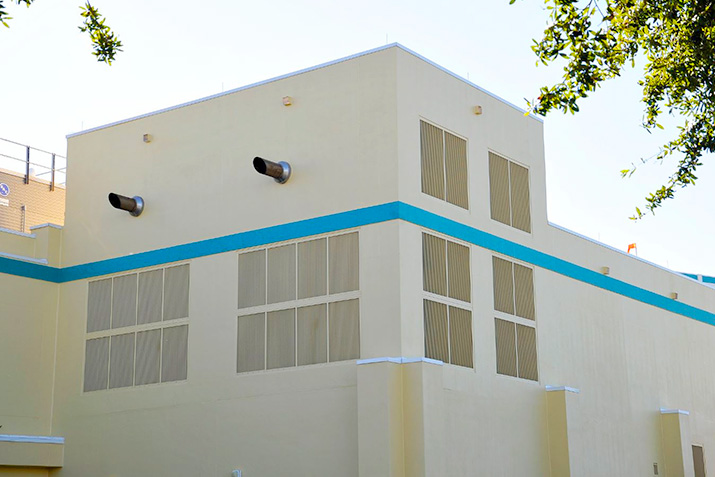 The EME6625D is a 6" deep extruded aluminum louver with closely spaced vertical blades to prevent the penetration of wind-driven rain. Designed with exceptional protection against wind-driven rain under severe conditions with MiamiDade Approval.
---
April 18, 2022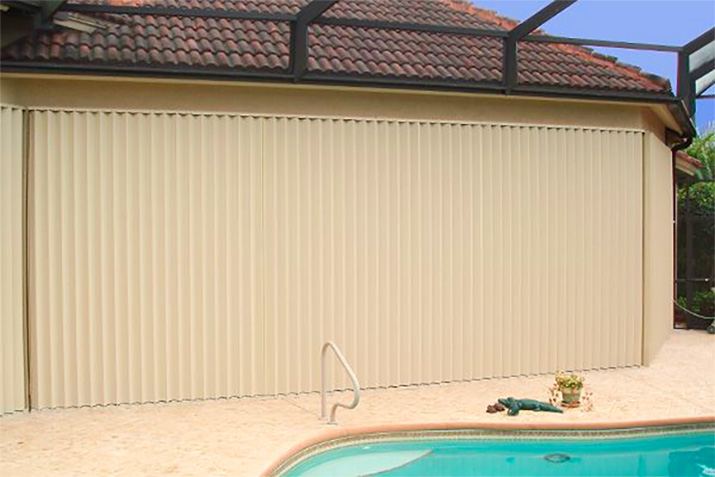 Simple to operate, the Folding Accordion Shutter provides immediate protection from hurricanes, storm, and burglary/intrusion. It is economical without sacrificing performance. The shutter glides along extruded aluminum tracks using nylon rollers mounted on stainless steel carriages, and can be secured from the inside or outside using aluminum locking rods and an optional key-lock. When open, blades stack neatly like an "accordion" at the sides of the opening. It's easily adapted to most window and door openings, and widely used to protect large areas like sliding glass doors, balconies, and lanais. The folding design allows for virtually unlimited left to right runs, and gives the product the unique ability to enclose entire areas from a single set of blades.
---
February 28, 2022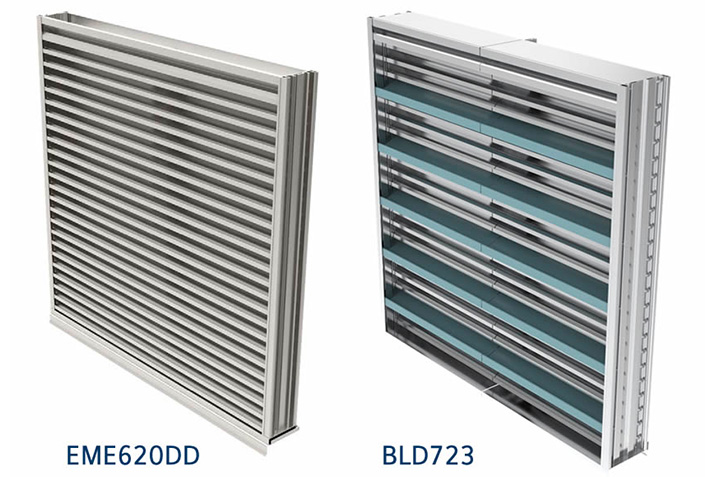 Ruskin Announces New EME620DD & BLD723 Wind Driven Rain and Bold Line Louvers. The new EME620DD and BLD723 louvers are wind-driven rain AMCA Certified louvers made for exceptional protection against water, air, and wind penetration.
---
August 18, 2021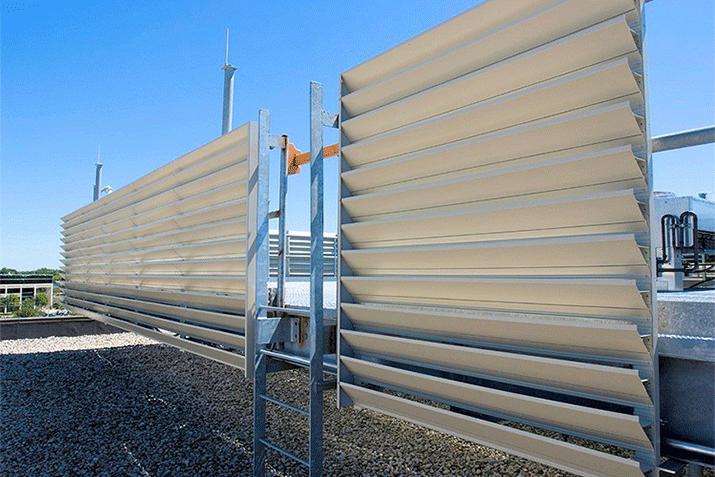 Louvers can be used as vision barriers to hide mechanical equipment and other unsightly items. Louver blades allow airflow and reduce the wind loads imposed on structural framing. Check out these three options:
---
June 2, 2021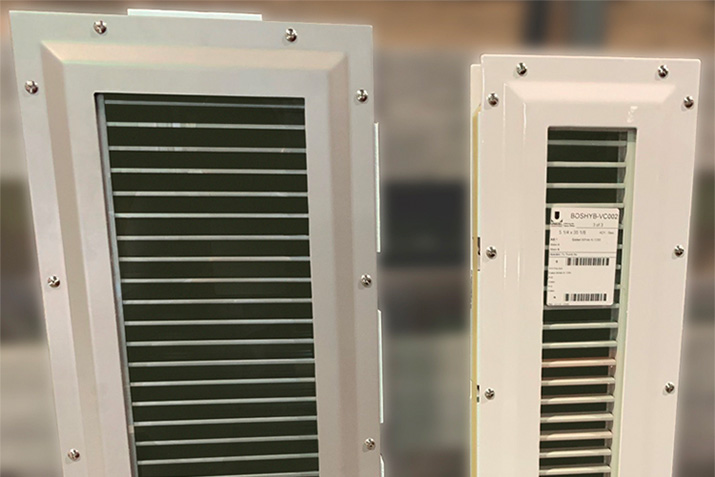 Vision Control® advanced louvered glazing technology provides unprecedented comfort and control of vision, light, temperature and sound. Its patented combination of cordless louvers between hermetically sealed glass panes ensure total privacy and optimal hygiene.
---
May 26, 2021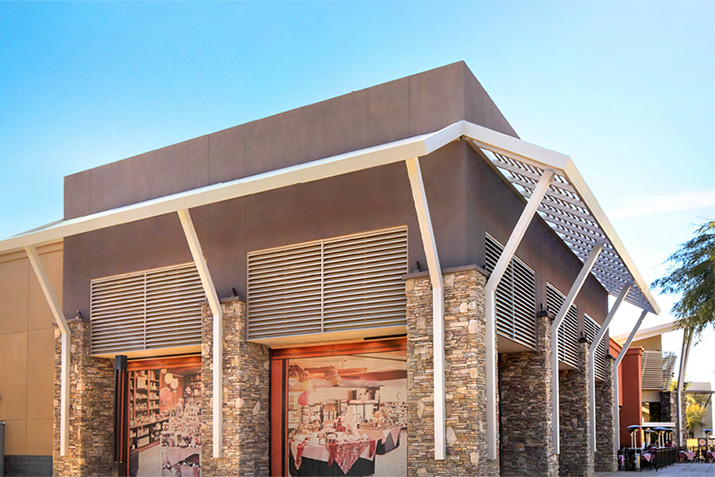 Ruskin Sun Control products provide optimal shading to promote lower energy costs and to cut down the glare on your buildings. These sun control solutions create comfortable environments and increase lifespans of mechanical equipment, resulting in higher productivity and sustainability.
---
April 30, 2021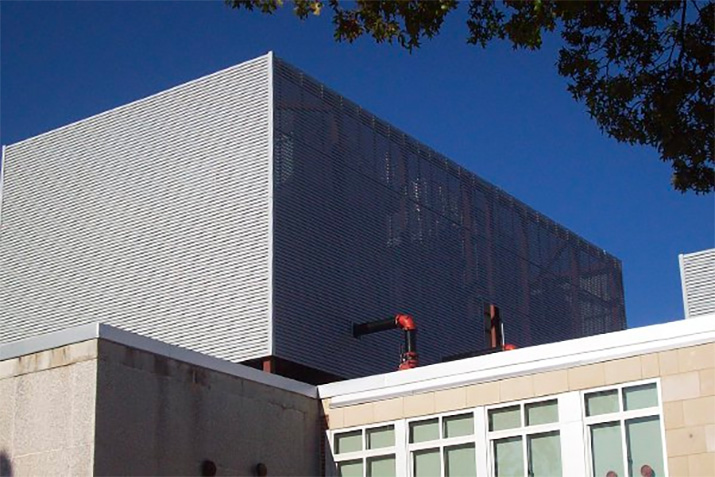 The EconoSpan® louver and screen system is a continuous louver product comprised mainly of roll formed louvers that snap firmly onto 'double-gripped' stringers or posts installed on pre-determined intervals. This system is ideal for roof top equipment screening or other applications with large areas requiring concealment and ventilation. Along with being very attractive, it is also one of the industry's most affordable systems.
---
October 26, 2020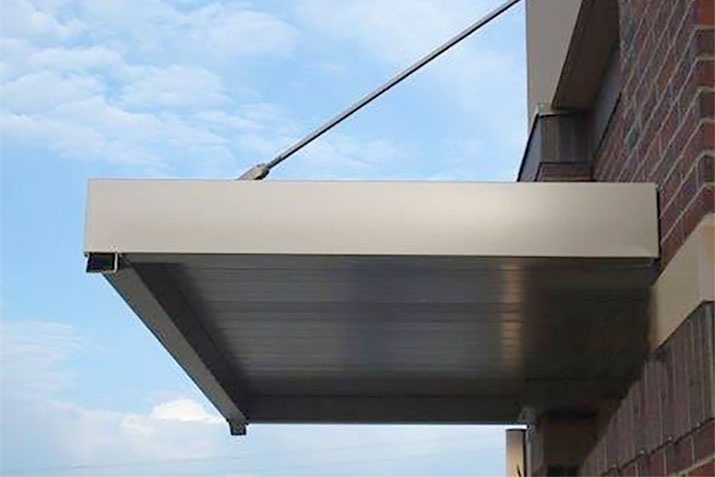 Use solid awnings as an entrance cover, walkway cover, or a fixed sunshade over windows to improve energy efficiency and occupant comfort. These versatile awnings are easily combined with our Louvered Sunshades, adding a distinctive appeal to any building.
---
July 6, 2020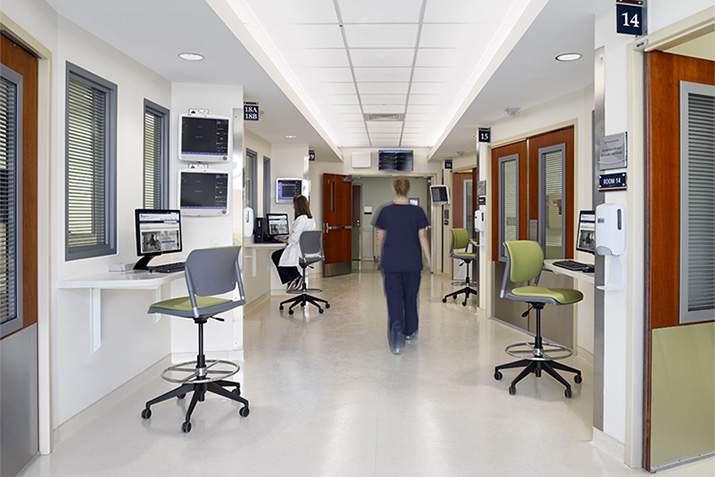 Unicel Architectural, a manufacturer and installer of louvered glazing, skylights, and aluminum and timber curtain walls, already let you know about Vision Control®'s new high-density polyethylene thumbwheels containing Gaia 704 antibacterial compound, which controls or retards the growth of bacteria, fungus and algae.
---
June 8, 2020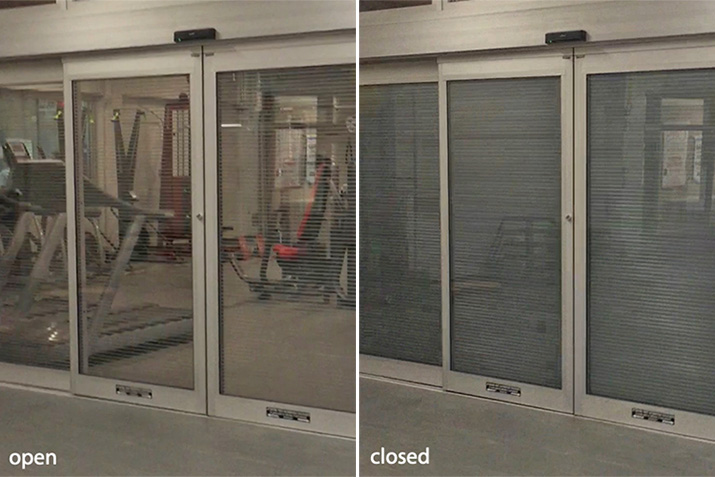 Vision Control® XS enables easy and automatic louver operation from a remote control, tablet or smartphone. Windows, doors and other openings in busy healthcare, commercial and educational environments can now be easily adjusted for vision, light, heat and noise with 'smart' louver control.
---
May 18, 2020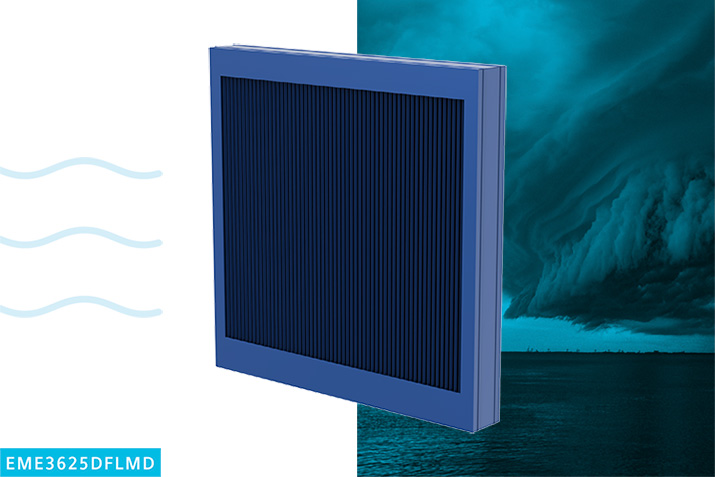 The EME3625DFLMD is the only 3-inch louver to be listed to Air Movement and Control Association (AMCA) standards 540 for impact testing and 550 for high velocity, wind-driven rain. In compliance with Miami-Dade standards, the EME3625DFLMD is constructed of extruded aluminum for low maintenance and high resistance to corrosion. Ruskin® brings you the EME3625DFLMD louver, which is the thinnest and lightest wind-driven rain louver on the market, earning a Class A efficiency rating at 29 mph and 50 mph.
---
January 10, 2020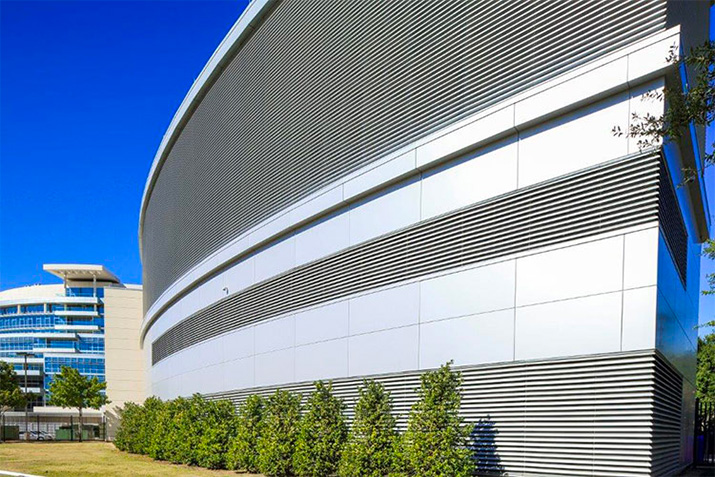 Designed to provide superior performance and great aesthetic appearance, Ruskin® louvers are backed by experienced engineers and reflect Ruskin's commitment to high quality product standards.
---
April 26, 2019
The primary purpose of a sunshade is to control the amount of direct sunlight through your building's windows. The benefits can be found in so many articles that we will not go into them here. The intent of this page is to show you how it works and give you insight into designing a louvered sunshade system that is right for your building, whether it is to be located in Houston, TX or Minneapolis, MN. The explanation can be as simple or as complicated as we want to make it. We opted for simple, yet effective. We will cover these topics: Where to shade How to shade Southern exposures How to shade Southeastern/Southwestern exposures How to shade Eastern and Western exposures
---
December 3, 2018
Specialty Shape Louvers are available for stationary drainable and non-drainable, wind-driven rain and hurricane Miami-Dade louver models. If desired, architectural or hidden mullions are also available.
---
October 8, 2018
Wind-driven rain louvers provide the maximum amount of protection in keeping wind-driven rain from egressing past an opening. Wind-driven rain louver models have both horizontal and vertical orientations and utilize a chevron style rain resistant blade that rejects horizontal rain as it comes in contact with the louver.
---
August 23, 2018
While providing fresh air intake and exhaust, Ruskin Louvers can also provide architectural style to building design. With the variety of models, sizes, and paint finishes available, Ruskin Louvers can add unusual and appealing features to exterior and interior elevation. Ruskin louvers are available in depths ranging from 1.5" to 12", and can accommodate various blade angles with high free area.
---
June 7, 2018
Peter Blaha is a product marketing manager for the architectural department at Ruskin®. He will be giving a webinar presentation on louver selection and application on June 13th at 2:30pm CST. During this presentation, Peter will discuss the codes, the various agencies that approve and govern these requirements, and the testing that goes into these louvers. Those that attend this webinar will come away from it with a better understanding of the Ruskin louver product range and their application. This is a great webinar for people that are new to the industry and want to learn more about louvers.