architecture - engineering - construction

Solar control
---
November 14, 2022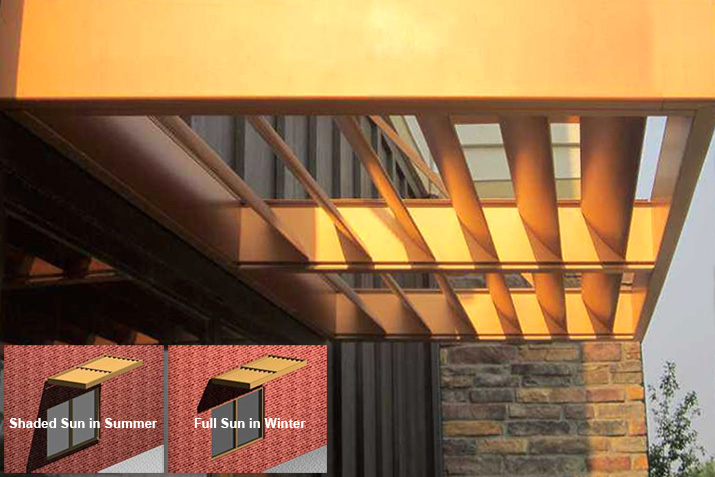 The primary purpose of a sunshade is to control the amount of direct sunlight through your building's windows. The benefits can be found in so many articles that we will not go into them here. The intent of this page is to show you how it works and give you insight into designing a louvered sunshade system that is right for your building, whether it is to be located in Houston, TX or Minneapolis, MN. The explanation can be as simple or as complicated as we want to make it. We opted for simple, yet effective. We will cover these topics: Where to shade How to shade Southern exposures How to shade Southeastern/Southwestern exposures How to shade Eastern and Western exposures
---
October 19, 2022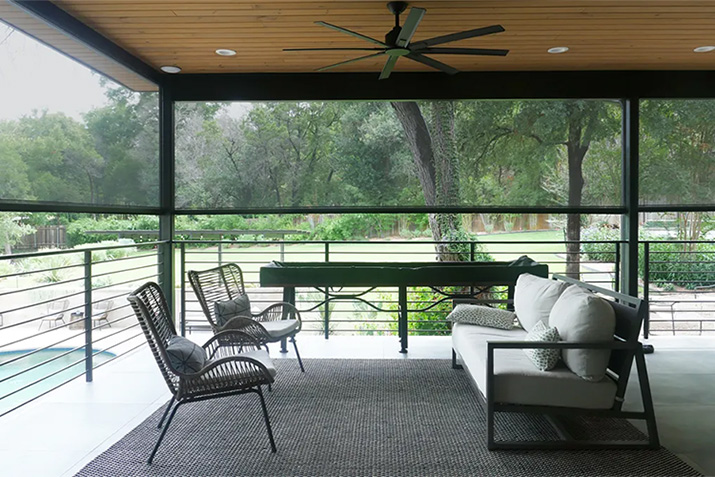 FlexShade® ZIP brings the comfort and security of the indoors outside. Enjoy the benefit of expanding usable square footage in both living and business areas without costly renovations. The ZIP offers unique side channels that ensure a sealed enclosure for existing garages, porches, patios, pool houses, and outdoor commercial food service areas. Easily create outdoor workspaces, elegant areas for dining and entertaining, or relaxing outdoor niches that are protected from the sun, wind, rain, and pesky insects. When used as an outdoor shading system, FlexShade® ZIP prevents heat from entering a building and helps to lower HVAC costs.
---
July 6, 2022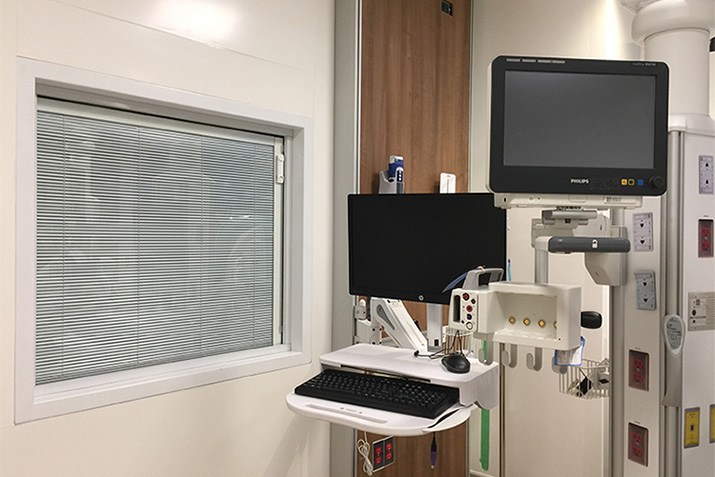 If you love the look and utility of Venetian blinds but can't stand cleaning them or dealing with damaged slats, check out Unicel Architectural's ViuLite® integrated blinds. ViuLite® is a system of ScreenLine® integrated blinds permanently and hermetically sealed within a double- or triple-glazed insulating glass unit. ViuLite® ensures protection against dirt, germs, weather conditions, and damage, while offering an aesthetically pleasing design element that provides enhanced solar shading and variable vision control.
---
November 22, 2021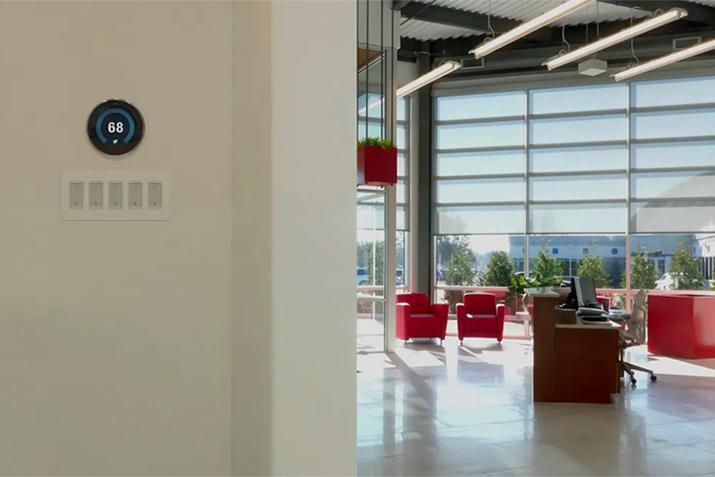 In both commercial and residential construction sustainability is a big part of the conversation. Customers want their buildings to have a reduced environmental impact during construction and throughout their life cycle. Window shades can contribute to this effort in several ways; Here are four of them:
---
June 23, 2021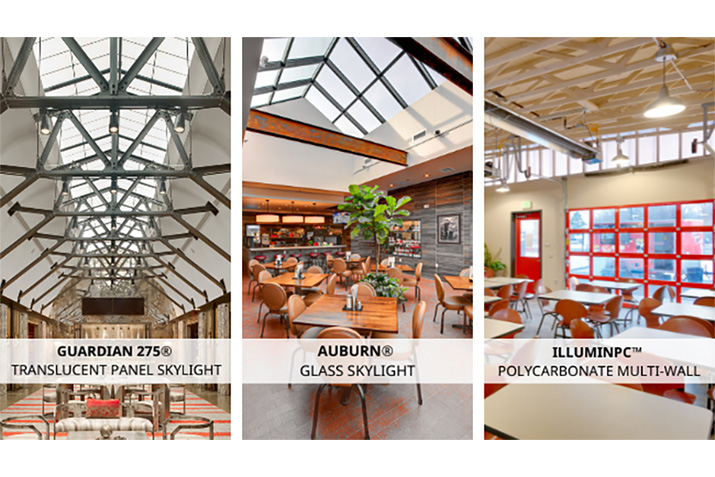 A restaurant's lighting plays a key role in how a customer feels during their meal; and how a customer feels will impact how they perceive the quality of both the food and the facility as well as whether or not they will return. For restaurants that specialize in sit-down dinners, dim artificial lighting helps to set the mood for a more intimate dining experience where customers are more likely to eat slower and stay longer. For other types of eateries like cafes and diners that operate primarily during daylight hours, natural lighting is the best way to create a bright, buoyant atmosphere where customers can come to wake up and leave feeling refreshed. Restaurants with a greener or more nutritious menu may also benefit from natural lighting as customers tend to feel healthier and eat healthier in naturally lit environments.
---
October 30, 2020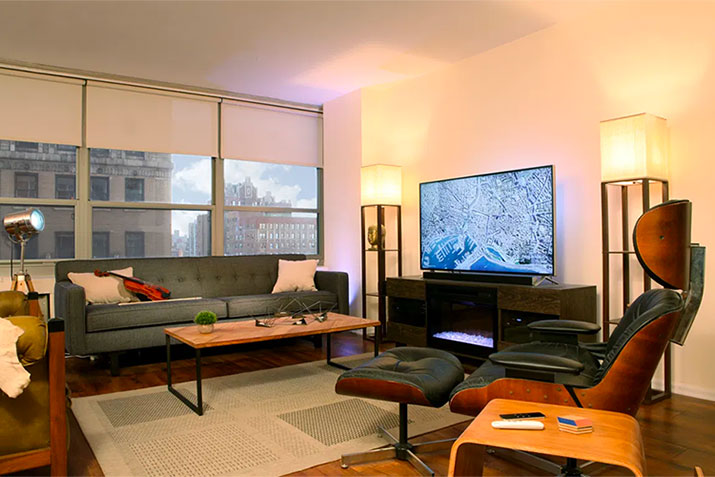 Whether it's appliances, personal devices, or office tools, people are demanding more from their technology. Today's tech needs to be able to offer convenience, safety, and the ability to interface with other devices on a network. Window shades have not escaped the smart tech trend. People are seeking solutions to maximize the benefits and sustainability of window shades without breaking the budget. Things like no touch tech, automation, and flexibility are key requirements.
---
March 6, 2020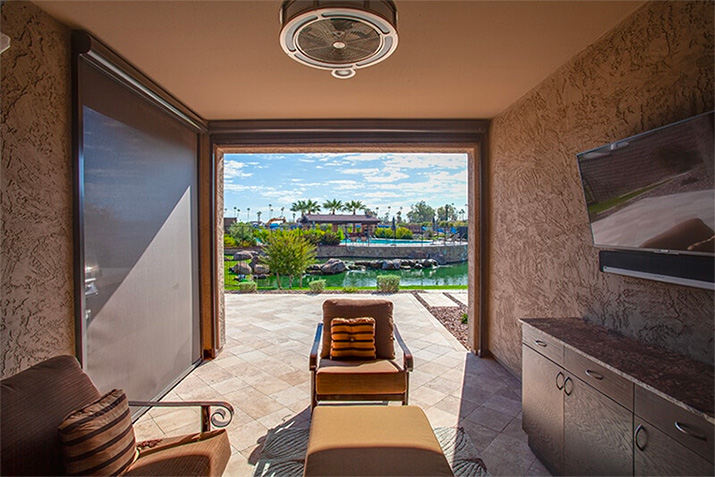 We humans spend more than 70% of our time inside a building. Yet we have a deep connection with the natural world. This dichotomy is the root of two recent design trends. One trend is biophilic design, where an effort is made to connect the indoors and outdoors. This is done by opening up buildings to natural views while also physically bringing elements of nature inside.
---
January 1, 2020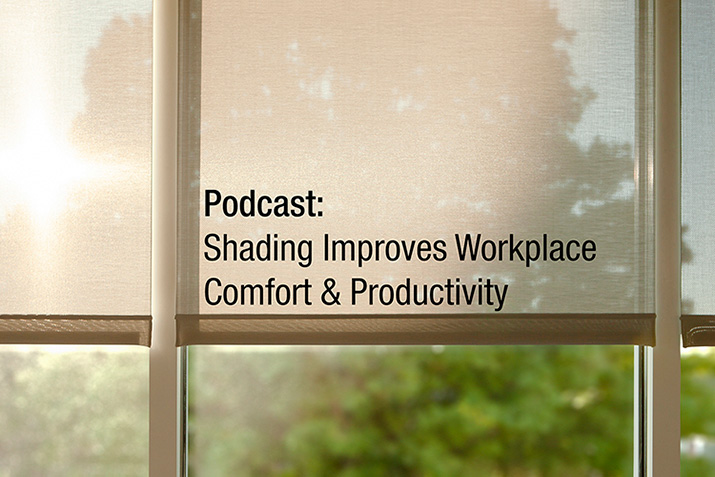 While reducing energy costs continues to be a major factor in the specification of window shades, more architects and designers are now using shades for a much different reason. "Energy savings is definitely a big part of window shades but we're seeing more and more discussions about occupancy comfort and workroom productivity," said Jeff Miller, LEED®AP, solar control product manager for Draper, Inc.
---
July 8, 2019
While a window with a trapezoidal or other custom shape can be a stunning addition to a building's aesthetic, it can also create problems for solar control. Standard rectangular shades and blinds aren't designed for this need. But we have a few solutions. Here are five ways to provide solar control for odd-shaped windows.
---
April 26, 2019
The primary purpose of a sunshade is to control the amount of direct sunlight through your building's windows. The benefits can be found in so many articles that we will not go into them here. The intent of this page is to show you how it works and give you insight into designing a louvered sunshade system that is right for your building, whether it is to be located in Houston, TX or Minneapolis, MN. The explanation can be as simple or as complicated as we want to make it. We opted for simple, yet effective. We will cover these topics: Where to shade How to shade Southern exposures How to shade Southeastern/Southwestern exposures How to shade Eastern and Western exposures
---
November 16, 2018
Curators and collectors continually struggle with the age old dilemma of how to find the right lighting for works of art without risking undue damage. The problem with direct sunlight and artificial light is that they cause damage not only through exposure to light (photochemical action), but from solar heat gain. The result of both will lead to the deterioration of art through cracking, brittleness and change in color. The solution for many museums and galleries are translucent skylights.
---
October 19, 2018
Designing the look and feel of a building's daylighting is a delicate balance of considerations. Primary among them is how solar heat gain coefficient (SHGC) affects a fenestration system, including wall systems and skylights. Deciding how much solar radiation to allow through glazing or translucent sandwich panels requires answering the following questions:
---
September 19, 2018
Solar control solutions for inside the window seem to make sense. But one question we often hear is, "Why would you use exterior or outside solutions?" It's actually a good question, and the answer is in the way energy from the sun is turned into heat.
---
August 23, 2018
While providing fresh air intake and exhaust, Ruskin Louvers can also provide architectural style to building design. With the variety of models, sizes, and paint finishes available, Ruskin Louvers can add unusual and appealing features to exterior and interior elevation. Ruskin louvers are available in depths ranging from 1.5" to 12", and can accommodate various blade angles with high free area.
---
July 23, 2018
A plethora of choices exist when it comes to customizing window shades. From color combinations and openness factor to panels built to fit individual window specs and environmental benefits, window shades are one of the most customizable design solutions you can find. And they add a personalized touch, especially when it comes to their controls. Control systems give users the ability to personalize shades to their needs and preferences. Here are just a few examples of how the right shade control system can create a custom experience.
---
April 27, 2018
Window shades have been the preferred daylighting control system of choice for several reasons. Shades allow natural light to enter the room while controlling unwanted, uncomfortable glare. They can provide a view to the outside world – even when the shades are down. Heating and cooling cost savings can be substantial and employee productivity improved with the right daylighting control strategy. And to get the most out of solar control shading, motorization and automation are key.
---
October 30, 2017
Gordon Parks Arts Hall at the U of Chicago Lab School's unique sloped facade called for a unique shading solution.