architecture - engineering - construction

The Future of Energy-Efficient Homes: Embracing Panelized Construction
September 7, 2023
In the ever-evolving landscape of construction, innovative solutions are continually reshaping the industry. Today, we invite you to explore an exciting advancement in the world of architecture and construction - panelized construction. The exploration is inspired by CertainTeed, who recently shared their insights on this transformative approach in a blog post. Dive into the future of construction and the remarkable potential of panelized building methods.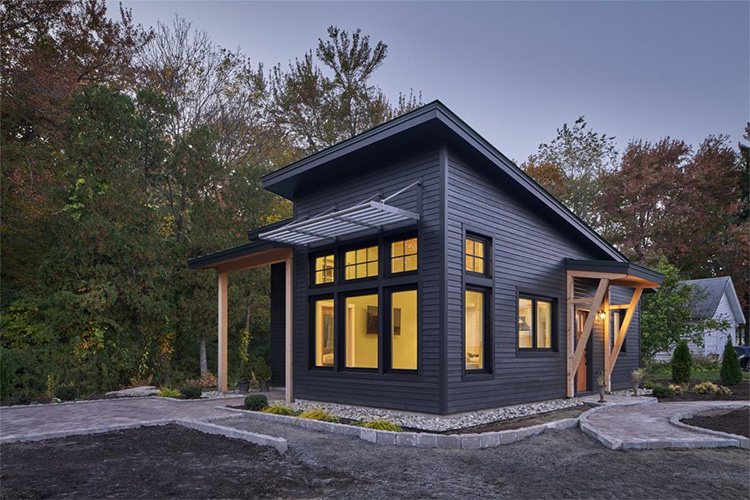 Is There a Better Way to Build?
In the face of labor shortages, supply chain disruptions, and the ever-growing demand for energy-efficient homes, the construction industry is facing unprecedented challenges. But what if we told you there's a way to overcome these obstacles while simultaneously improving quality and efficiency? The answer lies in panelized construction.
Panelized construction is a groundbreaking method that involves manufacturing building components in a controlled environment before transporting them to the construction site for assembly. This innovative approach streamlines construction, optimizes labor and materials, reduces waste, and ensures superior quality control. It's a game-changer for builders looking to stay ahead in today's rapidly evolving construction landscape.
What Is Panelized Construction?
Panelized construction encompasses more than just framing and sheathing. CertainTeed's ONE PRECISION ASSEMBLIES takes this concept to the next level by including windows, doors, siding, roofing, insulation, water and moisture barriers, and finishes. The result? A fully insulated, weather-tight, and sided home can be completed in as little as one day, ready for MEPs (mechanical, electrical, and plumbing) and interior fit-out.
The Benefits of a Controlled Environment
Manufacturing panels in a controlled environment offers numerous advantages. Skilled workers can focus on precision and detail, resulting in panels that are more accurate and consistent than those constructed on-site. Standardized production processes help identify and rectify design flaws or construction errors early on, reducing costly rework.
Quick and Simple Onsite Assembly
Assembly on-site becomes a breeze with panelized construction, especially with solutions like ONE PRECISION ASSEMBLIES. Panels are pre-engineered to fit together seamlessly, minimizing the need for extensive on-site construction work. This not only accelerates project timelines but also reduces disruption to nearby communities.
Build More, Waste Less
Panelized construction significantly reduces material waste compared to traditional construction methods. The precise measurements and pre-engineering offered by ONE PRECISION ASSEMBLIES help minimize waste generation, aligning with modern sustainability goals.
The Future of Single-Family Construction Is Here
At CertainTeed, their full-service panelized solution empowers residential builders and developers to create beautiful, durable, and energy-efficient homes efficiently. ONE PRECISION ASSEMBLIES are designed for the future, making future renovations and finish changes easy while reducing maintenance over generations. Plus, with comprehensive support, expertise, and industry-leading warranties from CertainTeed, builders can have peace of mind throughout the construction process.
Discover how CertainTeed's ONE PRECISION ASSEMBLIES can transform your construction projects. Visit certainteed.com/one-precision-assemblies and call 610-893-6200 to speak with a ONE PRECISION ASSEMBLIES specialist.
For the original article by Dennis Michaud, visit The Future is Panelized: A Better Way to Build Energy-Efficient Homes.
As industry pioneers, we believe in showcasing innovative solutions like panelized construction to architects and construction professionals. Stay tuned for more updates and insights from AECinfo.com.
@CTCeilings #CTCeilings #acoustic #ceilings #design
Company:

CertainTeed Ceilings
Source: https://blog.certainteed.com/2023/08/the-future-is-panelized-a-better-way-to-build-energy-efficient-homes/
---
Tags:
Total Acoustics® Ceilings from Armstrong Help Maximize Indoor Environmental Quality and Speech Privacy by both Absorbing and Blocking Sound (August 30, 2023), Enhancing Sound Control: The Versatility of Ambico's Acoustic Door & Frame Assemblies (July 12, 2023), Using roof cover board to reduce outside sound transmission (February 21, 2023), How to Get an Industrial Look with your Glass Wall Divider (November 30, 2022), Designing Health Care Facilities for Optimal IEQ (October 10, 2022), Acoustics Are an Essential Part of Indoor Environmental Quality (IEQ) (September 23, 2022), HEALTH ZONE Ceilings contribute to improved indoor environmental quality (IEQ) for every healthy space (July 13, 2022), Add Richness and Sophistication with Black Ceiling Tiles (April 13, 2022), TECTUM Create! Direct-Attach Ceiling and Wall Panels (April 6, 2022), Sheet Lead for Soundproofing (February 11, 2022)
Introducing the REFLECTOR™ Enhancer Flooring Systems for Architects (August 25, 2023), Discover 14 Captivating Public Outdoor Seating Designs by Wausau Tile (August 15, 2023), Introducing Stromberg GFRC: The Future of Reinforced Concrete (August 10, 2023), Introducing Carefree Clean™ Glass by eGlass™ Railing: Elevate Your Space with Effortless Elegance (August 8, 2023), BlueWater: Ensuring Safe Rooftop Installations and Fall Protection Solutions for Schools and Universities (July 27, 2023), Keyless Package Management: The Future of On- and Off-Campus Deliveries (July 25, 2023), Transform Your Space with Coco Architectural Grilles & Metalcraft Linear Bar Grilles (July 21, 2023), Alpine SnowGuards: Optimal Layout Recommendations for Pad-Style Snow Guards (July 19, 2023), Enhancing Sound Control: The Versatility of Ambico's Acoustic Door & Frame Assemblies (July 12, 2023), Unparalleled Multifamily Mailbox Solutions for Multi-Unit Properties (July 7, 2023)
Enhancing Moisture Management in Masonry Construction: The Innovation of Mortar Net Solutions (August 23, 2023), Understanding the Importance and Applications of Lead-Lined Drywall (August 17, 2023), Introducing Stromberg GFRC: The Future of Reinforced Concrete (August 10, 2023), Sydney Metro's Central Walk Relies On Penetron Technology For Durability (August 1, 2023), Introducing new brick colors: Beyond plain white, the Belden Brick Company expands design possibilities (June 15, 2023), 3 Retail Flooring Options (May 30, 2023), Admix C-Series: improving concrete performance right from the start (May 25, 2023), Level-Right® floor underlayment: the rock-solid solution for uneven floors (April 27, 2023), The Benefits of Translucent Panel Daylighting Systems (April 20, 2023), Resources to meet sustainability requirements (March 29, 2023)
Exploring Huntsman Building Solutions' Trailblazing Environmental Product Declaration for HEATLOK HFO and HEATLOK Soya HFO: An Architect's Indispensable Resource (June 23, 2023), The results are in on the First-Ever US Collegiate Design-Build Passive House Ice Box Challenge with Pratt Institute School of Architecture (May 18, 2023), How it Works: Solaris® Cool Roof for Solar Reflectivity (May 5, 2023), OPG Announces New Mini Reactor In Darlington, Ontario (January 25, 2023), 4 Ways to Reduce Energy Costs in Commercial Buildings (January 2, 2023), Product Spotlight: ViuLite® Integrated Blinds (July 6, 2022), Mobile Hi-Impact Shielding Barrier for Industrial Applications (March 4, 2022), Daylighting Design: How Much Light Do You Need? (January 3, 2022), Top 5 Reasons to Incorporate Translucent Daylighting in Your Athletic Facility Design (December 1, 2021), OptiQ® Thermal Window Series - incorporating health and well-being into the architectural solutions of tomorrow (October 4, 2021)
Exploring Huntsman Building Solutions' Trailblazing Environmental Product Declaration for HEATLOK HFO and HEATLOK Soya HFO: An Architect's Indispensable Resource (June 23, 2023), The Benefits of Translucent Panel Daylighting Systems (April 20, 2023), 4 Ways to Reduce Energy Costs in Commercial Buildings (January 2, 2023), No Masonry is Truly Waterproof (October 31, 2022), Why Spray Foam? Outlast and outperform fiberglass: cutting energy costs (September 9, 2022), Closed-Cell Insulation (June 15, 2022), Tyvek vs GreenGuard: Choosing the Best Housewrap for Your Project (February 9, 2022), Advantages of Insulated Sandwich Walls - Veterans Memorial Parkway Warehouse Project Feature (June 30, 2020), Moisture Control for Commercial Cladding (January 24, 2020), The History and Innovation of Weather-Resistant Substrates (April 24, 2019)
Exploring Huntsman Building Solutions' Trailblazing Environmental Product Declaration for HEATLOK HFO and HEATLOK Soya HFO: An Architect's Indispensable Resource (June 23, 2023), Resources to meet sustainability requirements (March 29, 2023), StrataClean IQ Air Filtration System is quiet, energy-efficient and meets new EPA Clean Air in Buildings challenge recommendations (August 3, 2022), How to Showcase Your Business During the Winter with Planters (January 26, 2022), Recycled Planters, Light Poles, and Bases (November 29, 2021), Special shapes have an impact on architectural design (November 12, 2021), New SimpleSoffit™ Drywall Framing System from Armstrong Offers a Faster, Easier, Better Way to Build Soffits (May 19, 2021), LYRA PB Direct-Apply Acoustical Ceiling and Wall Panels provide sustainable and acoustical options (March 17, 2021), How façade elements are increasing health, safety, and sustainability in school design (August 14, 2020), The Daylighting Difference: Sustainability (April 13, 2020)
Understanding the Importance and Applications of Lead-Lined Drywall (August 17, 2023), Determining the thickness of glass partition walls (June 21, 2023), Different Glass Enclosure Options for Offices (May 16, 2023), Your Ultimate Inspiration Gallery for Interior Design with Decorative Copper Tiles (May 9, 2023), The Benefits of Translucent Panel Daylighting Systems (April 20, 2023), Translucent Wall System Benefits and Applications (April 18, 2023), Unicel Architectural's timber curtain wall at Chibougamau-Chapais Airport wins prize for best institutional project under 1,000 square meters (March 24, 2023), StoneLite® Exterior Stone Applications (March 9, 2023), Wood and wood-Look ceiling and wall panels (March 2, 2023), 4 Ways to Reduce Energy Costs in Commercial Buildings (January 2, 2023)