architecture - engineering - construction

"BILCO's Basement Doors: A Comprehensive Look at Innovative Design and Functionality"
November 16, 2023
In the realm of basement access, one name stands out as a pioneer and leader – BILCO. For an astounding 90 years, BILCO has redefined the landscape of basement doors, seamlessly blending innovation, design, and durability. AECinfo.com is excited to shed light on BILCO's transformative approach to basement entry, ensuring not just functionality but also safety and aesthetic appeal.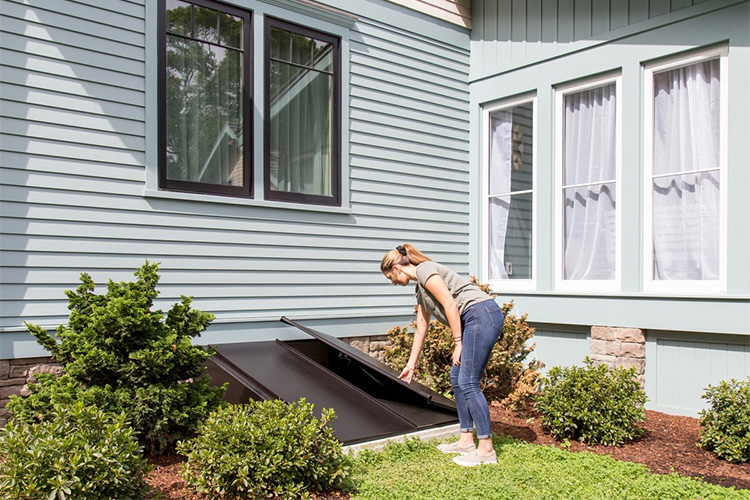 Gas Spring Lift Assistance for Effortless Operation
Imagine having basement doors that not only serve their functional purpose but also prioritize safety and ease of use. BILCO accomplishes just that with their revolutionary gas spring lift assistance. This feature ensures that their doors can be operated effortlessly and safely with just one hand, eliminating the concern of heavy doors slamming shut.
A Diverse Range of Basement Doors
BILCO doesn't believe in a one-size-fits-all approach. They understand that every home is unique, and so are its requirements. Whether you have a flat or sloped basement doorway, BILCO has you covered. The product lineup boasts a variety of material and finish options, allowing homeowners to find the perfect basement door that complements the style of their home seamlessly.
Classic Series Basement Doors
BILCO's Classic Series basement doors redefine convenience. Offering direct basement access, these doors come with a primer finish, providing homeowners the flexibility to customize according to their preferences. Not only do these doors add code-compliant living space, but they also facilitate the movement of large items, making them an ideal choice for both finished areas and storage spaces.
Classic Series Sloped Wall Basement Doors
For homes with sloped sidewalls built into the foundation, BILCO presents the Type BR sloped wall basement door. This design allows for installation on various sidewalls, including brick, stone, block, or poured concrete. With a factory powder coat finish available in a range of colors, these doors seamlessly blend with the exterior of any home.
Ultra Series Basement Doors
BILCO's Ultra Series takes basement access to the next level. Offering a perfect blend of safety, code compliance, weather-tight performance, and low maintenance, these doors are a testament to BILCO's commitment to quality. The polyethylene construction ensures resistance to rust, rot, and the need for painting, while the simulated wood texture and driftwood color enhance the aesthetic appeal of any home.
In conclusion, BILCO's dedication to innovation and quality shines through in their diverse range of basement doors. AECinfo.com applauds their commitment to providing safe, code-compliant, and visually appealing solutions for homeowners. If you're ready to explore the world of basement doors, visit BILCO's official website for more details.
@TheBilcoCompany #TheBilcoCompany #flooraccess #roofhatches #smokevents #basementdoors
Company:
Bilco
Source: https://www.bilco.com/SCResult/Basement-Doors-318
---
Tags: