architecture - engineering - construction

Different Glass Enclosure Options for Offices
May 16, 2023
Read the full original article here >
Any given office is going to have many needs. Employees need to work in an environment conducive to productivity. Clients must feel welcome and comfortable, and spaces need to accommodate a range of activities from collaboration to individual work, to large meetings. In today's world, offices also have to deal with safety due to COVID-19 concerns.
It's important to create an office that can meet everyone's needs while still exuding a modern and comfortable aesthetic. No small task, right?
Luckily, Avanti Systems offers a variety of glass enclosures for offices that can meet these wide-ranging needs while creating a functional and aesthetically pleasing work area. Whether you need to partition off a large area, span an entire opening, or create a conference room in the middle of a large space, we have a system to meet your needs.
Full Wall Glass Enclosure Systems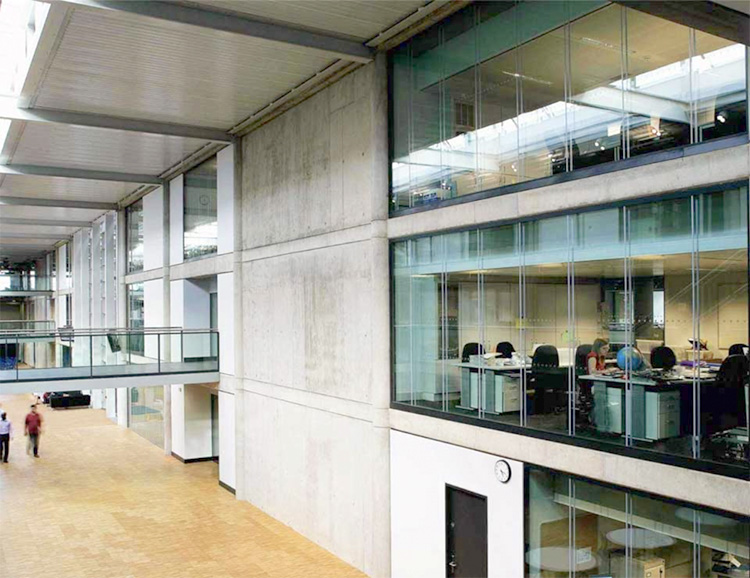 For large spaces that want to take advantage of views and natural light, the Atrio AltoTM Atrium Wall System is ideal for interior offices and commercial spaces. With panels that can be up to 12' high and 5' wide, this system spans large openings with ease.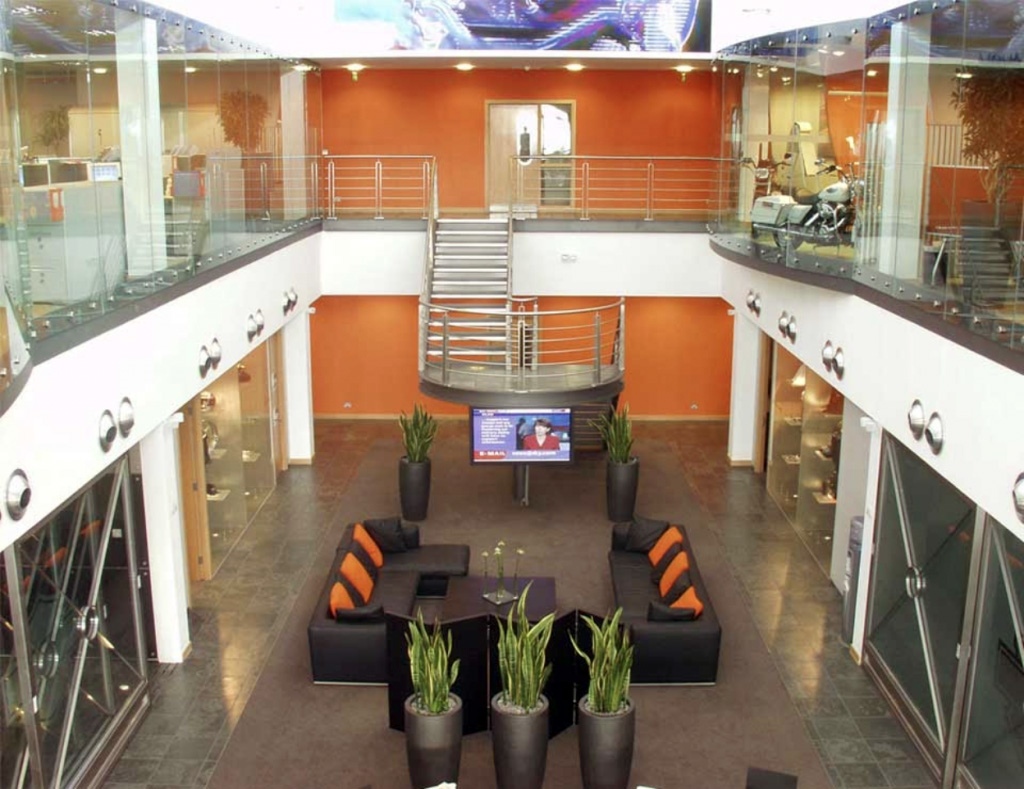 Ideal for interior atriums, this system was integrated into this Harley Davidson showroom and office space. The atrium wall system welcomes natural light throughout the space and creates an open and inviting environment.
Freestanding Glass Enclosures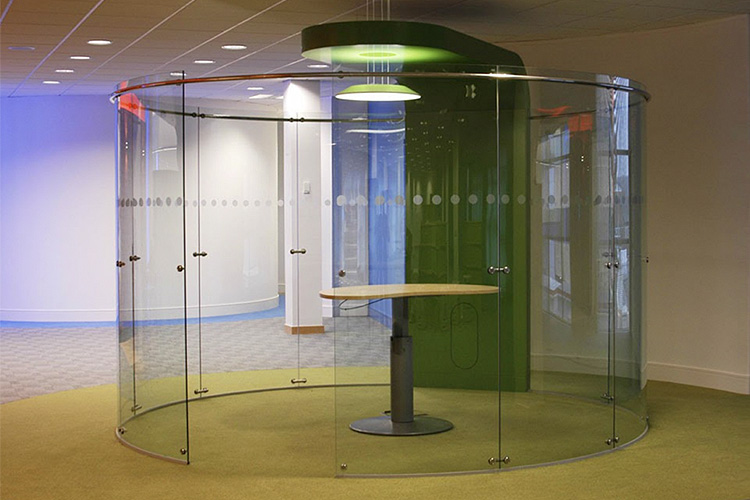 Freestanding glass enclosures for offices provide the ultimate flexibility in placement, configurations, and doors. The EliteTM Freestanding Glass Partition System stands independently, needing only single point wall and floor fixings, and is combined with stainless steel components and toughened glass panels.
They can be installed in nearly any configuration, including curved or angled, so you can create an office design tailored to your exact needs and specifications.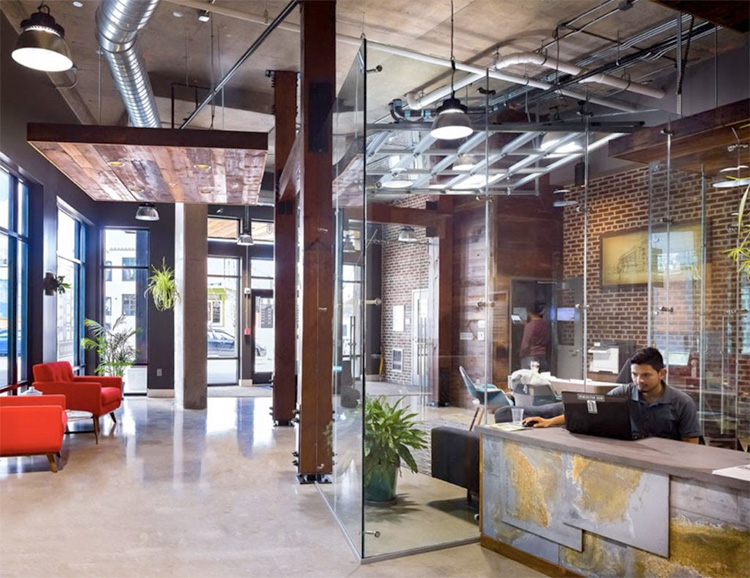 They can be placed anywhere, so freestanding partitions offer the utmost flexibility. They also accommodate a variety of doors, including pivot, sliding, and hinged, so you can choose the best way to enter and exit the space. You can also choose from tempered, laminated, low-iron, and LCD privacy glazing to create a fully customized system.
Frameless Glass Enclosures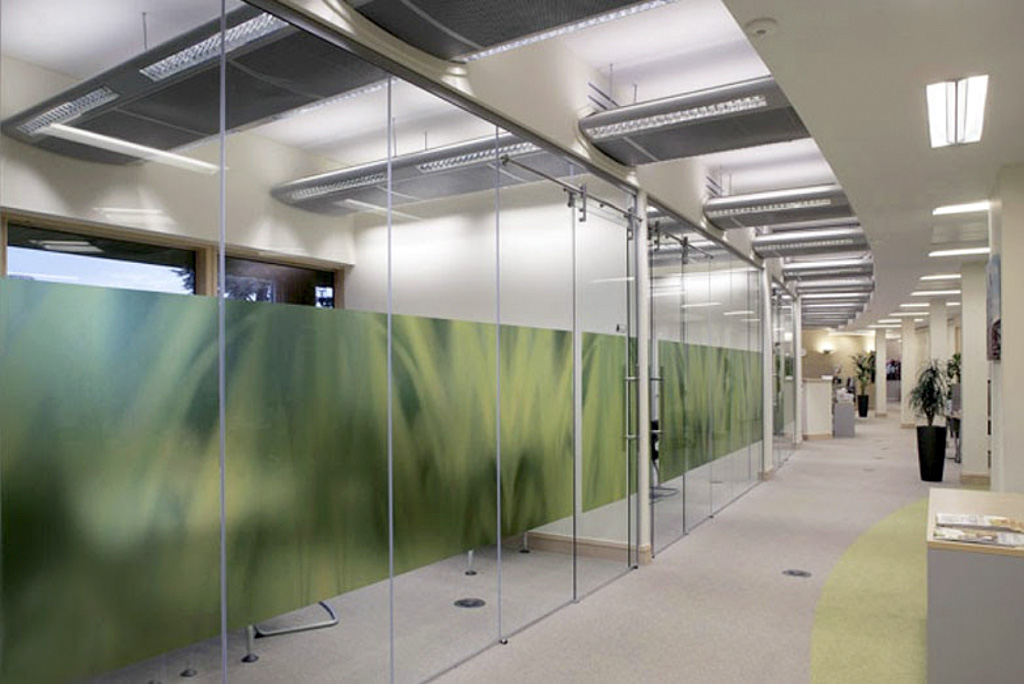 For a sleek and continuous aesthetic, frameless glass enclosures for offices can allow for an unobstructed view throughout the space. They can also be frosted or include graphics to customize the amount of visual privacy without compromising the amount of natural light that is allowed in.
The SolareTM Single Glazed partition system is aesthetically superior to a solid wall. It creates a modern aesthetic and can be installed in full height floor to ceiling applications or customized to the space. Available in curved, straight, or angled configurations, this system allows you to create the ideal glass enclosure. The frame can even be recessed into the wall for a clean glass to wall break, or it can be visible to define and highlight the glass system.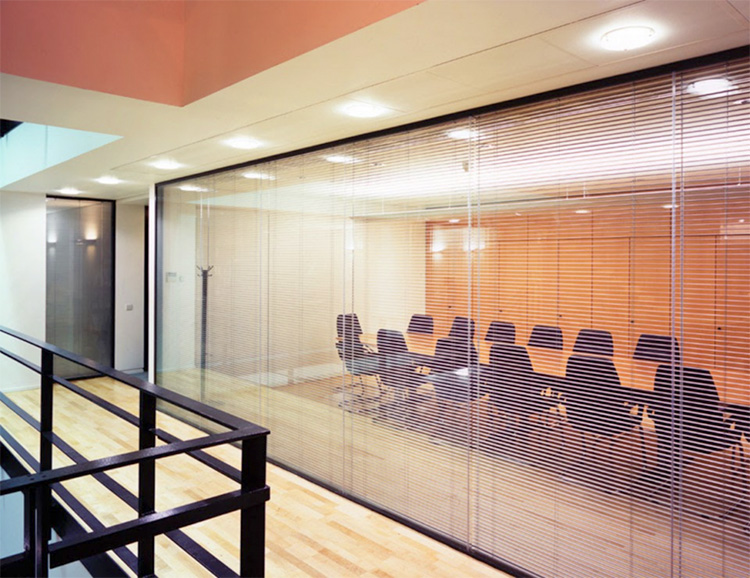 For additional acoustic comfort and sound privacy, the SolareTM Double Glazed Frameless Partition System provides all of the benefits of a glass enclosure for the office, but it has the acoustic rating of a solid wall. It also includes additional options for visual privacy, including LCD privacy glazing or integral blinds.
High Wall Glass Enclosures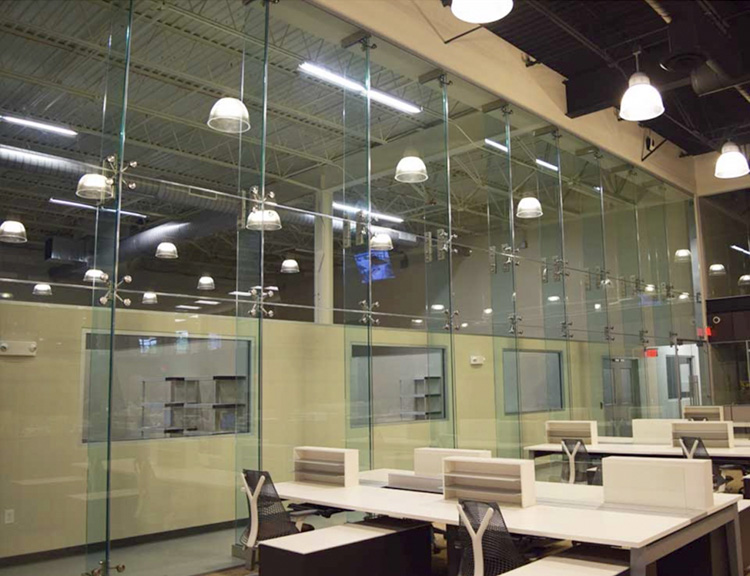 For spaces with high ceilings, a standard height system may not be able to meet the needs of the space. That's why we developed our ElevareTM Point Support Single Glazed glass enclosure. This innovative high wall system is based on the concept of structural facades with the use of vertical glass fins.
The perimeters are fastened to solid walls and the system provides a flexible and modular separation of office space. With the option of straight, angled, and curved configurations, this system can be tailored to the exact needs of an unconventional space, making it perfect for offices located in industrial buildings or other high ceiling spaces.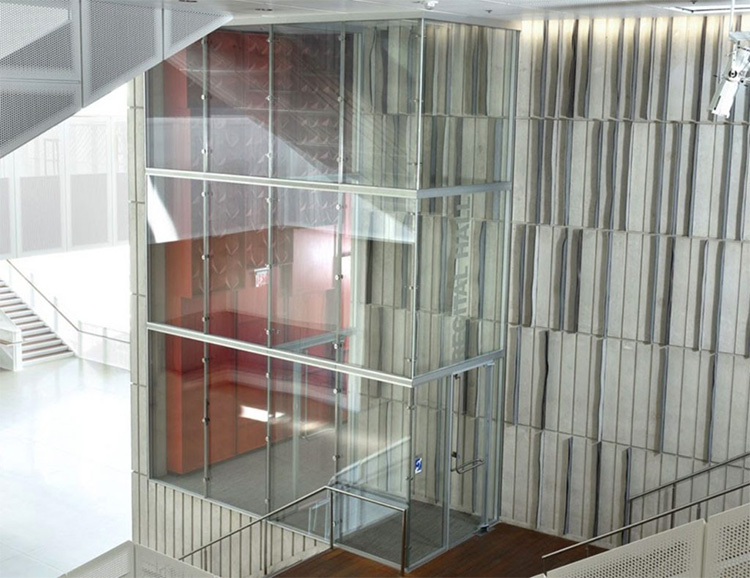 The ElevareTM Mullion high wall system was designed based on structural facades that use vertical aluminum mullions, in order to create a contemporary interior space. It is designed to allow for the movement, reconfiguration, and relocation of the connection elements without making holes in the main support structure. This allows for flexibility as the needs of the office may change over time.
Explore Glass Enclosures for the Office with Avanti Systems
Avanti Systems has a range of options for glass enclosures for offices. Our systems are designed to meet the changing needs of the contemporary office, with most of them being demountable with components that are infinitely recyclable. Whether you need a freestanding system for instant privacy or an atrium that allows natural light to flood through a common space, we have a system that will meet your needs.
Contact the team of experts at Avanti Systems today to begin designing the perfect glass enclosure for your office.
@AvantiSystemUSA #AvantiSystemUSA #architecture #officedesign #interiordesign
Company:

Avanti Systems USA
Product: Elite Free Standing
Of: Avanti Systems USA
Source: https://www.avantisystemsusa.com/glass-enclosures-for-offices/
---
Tags: