architecture - engineering - construction

See your surroundings for what they are with cable railing systems
November 7, 2023
Black cable railing lines this slope-facing deck on a contemporary home in Ellensburg, WA. With an open view of the trees and sky beyond, residents resting in the covered lounge area can easily enjoy moody sunsets like this one.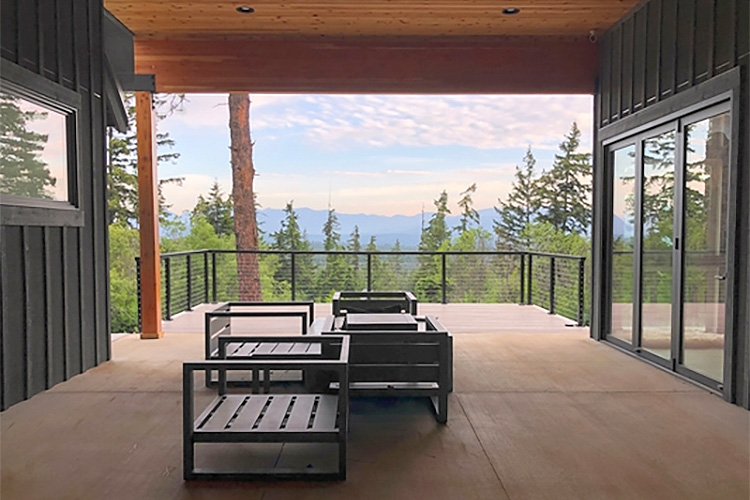 Black Aluminum Cable Railing - Ellensburg, WA
| | | | |
| --- | --- | --- | --- |
| Color & System | Top Rail | Mounting Style | Fitting Hardware |
| Black CableView™ Aluminum | Rectangular Aluminum | Deck Mounted Posts | Field Swaged Assemblies |
Features & Benefits:
Reinforced aluminum system withstands the tension of cable infill without bending.
Black powder-coat provides a dramatic and high-contrast look while protecting the aluminum from the elements.
Rectangular Aluminum Top Rail matches our posts and provides a traditional shape that doubles as a usable surface.
Deck mount posts are easy to install.
Field assemblies have a low-profile look with no bulky turnbuckle.
Materials you'll Need for this Railing System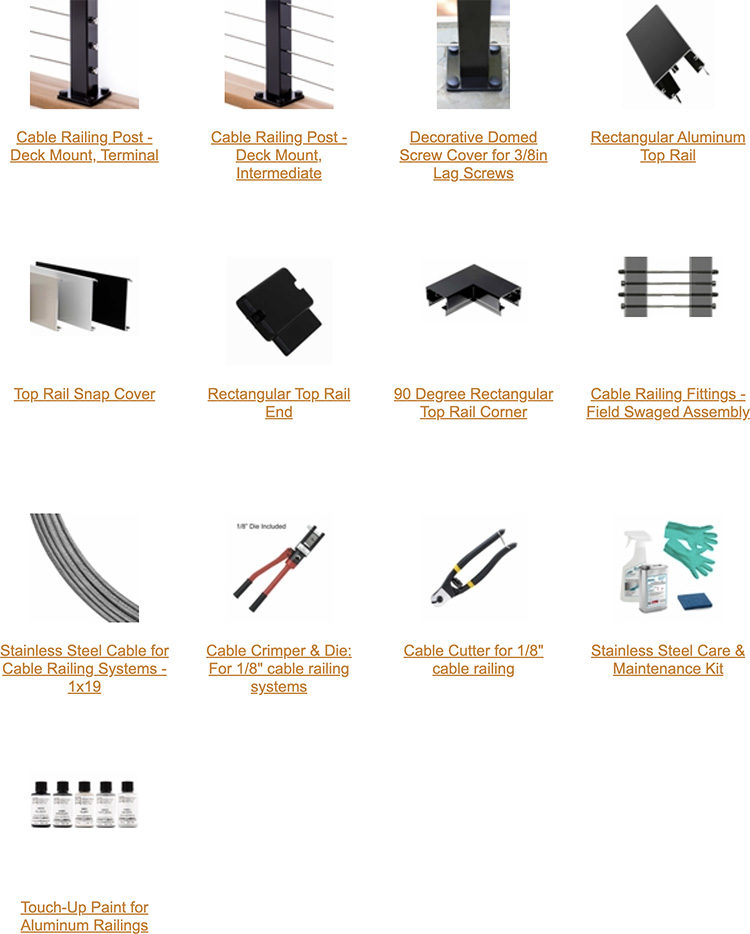 @SCRrep #SCRrep
Company:

Stainless Cable & Railing Inc.
Product: CableView® Aluminum Cable Railing System
Source: https://stainlesscablerailing.com/cable-railing-ellensburg-washington.html
---
Tags:
What framing materials are needed for bulletproof security windows? (April 25, 2023), The Benefits of Translucent Panel Daylighting Systems (April 20, 2023), How to Tighten Cable Deck Railing (February 2, 2023), Custom manufactured light poles to meet specifications designated by you (November 7, 2022), A quick rundown on eGlass railing systems (August 15, 2022), Black Aluminum Cable Railing (July 25, 2022), Stainless steel round cable railing stands out (February 4, 2022), MorZip® Roof & Wall Systems (February 2, 2022), Clay Aluminum Cable Railing (January 10, 2022), Get Ultimate Building Protection With Trex Commercial Products' Smoke Baffle (December 29, 2021)
Download the Ruskin Architect's Guide to Sun Control Products (November 1, 2023), Tectum® DesignArt™ Ceiling and Wall Panels from Armstrong Transform Interior Spaces (September 19, 2023), The Future of Energy-Efficient Homes: Embracing Panelized Construction (September 7, 2023), Introducing the REFLECTOR™ Enhancer Flooring Systems for Architects (August 25, 2023), Discover 14 Captivating Public Outdoor Seating Designs by Wausau Tile (August 15, 2023), Introducing Stromberg GFRC: The Future of Reinforced Concrete (August 10, 2023), Introducing Carefree Clean™ Glass by eGlass™ Railing: Elevate Your Space with Effortless Elegance (August 8, 2023), BlueWater: Ensuring Safe Rooftop Installations and Fall Protection Solutions for Schools and Universities (July 27, 2023), Keyless Package Management: The Future of On- and Off-Campus Deliveries (July 25, 2023), Transform Your Space with Coco Architectural Grilles & Metalcraft Linear Bar Grilles (July 21, 2023)
Light up your space with the R-6304 Constellation Light Bollard (October 26, 2023), Downspout Planters: Sustainable and Aesthetic Solution to Rainwater Management (October 6, 2023), Balancing Function and Aesthetics in Site Furnishing: Creating Inviting Public Spaces (September 26, 2023), Soundscape Design with Planters (September 1, 2023), Discover 14 Captivating Public Outdoor Seating Designs by Wausau Tile (August 15, 2023), Introducing Carefree Clean™ Glass by eGlass™ Railing: Elevate Your Space with Effortless Elegance (August 8, 2023), New decorative enclosures and light pole base shrouds in the latest Custom Base Capabilities Catalog by Terracast Products (July 4, 2023), New planter styles and sizes in the latest Planter Catalog by Terracast Products (June 9, 2023), L is for linger. Maglin's new L-Series more than delivers. (April 13, 2023), Complementary Planter Colors for Color of the Year 2023 Viva Magenta (March 22, 2023)
Fall Protection Railing Systems (October 24, 2023), Introducing Carefree Clean™ Glass by eGlass™ Railing: Elevate Your Space with Effortless Elegance (August 8, 2023), BlueWater: Ensuring Safe Rooftop Installations and Fall Protection Solutions for Schools and Universities (July 27, 2023), How to Tighten Cable Deck Railing (February 2, 2023), eGlass Railing structural glass railing systems offer a clean minimal look for any application (January 26, 2023), How to design with FLEXX Panels (January 18, 2023), How to Build a Wooden Gate for Deck (January 4, 2023), Wet Glaze vs. Dry Glaze: Which is Right for Your Railing Project? (December 21, 2022), What rooftop safety solutions can help you achieve total compliance? (November 9, 2022), Creating a view that is like having no railing at all (November 4, 2022)
Light up your space with the R-6304 Constellation Light Bollard (October 26, 2023), Fall Protection Railing Systems (October 24, 2023), Smoke Guard Draft Curtain: a cost-effective solution designed for warehouses, aircraft hangars and manufacturing environments (October 17, 2023), BILCO Roof Hatch Paves Way For Delivery of Important Medical Device (October 10, 2023), MarShield's Process for Creating Custom NDT Shielding Rooms That Ensure Safety in Industrial X-Ray Operations (September 14, 2023), Easily Identify Risks & Safeguarding Solutions for Commercial Overhead Doors (September 5, 2023), Understanding the Importance and Applications of Lead-Lined Drywall (August 17, 2023), Introducing Carefree Clean™ Glass by eGlass™ Railing: Elevate Your Space with Effortless Elegance (August 8, 2023), BlueWater: Ensuring Safe Rooftop Installations and Fall Protection Solutions for Schools and Universities (July 27, 2023), Alpine SnowGuards: Optimal Layout Recommendations for Pad-Style Snow Guards (July 19, 2023)