architecture - engineering - construction
MarShield Borated Polyethylene Shielding Solutions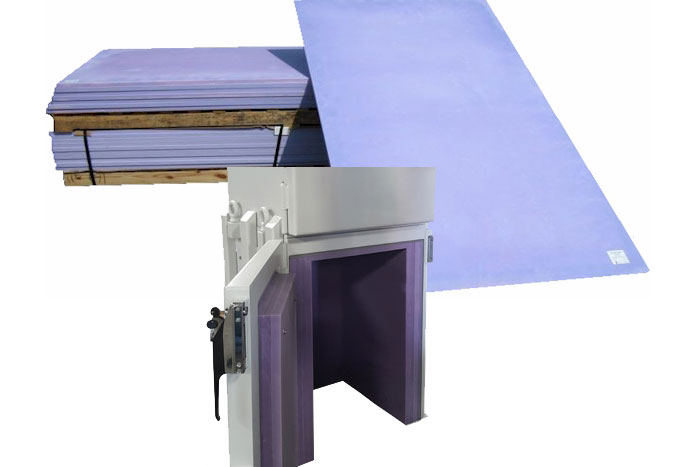 MarShield Supplies Plasti-Shield ® Boron Filled Polyethylene Shielding: A Lightweight, Cost-Effective Neutron Shielding Solution.
Plasti-Shield ® Boron Filled Polyethylene Neutron Shielding, supplied by MarShield, is a lightweight, cost-effective neutron shielding solution to attenuate and absorb neutron radiation and is an extremely effective for applications in industrial, healthcare cancer treatment centers, diagnostic and hospital facilities.
Most radioactive fields consist of different types of radiation. The most common include fast neutron, thermal neutron, primary gamma rays and secondary gamma rays. Plasti-Shield ® is a borated polyethylene designed to attenuate these types of radiations.
Fast Neutrons are most effectively shielded by hydrogen. Plasti-Shield ® has an inherently high concentration of hydrogen, over 13% of volume.
Thermal Neutrons are shielded by polyethylene with the presence of boron, such as Plasti-Shield ® Industrial Grade with 5% boron by weight.
Primary Gamma Rays are best shielded with lead or other high-density materials. It is common to combine a lead lining with Plasti-Shield ® in applications requiring attenuation of primary gamma rays.
Secondary Gamma Rays are created by the capture of thermal neutrons by hydrogen. These captured gamma rays can be minimized by adding boron, resulting in a significantly reduced energy dosage of only .42 MeV.
For easy installation, MarShield's borated polyethylene comes in a standard sheet size of 48" x 96" x 1" thick. You can easily cut this polymer material using standard woodworking tools.
@MarShield_TM #MarShield_TM #radiationshielding #neutron #shielding

For other relevant searches, you might want to try: