architecture - engineering - construction
Enhance Cityscape With Small Cell Concealment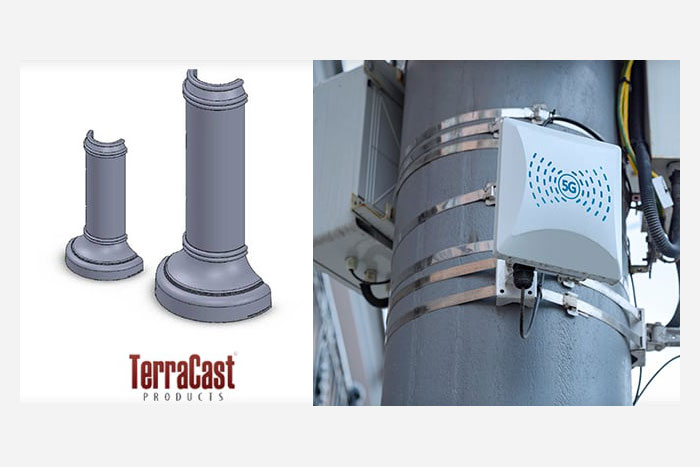 Cities and municipalities have to walk a fine line between balancing aesthetic demands with the city's specifications and needs for cell towers and connectivity. When it comes to designing cell tower poles, the look and style can be drastically affected by the design of its base. But not only does it serve aesthetic functions, but it also protects and conceals the equipment inside.

With TerraCast's resin bases, you can have lightweight and durable material that is easy to ship and quick to install. Due to being maintenance-free and resilient against exterior elements, resin bases offer numerous advantages over alternative raw materials traditionally used in cell tower pole bases. Here are several reasons why cities and municipalities should use TerraCast's resin bases for small-cell concealment.

What is Resin?
Before you invest in TerraCast's small-cell concealment products, it is important to understand what resin is first. TerraCast's resin products use up to 100 percent PCR (post-consumer recycled) materials using a process called Rotational Molding. The process begins with a powder that is liquified through superheating and poured into a mold before being heated slowly as it rotates. This method gives TerraCast's resin products a more durable form to withstand all kinds of blunt or impact damage with the elasticity to prevent breaking, cracking, or shattering.
Resistant to Weather and Environmental Damage
One notable advantage of using resin bases for cell tower poles is that they are not vulnerable to weather conditions and damage from exterior elements. Whether it is rain, animal urine, or collision with pedestrians and vehicles, metal materials are vulnerable to corrosion from extended exposure, making maintenance or repair necessary in time.
By contrast, resin bases will not rust or experience corrosion from moisture exposure while offering similar durability against physical damage as metal. This makes them ideal for housing cell tower poles, as they do not require regular maintenance and offer lasting durability and protection.
Customizability
One of the biggest selling points of resin products is their customizability, and TerraCast offers a wide range of styles suited to a variety of aesthetic needs and demands. Resin products are highly customizable and come in a variety of different colors and sizes. Moreover, you can also request custom graphics and logos for their surfaces. Since the final look and style of a cell tower pole can be drastically affected by the design of its base, having the flexibility of customization ensures the needs of cities and municipalities can be met.
Easy to Move and Install
While metal materials tend to add a lot of heft – making installation more challenging – resin is a lightweight material that is far easier to handle. It requires less padding during the shipping process and is less likely to be damaged while being a fraction of the weight of metal or stone. Additionally, heavy equipment is not necessary for installation, as one or two people can easily handle resin products – making moving and installing bases easier.
Cost-Effective
Not only can cities and municipalities benefit from the durability and ease of installation of resin cell tower pole bases, but using them can reduce overhead costs due to their cost-efficiency. Resin products do not break or stain—as a result of their non-porous and non-hygroscopic characteristics – which make routine maintenance and visual restoration unnecessary. Additionally, its lightweight nature makes it more cost-effective to ship. This leads to lower overall expenses for cities and municipalities, making it an ideal solution over alternatives.
Enhance the Cityscape with TerraCast's Small Cell Concealment Products
TerraCast offers a wide variety of resin-based small-cell concealment products to meet a variety of styles and aesthetics for cities and municipalities. Contact us today to begin enhancing your cityscape with long-lasting cell tower pole bases.
@terracastpro #terracastpro #publicsafety #planters

For other relevant searches, you might want to try: