architecture - engineering - construction
5 Reasons to Add Ice Flags to Your Snow Guard Quote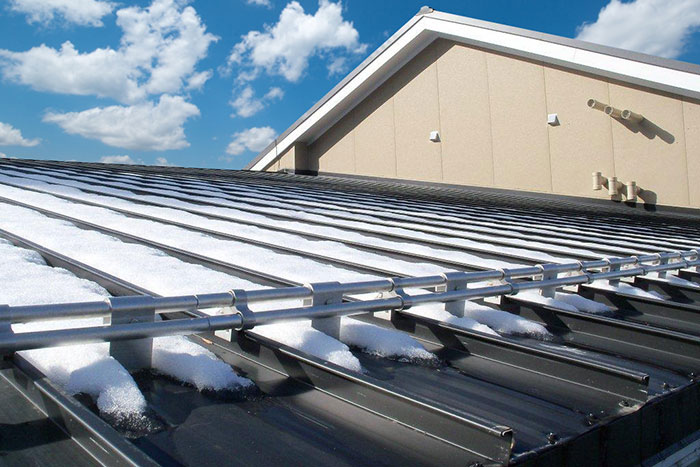 Ice flags are optional safety devices that help prevent ice from avalanching off rooftops. They are used in conjunction with our bar and pipe-style snow guards. There are specific snow management situations where they are extremely beneficial. Let's look at 5 reasons you would want to add ice flags to your Alpine SnowGuards' quote.

Ice flags would be most useful:
Above critical pedestrian and parking areas
Using ice flags helps avoid a potentially dangerous situation.
On metal, membrane, synthetic slate/shake roofs
These roof types have less friction to hold snow and ice in place.
Standing seam roofs with tall seam heights
Snow packs or ice can slide under cross members of a bar or pipe-style systems.
In lower snow load areas, or where icing is common
Areas with frequent freeze-thaw cycles call for snow guard systems with ice flags.
On roofs that experience shading
This situation, coupled with energy loss through roofing, creates ice to build up
How Many Ice Flags are Typically Quoted?
Alpine recommends:
One ice flag per panel or per pair of brackets when spacing is less than 24"
Two ice flags per panel when spacing is greater than 24" (up to and including 48" on center)
Ice flags on lowest row as a cost-savings opportunity because snow and ice tend to melt, refreeze and condense on lower portion of roof
Ice flags on upper rows to relieve stress on snow guards for customers experiencing large amounts of icing
Ice Flag Length
Ice flags are designed to be ⅛" – ¼" off the roof surface to protect it and to limit snow and ice sliding under. The length is determined by roofing material and application. Ice flags can be customized to any length.
Special Circumstances
Standing seam, metal ribbed panels, traditional batten seam panels
These roof types with deep flutes benefit from additional ice flags that extend into the flutes, even if bracket or clamp spacing is every other or every third seam.
Get a Snow Guard Quote with Ice Flags
Please sign up for our snow guard calculator to receive a quote for snow guards with ice flags. We will provide the correct number to install per panel and a layout recommendation upon request.
 
@AlpineSnowGrds #AlpineSnowGuards #SnowGuards #SnowManagement

For other relevant searches, you might want to try: