architecture - engineering - construction
About Vapor Barriers
Brochures

Vapor Barriers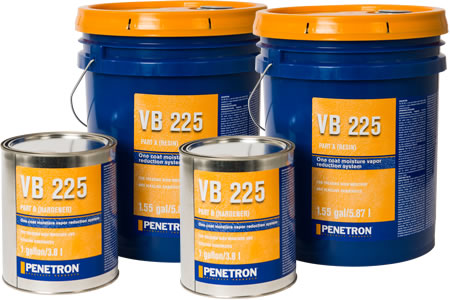 Penetron Specialty Products (PSP) manufactures high quality products for a wide range of flooring preparation and installation tasks. From primers to self-leveling underlayments and vapor barriers, PSP offers reliable solutions backed by our customer support experts and a 100% customer satisfaction guarantee.
Each of our products has a detailed product data sheet and a material safety data sheet (MSDS) available for download.
The VB 225 is a one-coat moisture vapor reduction system consisting of a unique combination of epoxy resins and other chemical compounds. VB 225 is formulated to prevent floor failures on concrete slabs containing elevated levels of moisture vapor emission. VB 225 has no upper limits for water vapor emissions; it resists moisture levels (100% RH) and a sustained pH of 14. VB 225, due to its 8-12-hour cure and 100% solids content, is extremely dense with a perm rating of 0.05 grains/ft²/hour in Hg-1. The low perm rating makes the VB 225 perfect as a primer for virtually all types of flooring, especially low permeance flooring, such as sheet goods and rubber tile.
VB 225 is compliant with all state and federal VOC regulations with a VOC content of <10 g/l VB 225 allows installation in sensitive areas such as active hospitals, schools and grocery stores.

News archive:
Vapor Barriers from Penetron Specialty Products (Jun 10, 2021)
Penetron Vapor Barriers (Sep 10, 2019)
09600 - Flooring
09610 - Floor Treatment
09 60 00 - Flooring
09 61 00 - Flooring Treatment