architecture - engineering - construction
About Skim Coating & Patching Compounds
Skim Coating & Patching Compounds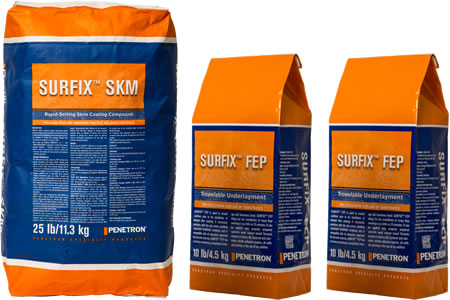 Penetron Specialty Products (PSP) manufactures high quality products for a wide range of flooring preparation and installation tasks. From primers to self-leveling underlayments and vapor barriers, PSP offers reliable solutions backed by our customer support experts and a 100% customer satisfaction guarantee.
Each of our products has a detailed product data sheet and a material safety data sheet (MSDS) available for download.
SURFIX™ FEP is a cement based, rapid setting, trowelable underlayment used to smooth subfloors prior to the installation of finished floor covering. It chemically combines with the mix water, avoiding associated installation problems and is compatible with all adhesives approved for use over concrete. SURFIX™ FEP has a creamy consistency, exceptional coverage and tenacious bond.
SURFIX™ FEP allows for the installation of many floor coverings in as little as 15 minutes. It can be applied over properly prepared concrete, wood, cement based Terrazzo, ceramic & Quarry tile, Cutback and non-water soluble adhesive residue, all without priming or the use of an additive.
SURFIX™ SKM is a polymer modified, rapid setting, interior patching compound used to fill voids and smooth the surfaces of open concrete and approved wood underlayments prior to the installation of finished floor coverings. Common floor covering can be installed in as little as 1 hour.
When mixed with Acrylic Bondcrete, the 2 - Coat "Acryl-SKM System" is expanded to include other properly prepared substrates - Burnished concrete, Cutback & Adhesive residue, cement Terrazzo, Ceramic & Quarry Tile, single layer, fully bonded, VCT and embossed, non-cushioned, residential, sheet vinyl.

News archive:
Penetron Skim Coating & Patching Compounds (Nov 27, 2021)
Penetron Skim Coating & Patching Compounds (Mar 06, 2020)
09600 - Flooring
09610 - Floor Treatment
09 60 00 - Flooring
09 61 00 - Flooring Treatment