architecture - engineering - construction
Moisture in the slab? This is the permanent solution!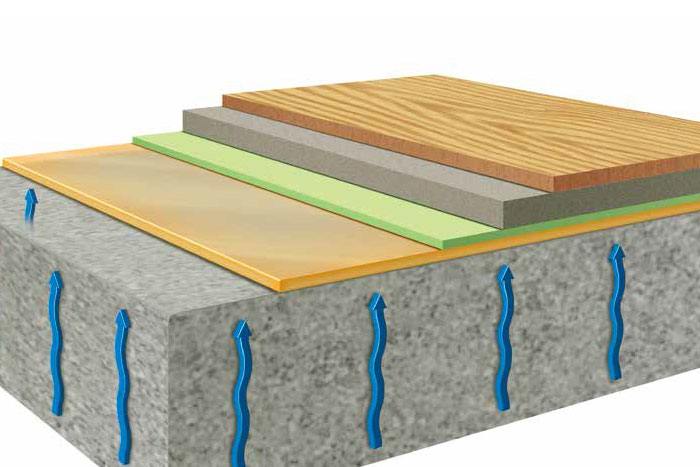 Testing for moisture levels should be done before installing any type of floor covering or finish on a concrete substrate.
Even when the concrete slab is not directly exposed to a source of moisture, tests often show unacceptable levels of moisture that can endanger the durability of the final floor covering or finish.
External drying of the concrete slab can take many months, usually not a realistic solution for most construction projects. Installing a moisture mitigation system then becomes the best solution to protect the final finish from moisture vapor and to keep adhesives from contact with the high pH in the concrete.
Every flooring project is different, with specific challenges and demands. PENETRON Specialty Products (PSP) is a recognized innovator of proven, permanent flooring preparation solutions.
The VB 225 moisture mitigation system protects all types of floor toppings from moisture damage
Durable. Invulnerable. High performance. VB 225.
VB 225 is a one-coat moisture vapor reduction system based on a proprietary blend of epoxy resins. VB 225 is especially formulated to prevent floor failures on concrete substrates containing elevated levels of moisture vapor emission.
Our unique formulations are 100% solid epoxy, contain no fillers and are applied in a single coating. VB 225 can be applied to fresh concrete after 5-7 days to help accelerate flooring projects. It can withstand 100% relative humidity (RH) (ASTM F2170) and up to pH 14.
VB 225: Permanent protection.
The remarkable bonding properties of VB 225 permanently bond the material to the properly prepared substrate. Once applied, it won't come off; proven by superior pull / bonding test results that consistently exceed industry standards. Obviously, this makes it highly effective as a barrier to any moisture vapor rising from the concrete. No moisture can penetrate into the finished flooring.
#Penetron #concreteprotection

For other relevant searches, you might want to try: