architecture - engineering - construction
About Lead Materials
Lead Materials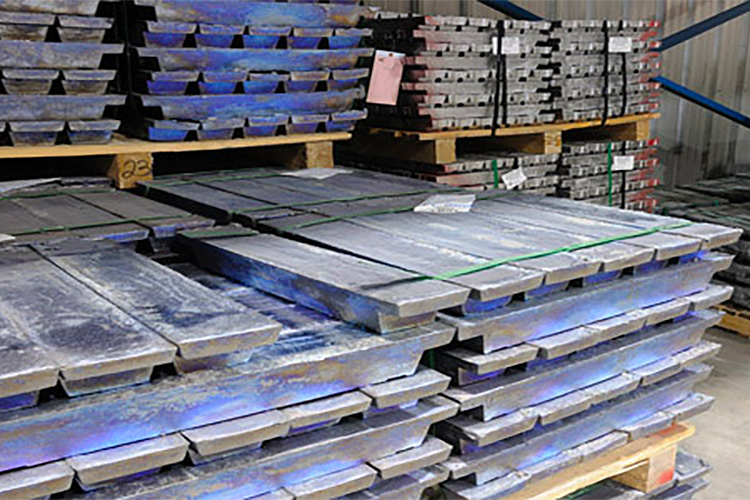 Lead Materials
MarsMetal Speciality Castings Division is a leading supplier of lead materials including lead ingots, lead shot, lead bricks, lead pipe and sheet lead.
Mars Metal is your source for ingot lead. Lead ingots have managed to acquire a variety of industry specific names. Ingot lead can also be known as lead pigs, bullion or bar lead and range in size from 10 LB ice cube tray ingots to 70 LB large ingots. For more information please see the dimensioned line drawings and renderings below to help you decide on the ingot sizing that suits you best. We are able to provide ingots individually or in bundles.
We Supply:
Lead ingots produced to ASTM B29-03 specifications for refined pure at 99.97% and pure lead at 99.94%
Lead ingots that tweak the standard purity specifications to include very low sulfur at controlled levels
Purity specifications like those listed above would be used in radiation shielding applications for interlocking lead bricks or nuclear quality pours as well as extrusion lines that require a very consistent lead quality to achieve reliable repeat values.
*G2 ballast grade pig lead that would satisfy the requirements of the end user requiring a "heavy metal" lead ballast weight solution
*This material is produced to a 96.5% minimum purity lead level and may contain 1.5-3% Antimony (Sb) and .1-3.5% Tin (Sn)
Mars Metal is able to provide you with very specific lead grades such as:
Chemical Copper lead
Low sulfur
Low bismuth
Low silver pure lead
Various alloyed lead ingots produced to meet your specifications, such as 3% antimonial bullion (typically used for sailboat keels) or 6% antimonial bullion
Using lead shot for radiation shielding? Visit our MarShield website for comprehensive information.
Mars Metal provides lead shot as an easy, cost-effective solution for areas where solid lead is impractical, due to location, shape, or accessibility. Applications include ballast, stress testing, vibration control, noise deadening, and radiation shielding.
We stock lead shot in standard 25 lb. canvas bags. For added strength and durability, we also offer lead shot in bags manufactured of 600 Denier vinyl coated black nylon or ballistic nylon to meet rigid fire rating specs.
Our standard lead shot is #8 (.09"/2.29mm diameter). Density is approximately 436 lbs. per cubic foot.
WE OFFER:
Chilled Lead Shot – Highly-polished, uniformly-round, accurately-sized and consistently-dense shot. Graphite-coated. Custom embroidery or printing is available on application.
Steel Shot Also Available – We supply "non lead" steel shot in 25 lb. nylon bags or ballistic fire-rated bags for the aerospace industry.
Other applications include non-destructive testing and ballast applications.
Bags are environmentally sealed and extremely durable. With lifting handles or not.
Density factor of the steel shot is 295 lbs. per cubic ft. VS. 430 lbs. per cubic ft. for lead shot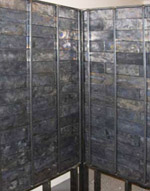 Our MarShield division manufactures straight, interlocking, and corner lead bricks, commonly used for radiation shielding or ballast weight. Bricks are available in a wide range of sizes, thicknesses and shapes to suit your application. If you would like more information on our lead bricks please visit our lead brick page on our MarShield website.
Mars Metal Company, Specialty Casting Division is your supplier for extruded lead pipe and bar products. The extrusion process provides a very accurate shape that is very dense. The pressures necessary for extruding pipes or shapes ensures very little porosity in the lead and it provides a very smooth and consistent surface. Various alloys are available from pure at 99.97% through various copper, tin and antimony alloys in varying percentages. The low melting temperature of lead, high density, corrosion-resistance, malleability and relative low cost make it attractive for use in many applications.
Extruded Lead Pipe
Our extruded lead pipe is available in standard sizes from .375" OD through 10" OD with uniform wall thicknesses. Pipe from .375" OD through 1.5" OD is available coiled while 2" OD through 10" OD is available in up to 10' lengths packed in fiber tubes for protection and straightness. Lead pipes are generally, but not exclusively, used for carrying acids and corrosive chemicals or for sheathing sensitive communication cable runs for waterproofing purposes.
Extruded Lead Bar
Our inventory of extrusion dies is extensive and includes round, ribbed, elliptical, rectangular, and square and is available in various lengths. Extruded lead bar has many applications. Challenge us and let us produce the size and alloy that perfectly suits your requirements. If the extrusion dies aren't part of our inventory then we can produce one to suit your needs.
Over 70 tons of sheet lead in stock in various sizes are available for quick turnaround at our warehouse! Our high quality Sheet Lead is manufactured from pure lead conforming to ASTM B-29, B-749 and Federal QQ-L-201F, QQ-L-171E.
Mars Metal offers sheet lead as laminated panels, adhesive bonded to such materials like plywood, gypsum board, and other supporting materials. Since sheet lead has very little inherent structural strength, most applications require that the sheet lead be supported in some fashion, or that the sheet lead be laminated to provide a more rigid building material. Mars Metal offers quick turnaround time on all sheet lead. With our large inventory of sheet lead most orders can be shipped out on the same day.
We offer in house Precision 3D and CNC Machining of sheet lead. Learn More.

Brochures | 3-Part CSI specifications
05 - Metals
05 45 13 - Mechanical Metal Supports
05 59 00 - Metal Specialties
07 15 13 - Sheet Lead Waterproofing
08 34 46 - Radio-Frequency-Interference Shielding Doors
08 34 49 - Radiation Shielding Doors and Frames
08 34 49.13 - Neutron Shielding Doors and Frames
09 91 00 - Painting
12 57 16 - Welding Screens
13 49 13 - Integrated X-Ray Shielding Assemblies
13 49 16 - Modular X-Ray Shielding Rooms
13 49 19 - Lead-Lined Materials
13 49 23 - Integrated RFI/EMI Shielding Assemblies
13 49 26 - Modular RFI/EMI Shielding Rooms
14 28 19 - Elevator Equipment
14 28 19.13 - Elevator Safety Equipment
23 33 13 - Dampers
31 75 00 - Shaft Construction
34 82 00 - Bridge Specialties
34 82 13.16 - Tuned-Mass Bridge Vibration Dampers
41 35 33 - Molds
41 62 23 - Forklift Trucks