architecture - engineering - construction
Case Study: Ten35 Seaside Condos - Achieving the Look of Wood Without Any of The Downsides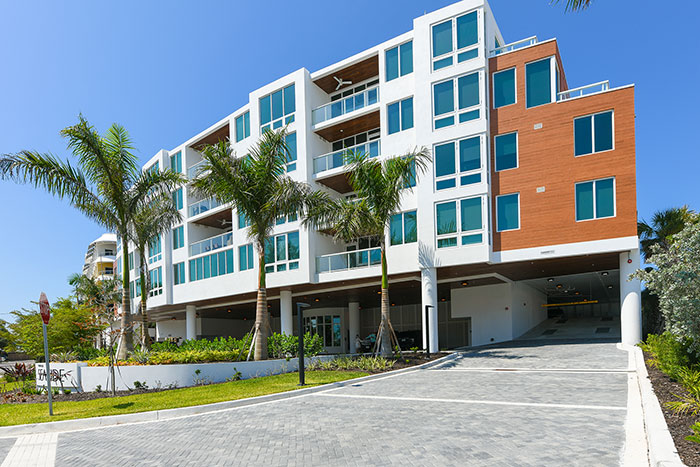 Architects have had to balance aesthetics with practical considerations for hundreds of years. The harsh realities of local building codes, the demands of nature, or the availability of building materials can all come into play when trying to realize a creative vision. Those factors are only magnified at an oceanfront site in South Florida, such as the one where the Sarasota Real Estate Company was developing Ten35 Seaside Condos. But there's a reason Sto says "Creativity Begins, Sto Finishes." This project was certainly a case where the original vision wasn't going to work as conceived until the team came up with the right solution. In this instance, the answer was StoPowerwall® with StoCast Wood.

Brent Parker of the Parker Walter Group delivered a striking design for the four-story condominium project on South Florida's beautiful Siesta Key Beach. The design called for horizontal exterior wood planking to help create a warm, welcoming feeling for the multifamily building. The system specified in the original design called for anchoring wood battens to the exterior of the building, which would've required penetrating the envelope for each of the thousands of fasteners. According to Joe Krastel, Project Manager with BCBE Construction LLC, they recognized this as a problem immediately. "We had the specified product. We knew we didn't like it. What we didn't know was what the solution was," Krastel lamented. "We talked to a lot of different people. We talked to people who deal with solid surface slab materials. We talked to people like tile contractors. And then we wound up talking to Billy Rice."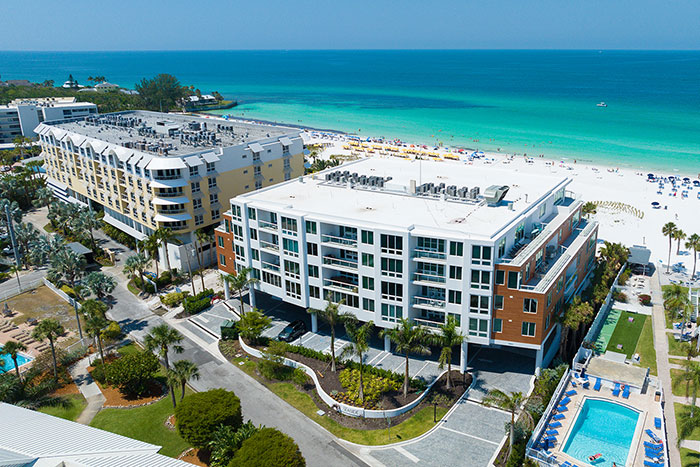 By all accounts, Billy Rice is South Florida's authority on stucco. He started Commercial Plastering, Inc. in 1976 and began working with Sto systems shortly after they were introduced to the United States in 1979. He, too, recognized the issues with the original plan. Sto recently debuted a new product, StoCast Wood, a lightweight, flexible, resin-cast plank with an authentic wood grain appearance. Most importantly for the Ten35 team, with no fasteners to create opportunities for water intrusion and no metal or actual wood to break down in the salt air, StoCast solved all of the problems inherent in the original design. One system around the entire building boasting a variety of aesthetics thus avoiding any material compatibility issues or continuity breaks of the control layers of the building envelope. Rice contacted Rhett Lakey, his Sto distributor at FBM Sarasota, and together they worked up some samples to demonstrate the system. The team was impressed. "We were looking for a product that achieved the same look that the architect was going for but was able to deliver a very robust, long-term finish that was, most importantly, waterproof," Krastel recalled. "And StoCast checked all those boxes."

Not only did it check those boxes, but it also checked the "affordable" and "simple to install" boxes as well. Rice describes the process as being quick and easy and requiring no nails or additional structural work. As part of the StoPowerwall system, Rice applied a layer of stucco to even out imperfections in the underlying wall. And then, the roughly 6-inch x 6-foot resin cast wood planks were applied to the stuccoed surface and top coated with StoColor Wood Stain, a highly performant stain and sealer in one. "It's a very easy product to install. If you can set tile in your bathroom, you can do StoCast wood," explained Rice. To complete the bold look, the team applied a striking shade of white to the remainder of the facade, providing an aesthetic counterpoint to the Alder hue they'd chosen for the StoCast Wood sections.

In the end, Parker's original vision for Ten35 was successfully realized right down to the color and texture of the wood. Krastel explained, "Aesthetically, StoCast delivered. Because you field finish it, there's a wide variety of techniques that can be used to get the color and effects you're looking for. You can customize how it looks with the variety of stains that come with it. We were able to find a color, an effect, and a technique that the developer was very pleased with." The development sold out, and tenants have begun moving in. All parties involved are as happy with StoCast now as the day Rice first showed it to them. A year later, the project has already proven its durability by successfully weathering a hurricane, as StoColor Wood Stain has extended UV performance and functions as a stain and sealer. It still looks "fantastic," according to Krastel, and has required almost no maintenance. And the owners of the Sarasota Real Estate Company already have plans to use StoCast in another project with BCBE Construction LLC and Commercial Plastering Inc. If that doesn't say "satisfied customer," nothing does.
@StoCorp #StoCorp #building #offices #stoventec

For other relevant searches, you might want to try: