architecture - engineering - construction

News

Making Room for Wellness with Sherwin-Williams
Although the expression of a well-lived life varies from culture to culture and place to place, across the globe our attention has been fixed on how we can create a more profound sense of calm and contentment in our personal spaces.

We asked you, our designer community, to share how you've been making room for wellness in your clients' homes. Here are a few of our favorite recent projects designed to inspire well-being: multifunctional workout-from-home spaces, play places, and spa-inspired sanctuaries.
Work(out) from Home
When it comes to feeling and living well, many people choose to add movement into the mix. With months (and now years) of pandemic-enforced closures for public fitness and wellness studios, we've seen a rising demand for designated fitness and play spaces within the home.

Clients have turned to designers to reveal the untapped potential of tucked-away areas, such as basements-turned-home-gyms like this one by Sarah Coe Design, featuring the dynamic-yet-classic pairing of contrasting Westhighland White SW 7566 (255-C3) and Tricorn Black SW 6258 (251-C1).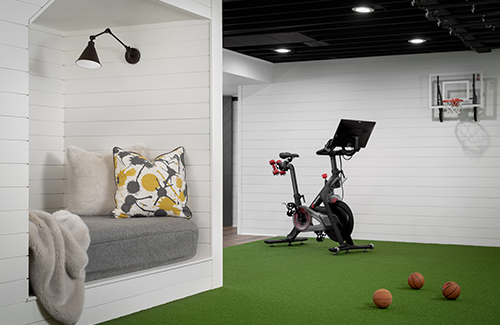 Photo by Sarah Coe Design
Play Nice, Feel Good
In times of stress, a little fun can be an ultra-effective antidote. Robin Flaherty and Jess Milburn of North & Madison took that theory to another level—the lower level, in fact—converting an unused, unfinished basement space into a jaw-dropping jungle gym for a household with three boys.

The bold color-block design of stark black-and-white—Tricorn Black SW 6258 (251-C1) and Pure White SW 7005 (255-C1)—mixed in with the refreshing and revitalizing deep green of Courtyard SW 6440 (156-C7) makes the clever climbing wall an eye-catching centerpiece and positivity-packed backdrop to the unique play space.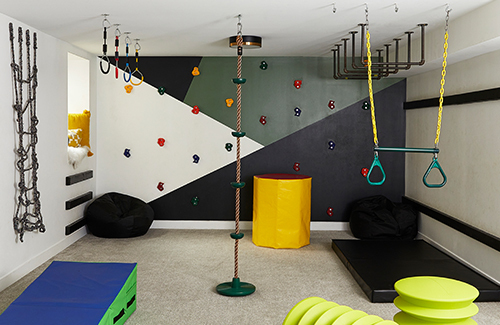 Courtesy of North & Madison, photo by Heather Talbert Photography

On the other hand, minimalism has become a common thread in current wellness space design trends, as uncluttered spaces are not only indicative of cleanliness, but also a state of emotional calm. Nothing says "minimalist" quite like a versatile, neutral-toned white. A serene space for a deep stretch and a good night's sleep is exemplified in this sublime child's bedroom, painted in soothing Snowbound SW 7004 (256-C2), designed by Kerrie Kelly Design Lab.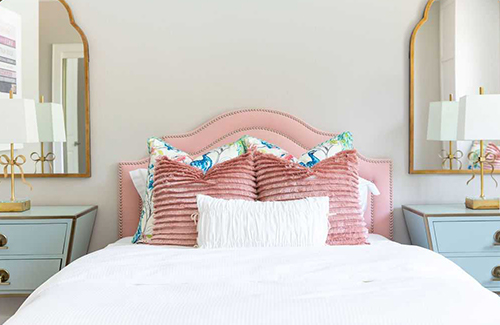 Photo by Kerrie Kelly Design Lab
Spa-Inspired Softness
Just as important as adding wellness rituals into daily life can be the practice of subtracting stressors, doing less, and carving out a little space for rest and recuperation. Distance from busy routines and social schedules invited everyone to indulge in self-care, ushering in a growing trend of residential zones bathed in subtle tones and soft tactility.

The all-white wonderfulness of Sarah Coe Design's bathroom update transforms a stunning double vanity into a study in simplicity, with the warm-leaning brightness of walls and trim painted in High Reflective White SW 7757 (256-C1).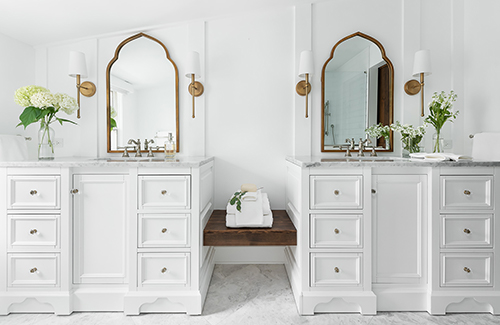 Photo by Sarah Coe Design

Barely-there earthy neutrals are also exceptionally soothing choices for a private home sanctuary, and Felted Wool SW 9171 (245-C4)—a shade from the Dreamland palette of our 2022 Colormix® Forecast—has been used to great effect in this bathroom vanity designed by Christi Barbour and Emily Yavorsky.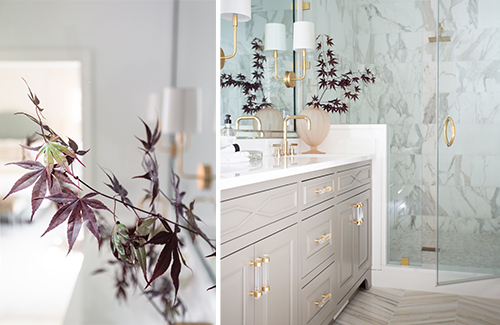 Photos by Barbour Spangle Design
The Colors of Quiet
Seasonally speaking, we're in a time of hibernation, of slowing down. But the pandemic also inspired homeowners to create cocooning spaces and homebody habits for the longer term, embracing Niksen, the Dutch concept of doing nothing, with quieter pastimes and a deeper appreciation for everyday moments and idle hours.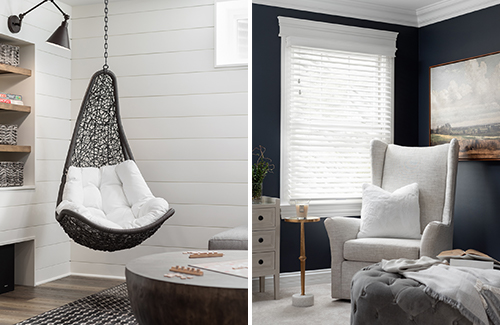 Photos by Sarah Coe Design

Soft and desaturated colors are a timeless choice to infuse that lovely nothingness into cozy spots, like Sarah Coe Design's reading nook with its woven swing chair, painted in Westhighland White SW 7566 (255-C3).

A deep sense of calm can also be evoked by darker hue; sophisticated shades like Cyberspace SW 7076 (235-C7) compose a thoroughly modern cozy cave in which to catch a quiet moment, celebrated here in this tranquil bedroom.
@SWDesignPros #SWDesignPros @SWPaintPros #SWPaintPros
URL:
https://www.sherwin-williams.com/architects-specifiers-designers/inspiration/stir/wellness-spaces-at-home
For other relevant searches, you might want to try: