architecture - engineering - construction
Xypex-Enhanced Grout Helps Save Prague Sewers
Prague (Czech: Praha), the capital of the Czech Republic and the country's largest city at 1.3 million residents, has a rich regional history dating back thousands of years. The city is a major destination for tourists, ranking fifth in visitors behind London, Paris, Rome and Istanbul.

Built along the Vltava River valley, Prague is subject to flooding during periods of extreme rainfall. In early August 2002, the city experienced the worst flooding in its history when two powerful low pressure systems arrived within days of each other, bringing nearly 600 mm (24 in) of rain to the Czech Republic, Germany and Austria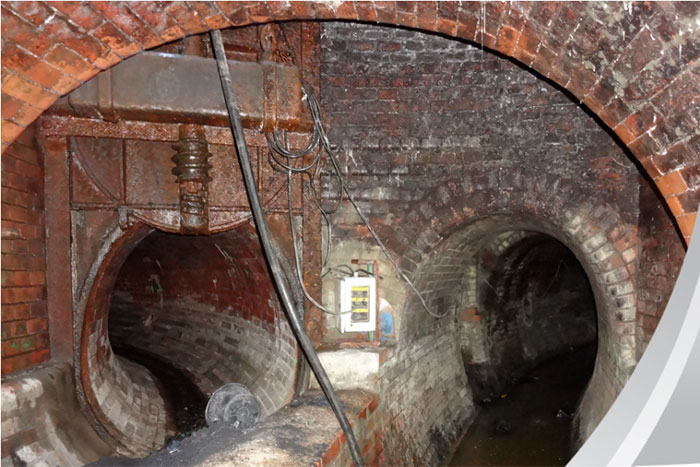 Extensive Damage Uncovered
More than 50,000 residents were evacuated and more than $1.2 billion in losses were reported in Prague. The districts of Lesser Town, Old Town, the Jewish Quarter and Karlin experienced the worst damage due to overland and below-ground flooding. While temporary barriers were erected along sections of the Vltava, a network of tunnels, including 4,500 km of sewer lines, acted as a conduit for floodwaters.
Once the flood receded and damage could be assessed, it was determined that many sections of old brick sewer lines had ruptured and collapsed from the internal pressure imposed by the floodwaters. It was discovered that extensive voids had developed in the fill surrounding many sewer lines due to flowing ground water and surface runoff.
While the existence of cavities outside the tunnels had been well known prior to the floods, the problem took on a new dimension in the wake of the flooding as sinkholes appeared in streets, traffic disruptions arose, wastewater flow became blocked, and excessive debris damaged sewage plants. Prague managers were forced to address the problem with a new long-term solution.
Natural Engineering
Like many European cities, Prague's sewer network in historical parts of the city primarily uses egg-shaped (ovoid) sewer lines, first used in London in the last half of the 1800s. This shape was determined to offer the best flow characteristics for sewer lines subject to extreme flow variations, such as that commonly found in combined sewers that handle both storm runoff and sanitary sewage.
If the sewer line is partially filled (dry weather discharge) a high flow velocity is still achieved at the narrow base of the ovoid sewer, providing adequate flushing and self-cleaning. During peak flows, the wider ovoid top section offers higher discharge capacity.
"The egg-shaped sewer tunnels are very old and mostly of brick construction," notes Jan Mandelik, lifelong Prague resident and director of Nekap s.r.o., the Xypex regional representative and waterproofing consultant. "The tunnels are very strong against external pressure, but are susceptible to internal pressure, much like an actual egg. So, if there are voids or areas where they are not supported by the surrounding soil or rock, they can rupture when flooded."
Previous attempts to fill the voids surrounding Prague's sewer lines using a grout mix of bentonite clay and Portland cement proved unsuccessful. Due to the prevalence of active groundwater, this mixture was often washed out over time, leaving voids ranging in size from a few centimeters up to many meters.
Enhanced Grout
Nekap worked with Betosan, s.r.o., of Prague, to develop a new grout material that could be easily pumped into the voids surrounding many of the city's sewer tunnels. The new grout needed to be able to repel continual groundwater, be flowable, provide a delayed set time and deliver sufficient strength to support the aging brick sewer structures—many of which were built in the early 1900s.
"In 2003, Betosan was already very familiar with Xypex when we began experimenting with different materials for a repair grout," notes Betosan CEO Vaclav Pumpr. "Injektostop XPB 2003 had to pass a series of tests to ensure that it met the requirements of the sewer operator for a new stabilizing compound with high compressive strength, water impermeability, improved chemical resistance and last but not least pumpability."
Injektostop XPB 2003 contains about 1 percent by weight of Xypex Admix C-1000 NF, as well as bentonite, Portland cement, sand and some other additives.
Prague-based engineering firm, KO-KA s.r.o., specified that Betosan's Injektostop be used to fill the voids found around the city's sewer lines. In an ongoing rehabilitation program, ground penetrating radar (fig 7) is used to scan sections of sewer tunnels to locate and map out voids that need to be grouted (fig 8). The same radar systems are also used after the work has been completed to determine if the cavities were successfully filled.
Repair contractors then drill one or more injection ports into the roof of the egg-shaped tunnels (fig 9) and at least two outlet ports along the sides to vent air and determine when the void is full. The grout is mixed at ground level and pumped to the injection site. The distance to be pumped can range from tens of meters up to 100 meters or more, depending on the location of manholes and other access points.
Crystalline Protection
Betosan's Injektostop with Xypex Admix C-1000 NF offers up to 60 minutes of workability followed by fast setting. The mix easily penetrates even fine pores and hairline cracks. The expanding bentonite components combined with Admix C-1000 NF seals and reinforces sewer pipe buried in permeable soil, permeable and water soaked gravel and rock layers.
The use of Xypex in the grout extends the life of the grout while reducing the potential for leakage into and out of the tunnels through any cracks that could develop in the grout behind the brick liner (fig 10).
Xypex Admix contains proprietary chemicals in powdered form that react with water and with the byproducts of cement hydration to generate a non-soluble crystalline formation in the pores and capillaries of concrete, significantly reducing the permeability of the mix. Admix becomes an integral part of the concrete and will continue to waterproof and protect for the life of the structure—it will not degrade like synthetic coatings and membranes.
In addition, Xypex Admix enables the concrete to resist both positive and negative hydraulic pressure, can heal hairline cracks up to 0.4 mm, and provides chemical resistance against the attack of acids, chlorides, sulfates, carbonation and other negative effects.
To date, more than 8,000 tons of Injektostop grout containing Xypex Admix C-1000 NF has been used to repair and extend the life of Prague's brick sewer lines (fig 11). In 2013, Prague was again flooded, although not to the same extent as the devastating 2002 flood when the flow rate on the Vltava River reached more than 5,000 m3/s.
"Collapsed sewers not only disrupt that system, but also lead to surface subsidence that can damage roads and collapse buildings," notes Nekap's Mandelik. "We are proud to provide a solution that is helping Prague to extend the life of its aging wastewater infrastructure in a cost-effective and efficient way."
One of the firms leading the effort to restore and improve Prague's wastewater network is long-time Prague-based contractor, Pragis a.s., a member of the Metrostav Group. According to the director of the firm's division of underground structures, Jaroslav Chabr, "The need for Injektostop arose from the repetitive bad experiences the city has had with cement-bentonite mix. The Injektostop grout containing Xypex Admix has proven itself in many challenging applications, especially when it comes to its long-term durability."
@xypexglobal #xypexglobal #xypex #concrete #architects #waterproofing #engineering

For other relevant searches, you might want to try: