architecture - engineering - construction
Satin Stainless Steel for Architectural Design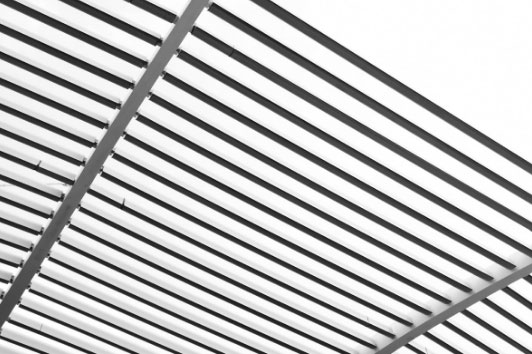 A satin metal finish, also known as No. 4 in industry terms, is an all-purpose, polished finish that gives the metal a smooth, unidirectional appearance. Available for aluminum, brass, bronze and stainless steel, the satin finish is a trendy addition for most projects.

Here at Coco Architectural Grilles & Metalcraft, we offer satin/brushed finishes where the smooth, frosted look of satin stainless steel is achieved through a brushing technique.
How it works
Satin finishes are created through a process called metal brushing. This can be achieved with a metal brush, sandpaper or another abrasive material. In many cases, a grit belt is used for speed and efficiency.
After the metal has been cut into the chosen grille pattern, it is polished with a fine bristled brush in a unidirectional motion. It is then softened with a greaseless grit compound or abrasive, nonwoven belt or pad to create a matte finish. The result is a frosted appearance with fine lines in the direction of the brushing.
Why satin stainless steel
Satin stainless steel not only protects the metal from rust and corrosion, it also creates a trendy, modern appearance. Satin finishes are popular in heavily trafficked areas such as kitchens, bathrooms and stairs, as it is not likely to smudge or show fingerprints.
This finish is also commonly used in rooms with natural lighting because the metal becomes less reflective after the satin finish is applied. This creates the satin sheen the finish is named after.
Our linear bar grilles, perforated metal grilles and custom metal products are all manufactured with the same standard of excellence and commitment to customer satisfaction. We offer a wide variety of metal finishing options including: satin/brushed, mirror polished, anodized colors, duranodic, baked enamel colors, blackened, statuary/antiqued, and oil rubbed.
If you're considering adding a specific metal finish to your project,
download our catalog
for compatible products and
request
a free quote.
@CocoMetalcraft #CocoMetalcraft #architecture #metalcraft #design

For other relevant searches, you might want to try: