architecture - engineering - construction
Creating a Timeless Rooftop Retreat in Boston's Fenway Park District
Completed in 2015, The Viridian by The Abbey Group offers an exceptional living experience in Boston's historic Fenway Park district, seamlessly blending modern convenience with the iconic allure of the nearby ballpark.

Over the years, the fluctuating New England weather took its toll on the original furniture chosen for The Viridian's rooftop decks. It became clear that commercial-grade replacement furnishings were needed, specifically designed to withstand year-round use in challenging conditions.
Teaming Up with Maglin: Designing for Durability and Style
Seeking to provide better quality and durable solutions, The Viridian team approached Maglin's Territory Manager, Barbara Ritter, for assistance in selecting stylish, weather-resilient furnishings that would stand the test of time. The project was a unique opportunity for Barbara and the Maglin team to work on a project in close proximity to storied Fenway Park.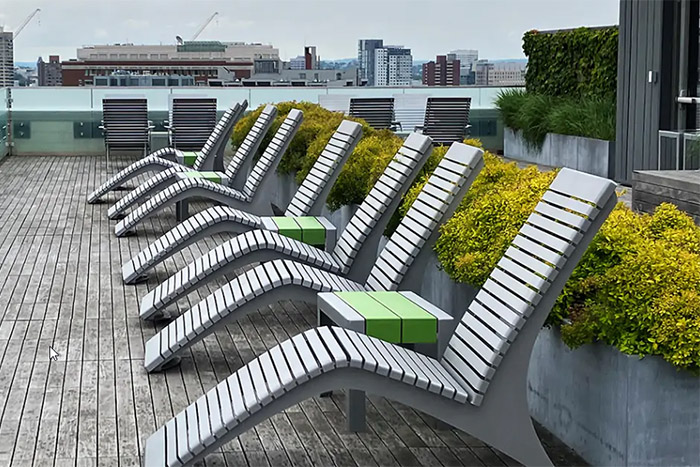 Maglin collaborated closely with the Viridian team through multiple site visits, providing material samples, and layout presentations. This detailed groundwork helped inform design decisions and supported the selection of furniture that not only offers comfort and resilience but also complements the modern, urban aesthetic of the apartment building.
The Best Seats in the House
The project involved rejuvenating two distinct rooftop decks, each serving a unique purpose. The first deck features 1050 Tables and Benches, creating the perfect BBQ area with an unparalleled view of Fenway Park. Additionally, this deck offers a comfortable seating area with 720 Chairs and Pixel blocks, which double as stylish cocktail tables.

The second terrace, the Sun Deck, showcases 720 Lounges, providing tenants with a luxurious and relaxing space to unwind. A discreetly placed 1050 Bench offers a private corner for reflection, while more 720 Chairs and 1050 Side Tables are thoughtfully arranged throughout the deck.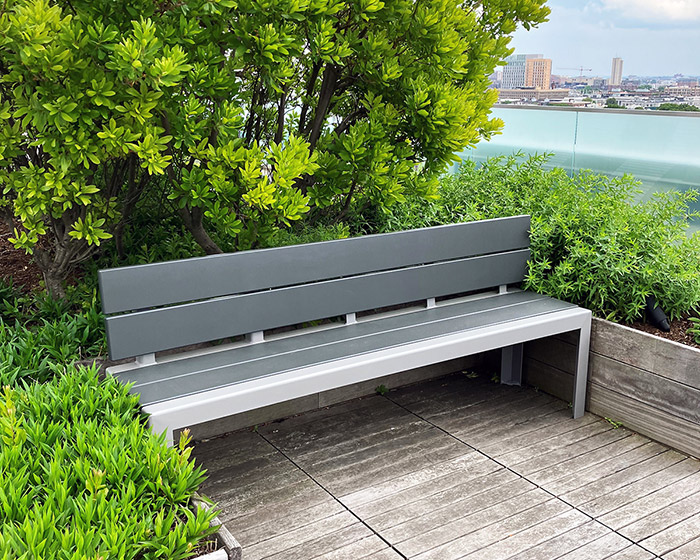 Covering all the Bases: Materials and Color Selection
The project's color scheme was meticulously curated to complement the building's modern ambiance. By incorporating the essence of "Viridian," green tables were added to infuse a touch of nature-inspired vibrance into the rooftop setting. Additionally, turquoise steel Pixel beautifully contrast against silver powdercoated steel.

To ensure lasting quality and resistance against UV exposure, a combination of powdercoated steel and High Density Polyethylene (HDPE) materials were chosen. HDPE is virtually maintenance-free while the Maglin Powdercoat System guarantees a durable and long-lasting finish on metal, promising years of extended use and enjoyment for the tenants.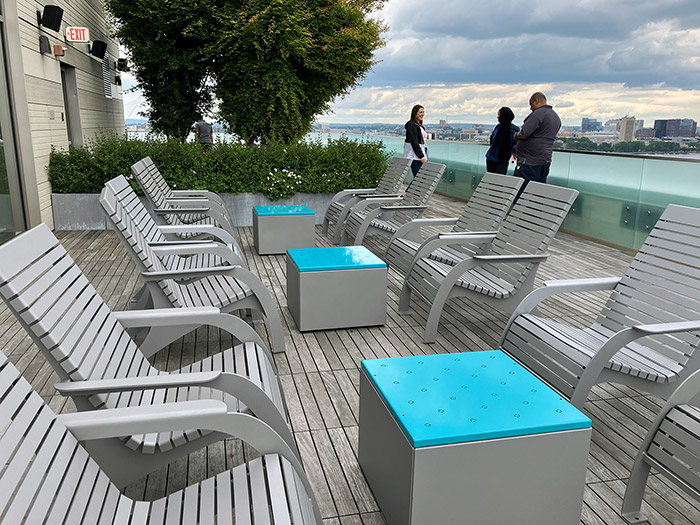 A Home Run Collaboration
Viridian's decision to choose Maglin as the provider for the rooftop amenities was rooted in the trust and expertise the site furniture company offered (earned from 40 years of experience in North America). From the initial connection with the client to overcoming challenges and achieving a harmonious blend of aesthetics and functionality, the project is a testament to the seamless collaboration between Viridian ownership, residential management, and Maglin.

These outdoor retreats offer an unrivaled experience amid the historic charm of Boston, giving residents a delightful space to relax and enjoy the city's vibrant energy.
@maglinfurniture #maglinfurniture #maglin #streetfurniture

For other relevant searches, you might want to try: