architecture - engineering - construction
Bilco Contributes to Community Improvement in Trumann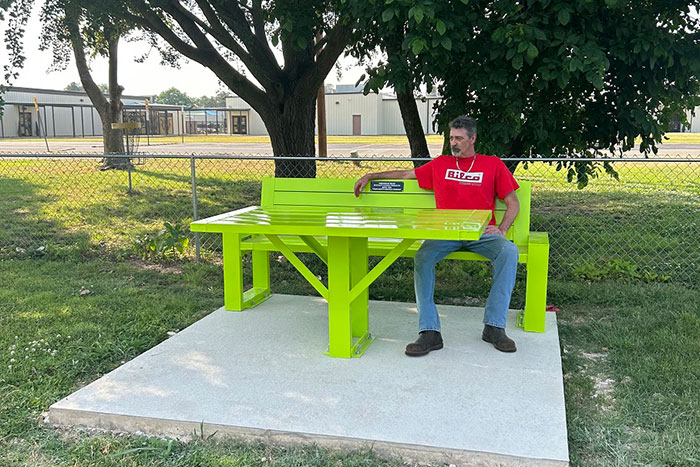 Employees at BILCO's facility in Trumann, Ark., contributed time and materials toward improvements and repairs at a popular city park.

Members of BILCO's WAVE (Wellness, Activities, Volunteerism, Engagement) committee designed, built and installed a bench for a dog park and a picnic table. The Trumann Beautification Committee connected with Donna Jones, the company's Office Supervisor and Human Resources Liaison, who worked with Director of AP Operations Pepe Anchondo and other employees to build and install the bench and table. Volunteers painted the bench and table green, which are the colors of BILCO's parent company, AmesburyTruth.

"We wanted our name out in the community to let everyone know we are here and that we support community projects,'' Jones said. "We installed them ourselves to make sure it was done correctly. Eventually, we'd like to donate a bench at every park in town."


Cedar Street Park in Trumann is a town focal point. It also includes a skate park, tennis courts, 9-hole disc golf course, walking path and playground equipment. It is near Cedar Park Elementary School, which includes more than 600 students in pre-kindergarten through Grade 4. The town's local library is also nearby. Park equipment showed signs of neglect and disrepair prior to the volunteerism of BILCO's WAVE committee.

Tammie Slinkard is the President of the Trumann Beautification Committee and serves along with Peggy Greenwell, Linda Smith and LeAnn Dow. The committee is tasked with enhancing the quality of life in Trumann with the management of the city's overall appearance.

Trumann, in Poinsett County, has a population of approximately 7,300. The city is in the state's Northeast corner. BILCO opened a manufacturing facility in Truman in 1979 and will celebrate its 45th anniversary as part of the community next year. BILCO is a manufacturer of commercial and residential specialty access products and was founded in 1926. Approximately 90 people work for BILCO at the Trumann facility.

"We take pride in our work and our community,'' Anchondo said. "When the Beautification Committee reached out to us, we were happy to have the opportunity to contribute to their efforts. We want to be known as a community pillar, and this volunteer effort demonstrates that we are invested in our community."

Hedger Brothers donated concrete, and Eric Lowery also donated time and skills for the project, according to the City of Trumann page on Facebook.
@TheBilcoCompany #TheBilcoCompany #flooraccess #roofhatches #smokevents #basementdoors

For other relevant searches, you might want to try: